How to Draw Toad from Super Mario
In this lesson, I show you how to draw Toad from Super Mario. You can easily draw this character thanks to clear and accessible instructions.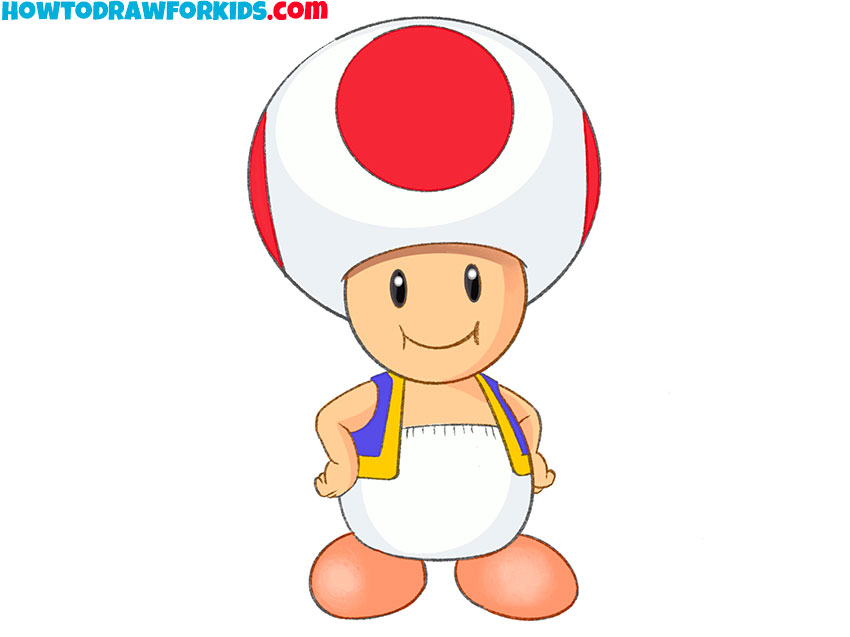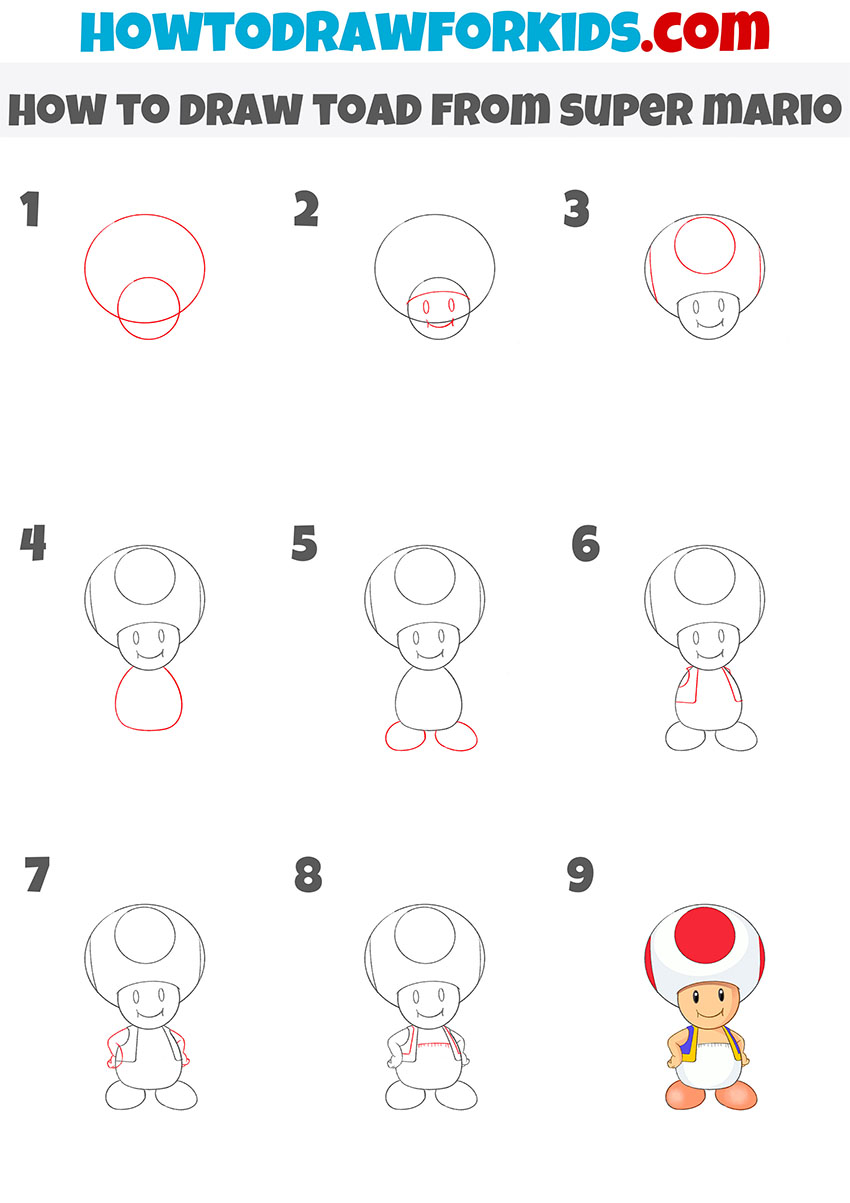 Surely you like video games and this lesson will be very interesting for you, because now you will learn how to draw Toad from Super Mario. This is a fictional character that is a humanoid with a head that looks like a mushroom. According to the plot of the game, Toad from Mario is a citizen of the mushroom kingdom. In most games, the Toad from Super Mario plays a secondary role, but there are games in which the Toad takes center stage and is the main character.
The Toad from Super Mario has a small stature. This is a cowardly character, but despite his fears, the Toad tries to support Mario, provides him with any possible help and participates in adventures. Toad from Mario has a cheerful disposition, but when a major unpleasant event occurs, he can get very upset. Mario the Toad has the ability to climb walls and deliver strong kicks. Also, Toad from Mario has great strength, can lift and throw enemies.
This lesson will require your ability to draw smooth, rounded lines. Take your time during the lesson and try to keep all proportions. Tune in to fruitful creative work and carefully follow all the steps in this manual. Please prepare your art supplies and start the lesson.
Materials
Pencil
Paper
Eraser
Coloring supplies
Time needed: 30 minutes
How to Draw Toad from Super Mario
Draw the head and cap.

Depict two circles of different sizes that intersect.

Add elements of the face.

Draw the oval eyes and the mouth, draw a smooth strip on the forehead.

Depict circles on the hat.

Draw an even circle at the top of the hat and add lines on the sides.

Sketch out the torso.

Below the head, draw the small torso using a smooth, curved line.

Draw the legs.

Below the torso, draw two legs that have a rounded shape.

Add the vest.

Depict straight lines on the sides of the body and draw the short vest.

Depict the hands.

With the help of smooth curved lines, depict the hands in the same position as in the example.

Detail the clothes.

Add stripes on the vest and draw a transverse line in the middle of the torso.

Color the drawing.

Use different shades of beige, as well as red, black, yellow, and blue.
Excellent! The lesson is over, and now you have learned how to draw Toad from Mario. I hope that you had a pleasant time and acquired useful skills that will definitely be useful to you in the future. At the end of the lesson, I suggest you download a short version of the lesson in PDF format for free. Save this file so that you can return to the lesson at any time and complete it if necessary.