In previous lessons I showed how to sketch adult cats, this same guide will be devoted to to how to draw a kitten.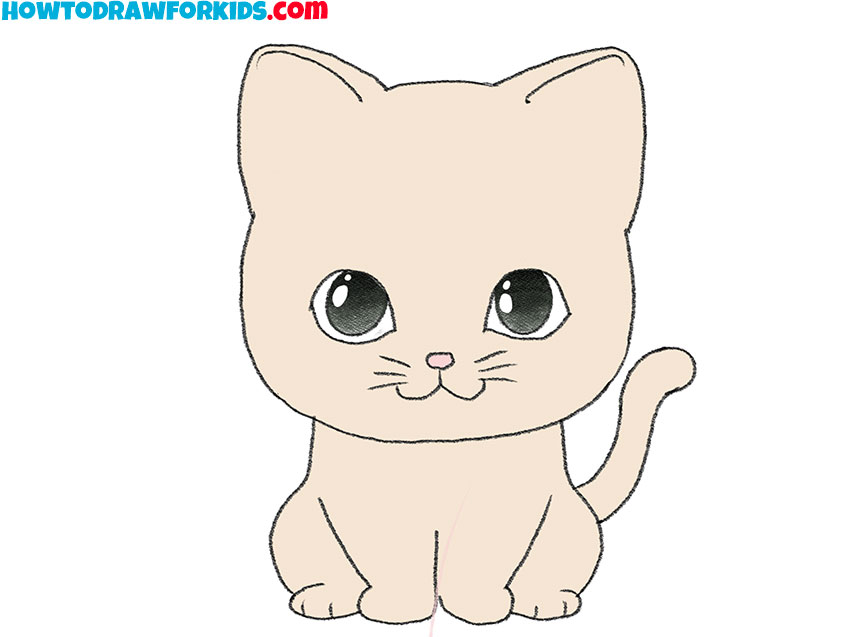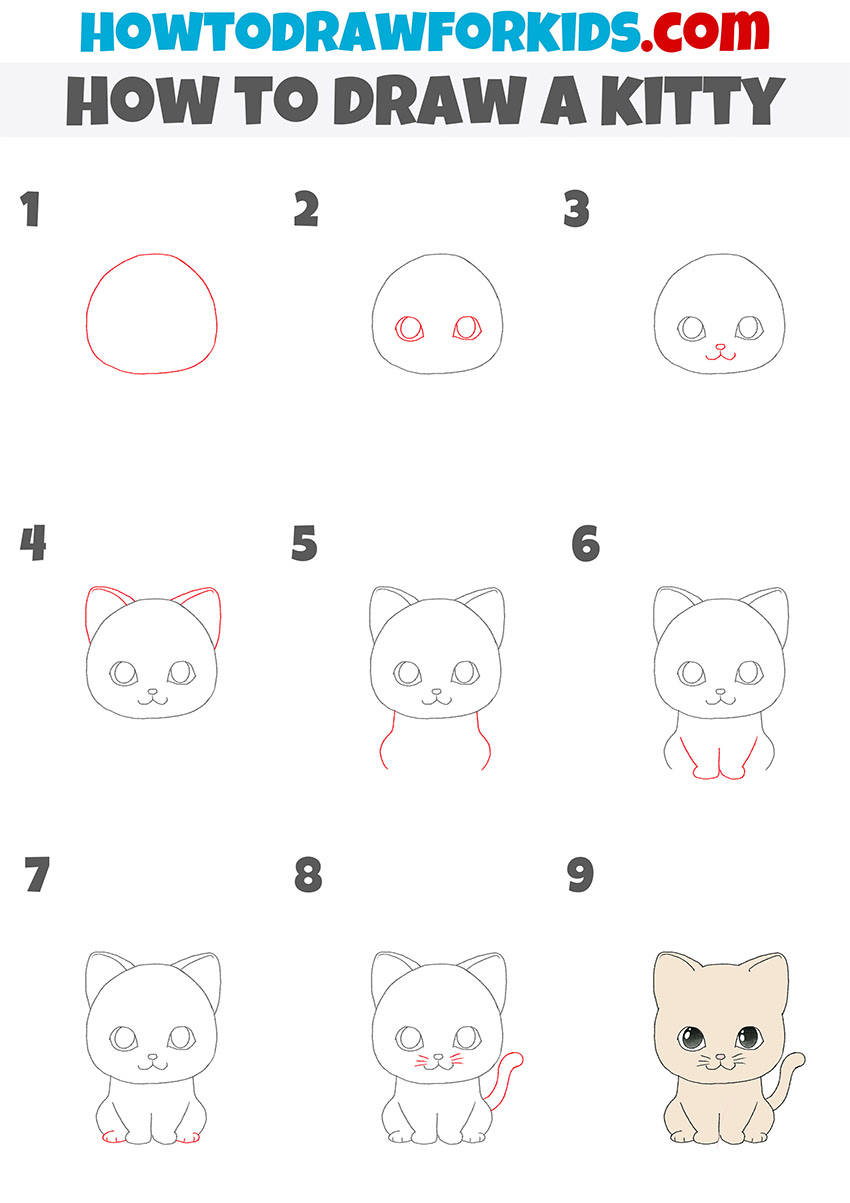 In this drawing lesson, I will show you how to draw a kitten step by step. Young cats are called kittens. It is known that after birth, kittens are completely dependent on their cat mom.
However, about two weeks after birth, kittens develop very quickly and adapt to their environment. These cute creatures look very funny when they explore the world around them.
I think many of you love kittens because these animals are very cute and affectionate. Often, kittens can be found as cartoon characters.
In this tutorial, you will be able to draw a cartoon style kitten, so it will look very cute and funny. If you still have very little drawing experience, then you should not worry, because I have developed this lesson especially for beginners and children.
Materials
Pencil
Paper
Eraser
Coloring supplies
Steps on How to Draw a Kitten
Time needed: 30 minutes
How to Draw a Kitten
Draw the outline of the kitten's head.

To complete this step, draw an arbitrary shape that looks like a slightly deformed circle.

Depict the kitten's eyes.

Add two symmetrical eyes using curved lines and two incomplete ovals.

Add the nose and mouth of the kitten.

Below the drawn eyes, sketch out the small nose and mouth.

Add the kitten's ears.

At the top of the head outline, add two symmetrical ears using curved lines of different lengths.

Start drawing the kitten's torso.

Below the outline of the kitten's head, add two symmetrical curved lines as shown.

Add the front paws of the kitten.

Between the two previously drawn curved lines, add the kitten's paws using curved lines.

Sketch out the kitten's hind paws.

On the sides of the kitten's front paws, add two hind paws using two arcs as well as short lines.

Draw the whiskers and tail.

Inside the outline of the head, add six short straight lines and depict the tail on the right side.

Color the drawing.

To color kitten, use black, pink, and brown. Add the highlights to the eyes.
For your convenience, I have prepared a PDF file that contains useful materials from this lesson, as well as additional materials for your workout. Download this file for free in order to return to this drawing lesson at any time convenient for you, even if you are not connected to the Internet.
Standing Kitten Drawing Tutorial
Now let's draw a standing kitten. As you can see, this tutorial will be as simple as the one you could see above. Now you should prepare your art supplies and carefully follow my recommendations.
How to Draw a Kitten: Additional Methods
Each new drawing you make will help you hone your skills. So let's try to draw the kitten again, using a slightly different style and a different set of steps.
Kitten Drawing Lesson: Alternative Method
The methods for drawing a kitten that you saw above began with preparatory steps and details. Now let's try to learn a way in which this cute animal will be drawn detail by detail, without preparatory steps.