With the help of this interesting lesson on how to draw a care bear, you will get useful skills. Start the lesson and enjoy drawing!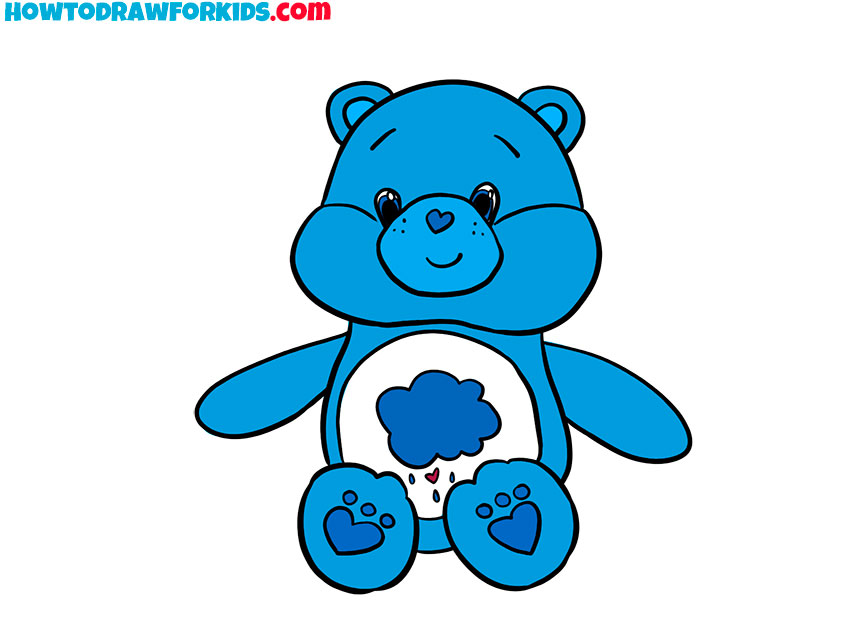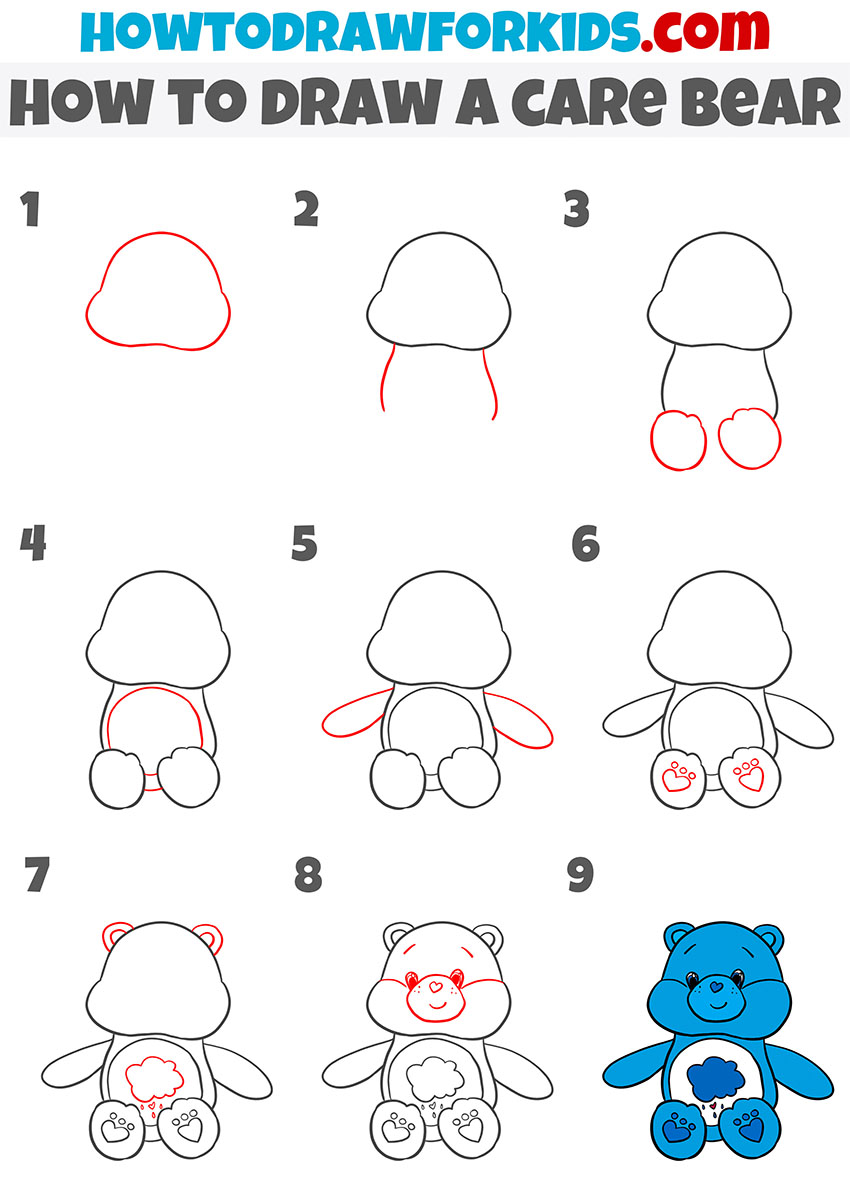 In this lesson, you will learn how to draw a care bear. This is one of the characters of the popular cartoon, which shows the adventures of several cute bears. Each of them differed in appearance and character. The bears were of different colors, and each had a certain symbol on its stomach.
In this lesson, you will draw a blue bear. He has a cloud and raindrops painted on his stomach. This bear is grouchy, sullen, and rarely smiles, but this character is very talented and often shows amazing ingenuity.
In the figure, the bear is depicted in a sitting pose and looks very much like a fun toy. I think you will enjoy drawing this character with this step-by-step guide. You will do it easily as the lesson is designed for beginners and contains simple elements.
Materials
Pencil
Paper
Eraser
Coloring supplies
Time needed: 30 minutes
How to Draw a Care Bear
Draw the head.

Depict the outline of the head, with the top part narrow and the bottom part wider.

Depict the torso.

From the head, draw down two smooth curved lines.

Sketch out the legs.

Draw two circles, while highlighting the relief of the fingers.

Add the belly.

Depict a circle in the middle of the body.

Depict the arms.

On the sides draw the arms using smooth lines.

Add the pads of the fingers.

On each foot, draw the heart and three small circles.

Add more details.

Depict the ears and the symbol on the belly.

Draw the elements of the muzzle.

Add the contour of the cheeks, draw the eyes, eyebrows, nose, and mouth.

Color the drawing.

Use blue color for the bear's body. Color the cloud and fingertips blue.
The care bear is ready! I hope this character looks really cute and you enjoyed the creative process. Now you can draw the rest of the cubs in the same way, just change the color and symbol on the stomach. Write your feedback about this lesson in the comments and suggest ideas for new lessons.
I want to offer you a simplified version of this guide in PDF format. Download this file and complete the lesson at any convenient time.