If you want to learn how to draw a pumpkin, you are in the right place. I have created for you some very simple but interesting drawing lessons. The step-by-step method is exactly what you need to draw a very cool and beautiful pumpkin.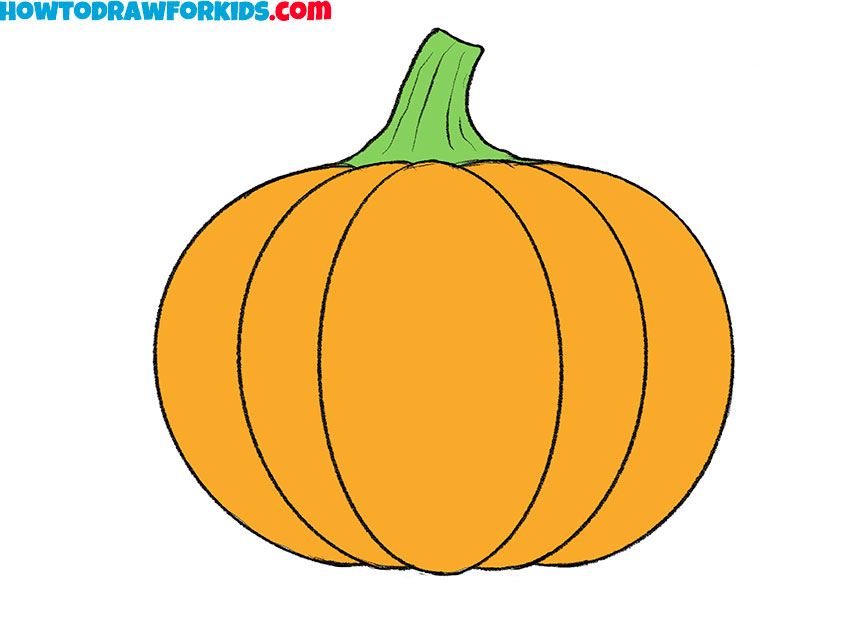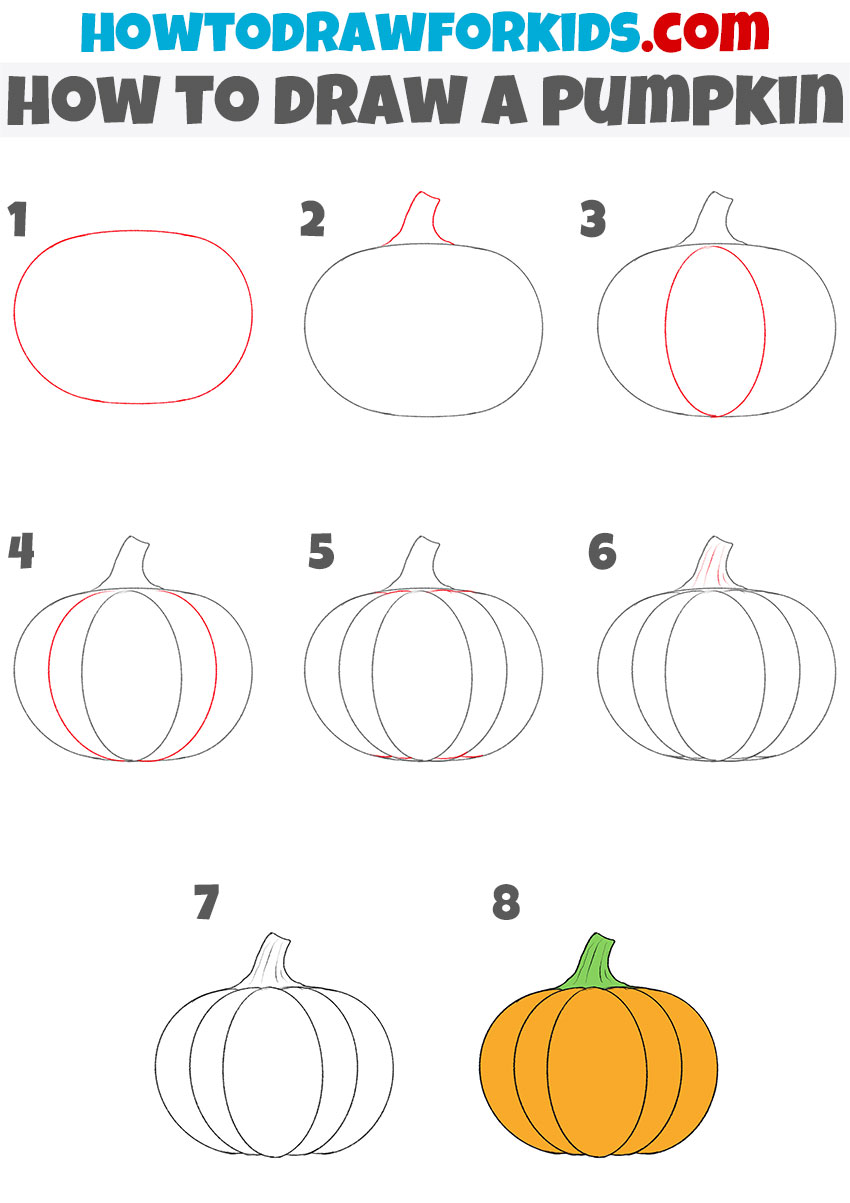 Table of Contents
Basic Information on How to Draw a Pumpkin
So, how to draw a pumpkin simply and without mistakes? As I said before, I suggest using a step-by-step drawing method for this. I really enjoy creating simple and complex illustrations this way. And I will teach you to do the same.
There are different versions of step-by-step drawing lessons. Some versions involve drawing the final outlines of the drawing step by step. In other cases, basic geometric shapes are created first and then detailed. So, in third cases, markings are first created using straight lines to indicate the locations of different parts of the drawing.
In other lessons I will show how to use this method in drawing other vegetables or fruits. I will also definitely focus on drawing a Jack O'Lantern pumpkin in future posts. But to draw this without problems, you first need to learn how to draw a regular pumpkin. So let's get this started!
Materials
Pencil
Paper
Eraser
Coloring supplies
Steps on How to Draw a Pumpkin
Time needed: 20 minutes
How to Draw a Pumpkin
Draw the outline of the pumpkin.

Depict an asymmetrical round shape in the center of your piece of paper. It should look like a horizontally elongated, flattened, asymmetrical oval

Add the pumpkin stem.

Place the pumpkin stem on top of the shape from the last step. If you are drawing an old pumpkin, make the shape thinner and more curved.

Draw the outline of the relief on the pumpkin.

Pumpkin segments are a very important part of the appearance. Now we will start creating this. To begin, draw a vertically elongated oval in the center of the pumpkin shape.

Outline one more relief on the pumpkin.

Add two more rounded lines lateral to the oval from the last step. Create the effect that these lines surround the oval and close the outline around it. It should look like five large, curved pumpkin segments.

Depict the relief shape of a pumpkin.

Draw a couple more details. Add lines that round out the top segments of the pumpkin and connect them. These are short, very smooth horizontal lines.

Add decorative elements.

Draw some curved lines on the stem of the pumpkin. If you want to draw an old pumpkin, add a few more lines. Also, in this case, you should draw protrusions and irregularities in the outer contour of the stem.

Erase the auxiliary lines.

Take an eraser to remove unnecessary lines from the surface of the pumpkin.

Color the drawing.

You can choose other shades of orange. For example, dark orange or dark yellow with a gradient. There are also red pumpkins. If you are painting an old pumpkin, use light yellow or light brown for the stem.
Additional Content
Great job! I think you've got a great drawing of a bright and appetizing pumpkin. Leave your comments on this lesson, and also share your ideas for new drawing lessons step by step. I have created a PDF file with a short version of this tutorial for your convenience. You can download this file and return it to this tutorial at any time convenient for you.
Alternative Ways to Draw a Pumpkin
Here I will show you drawing some more pumpkins with slight differences. Try to use each method to understand how to draw more conveniently and easily. Each of these methods is a different variation of the step-by-step method that I talked about at the beginning of this article.
Method 1: How to Draw a Simple Pumpkin
This is very similar to what we have already created. However, this drawing is different in that there is a drawing of segments around the stem. This makes our pumpkin look more voluminous and rounded. It also has a lighter color scheme compared to our basic sketch.
Method 2: Easy Pumpkin Drawing Variation
There are also small features in this step by step drawing method. It looks like a different type of pumpkin with more segments. Moreover, each segment is very small and thin. I decided to add this so that you can draw this vegetable not only in its most familiar and classic form.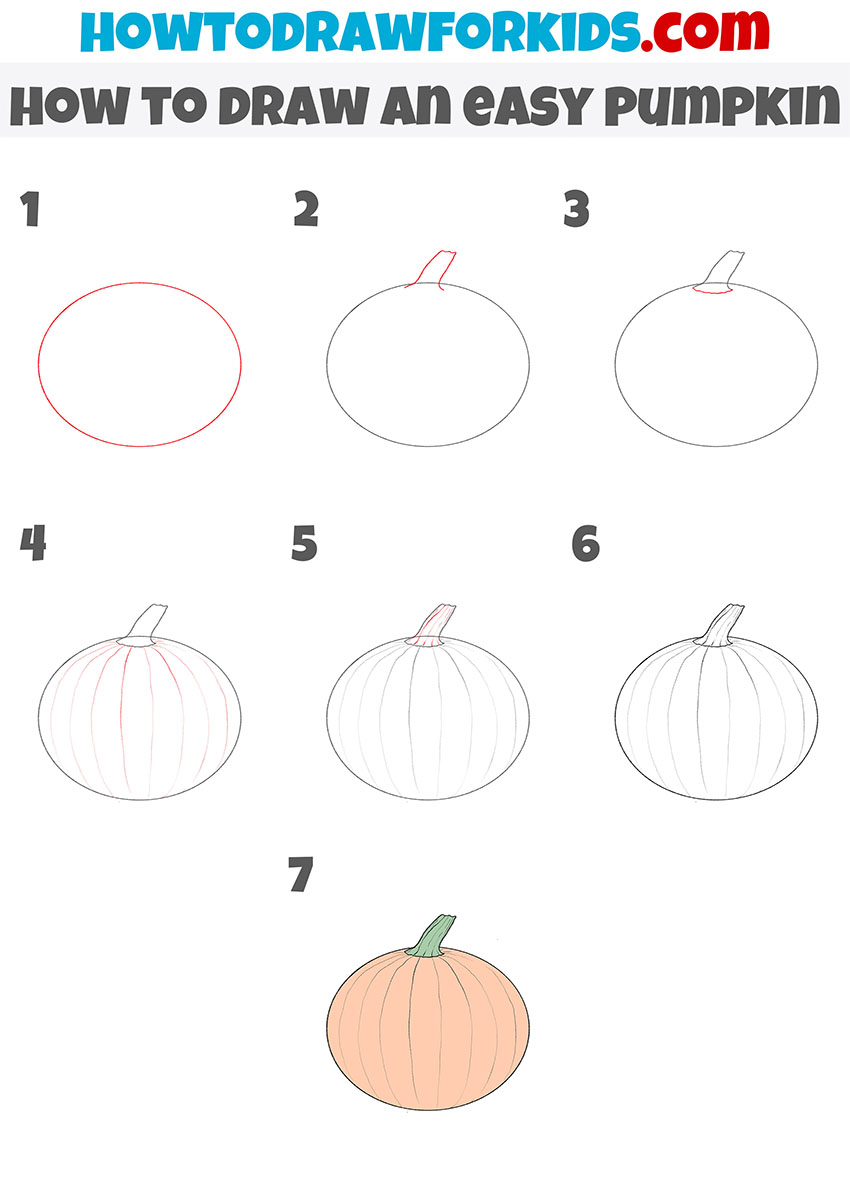 Conclusion
Drawing any vegetable or fruit may not be so easy. You may make a mistake in shape or symmetry and your result may be very skewed. The step-by-step method allows you to concentrate on each individual action and easily find mistakes. We hope you have a great result. We also look forward to your comments on our website and on our social networks.