Now you will learn how to draw evil eyes. Each step in this manual is shown and supplemented with a small hint for your convenience.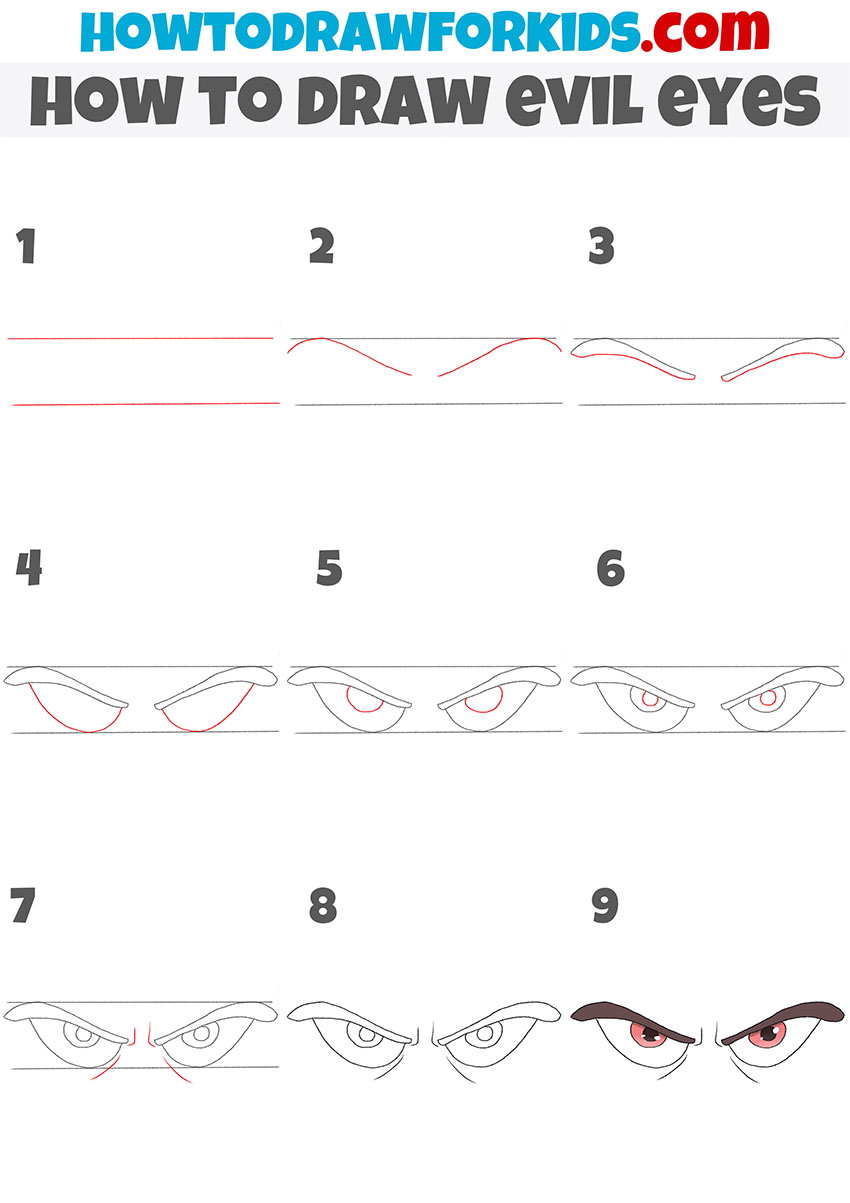 So, I am glad to offer you an interesting and useful lesson on how to draw evil eyes. If you complete this lesson, you will acquire useful skills that will be useful to you in the future. For example, you can draw any evil character following the principles outlined in this tutorial.
Notice the shape of the top of the eyes. The outer corners are up, and the inner corners are lower. It is thanks to this shape of the eyes that the look looks evil. An additional effect is created by small folds on the bridge of the nose.
In this tutorial you will draw guidelines that will help you position your eyes correctly. Now I will ask you to prepare art supplies and you can start the lesson.
Materials
Pencil
Paper
Eraser
Coloring supplies
Time needed: 30 minutes
How to Draw Evil Eyes
Prepare the base.

Determine the size of your drawing and draw two straight horizontal lines.

Depict the upper contours of the eyebrows.

Draw two symmetrical curved lines at some distance from each other.

Add the lower contours of the eyebrows.

Draw two smooth lines a little lower, giving the eyelids the desired shape.

Sketch out the outline of the eyes.

Below the eyelids, carefully draw smooth, curved lines to depict the outline of the eyes.

Draw the irises.

In each eye, draw smooth semicircular lines located under the eyelids.

Depict the pupils.

Continue adding elements of the eyes and in this step draw the round pupils.

Add the skin folds.

Draw the small wrinkles on the bridge of the nose and under the eyes.

Correct inaccuracies.

Now the auxiliary lines are not needed, and you can carefully remove them.

Color the drawing.

Color the eyebrows brown, color the iris red, and color the pupil black.
Another lesson has come to an end. If you liked this step-by-step guide, then leave a little feedback in the comments. I would be interested to know your opinion. For your convenience, I have previously created a short version of the lesson as a PDF file. Save this file and use it whenever you want.