In this tutorial I will show you how to draw a Drift mask. This lesson will be interesting and useful for each of you.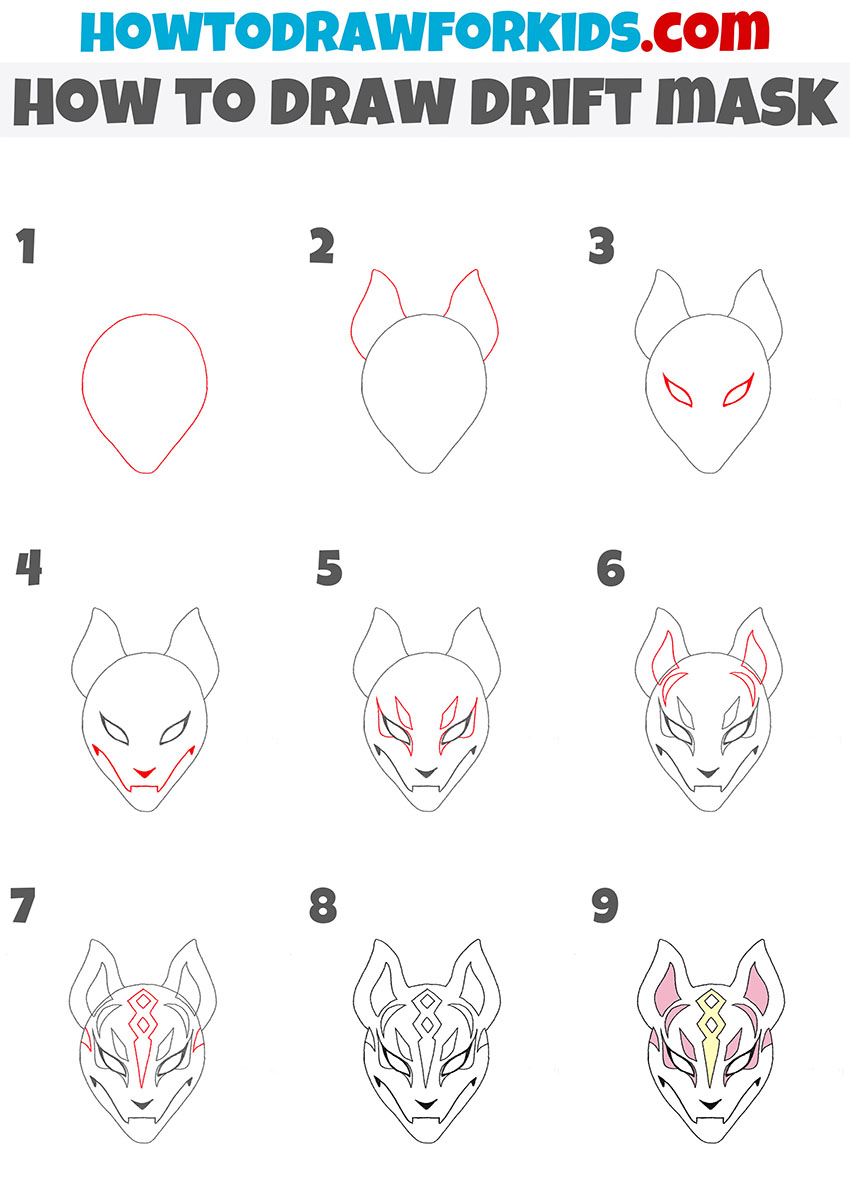 I suggest you draw an unusual object, and now you will learn how to draw a Drift mask. This mask is taken from the famous battle royale game Fortnite.
The mask is a stylized face of a fox, which is complemented by decorative elements at the top. This mask can be used at themed parties or Halloween. You can be sure that such an unusual mask will not go unnoticed.
This lesson will require your ability to maintain symmetry, because both sides of the mask must be exactly the same. Take your time and carefully draw all the lines that are marked in red.
Materials
Pencil
Paper
Eraser
Coloring supplies
Time needed: 30 minutes
How to Draw Drift Mask
Draw the outer outline.

Depict the drop-shaped figure, where the sharp end is pointing down.

Depict the ears.

With the help of curved lines depict two erect pointed ears.

Add the eyes.

With smooth lines draw two eyes of the same shape as in my example.

Depict the nose and mouth.

At the bottom of the mask draw the small nose and the wide mouth.

Detail the eyes.

Add curly elements around the eyes while maintaining symmetry.

Detail the top of the mask.

Add small elements at the top of the head and draw the inner parts of the ears.

Add the rest of the elements.

Draw an elongated curly element in the center of the mask and add small elements on the sides.

Correct inaccuracies.

Look at the drawing and if you notice mistakes, then correct them. Remove extra lines.

Color the drawing.

For coloring, you will need pink and yellow.
The lesson is over, and it's time to evaluate the result of the work. Did you manage to draw the Drift mask right away, or did you encounter difficulties in the process? Write about it in the comments. Don't forget to download the PDF file with the short version of the lesson. This file contains simple handy instructions and other useful materials. This will help you return to the lesson at any time, even if there is no Internet access.