In this lesson I want to show you in detail how to draw a woodpecker. I am sure that this lesson will be useful for each of you.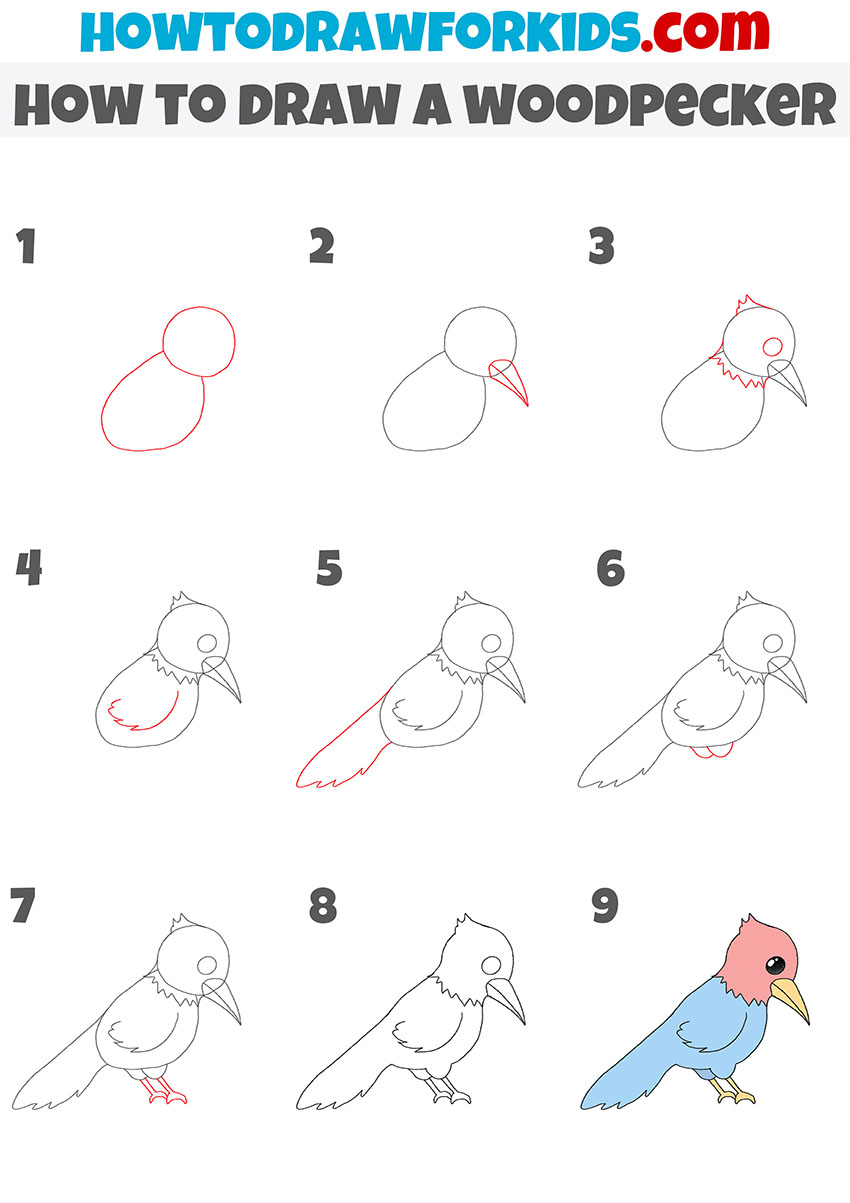 I decided to dedicate this step-by-step guide to drawing birds, and now I will show you how to draw a woodpecker step by step. Simple lines will be used here, so any novice artist can easily cope with this creative task.
The woodpecker is a forest bird with a strong beak. The woodpecker is considered the most industrious bird, because he is reluctant to fly, but works hard. This small bird knocks on wood for hours, extracting its livelihood from the cracks and cracks in the tree bark.
There are many varieties of these birds. In this lesson you will draw a small woodpecker with bright colorful plumage. The woodpecker has a large head and a sharp, slightly curved beak.
Materials
Pencil
Paper
Eraser
Coloring supplies
Time needed: 30 minutes
How to Draw a Woodpecker
Draw the head and torso.

First draw the round head and then add the small torso.

Depict the beak.

At the bottom of the head draw the sharp beak, which consists of two parts.

Detail the head.

At the crown, add the small tuft and add plumage on the neck. Draw the oval-shaped eye.

Add the wing.

In the middle of the torso, draw the wing using a smooth line and add the pointed feathers.

Sketch out the tail.

Continue down the line of the back and depict the large tail.

Draw the upper parts of the paws.

Depict two semicircular lines at the bottom of the body.

Add the rest of the paws.

Sketch out two paws of the same shape as in my example.

Correct inaccuracies.

Using the eraser, carefully remove all extra lines in your drawing.

Color the drawing.

For coloring, you will need pink, blue, orange, and black.
On this lesson drawing a woodpecker came to an end. Show the result of your work to your friends and offer to complete this lesson together. I also recommend that you follow the other lessons that are presented on this site in order to learn how to draw various birds. You can now download a PDF file that contains a brief instruction and additional materials that will be useful in completing this lesson.