Today, you will learn how to draw a feather. This will be another step-by-step guide to help you improve your artistic skills.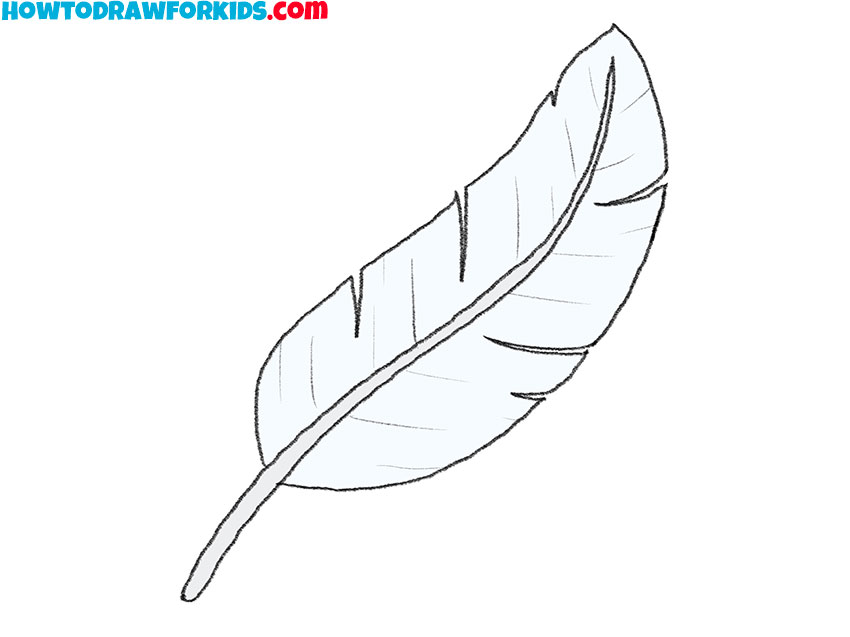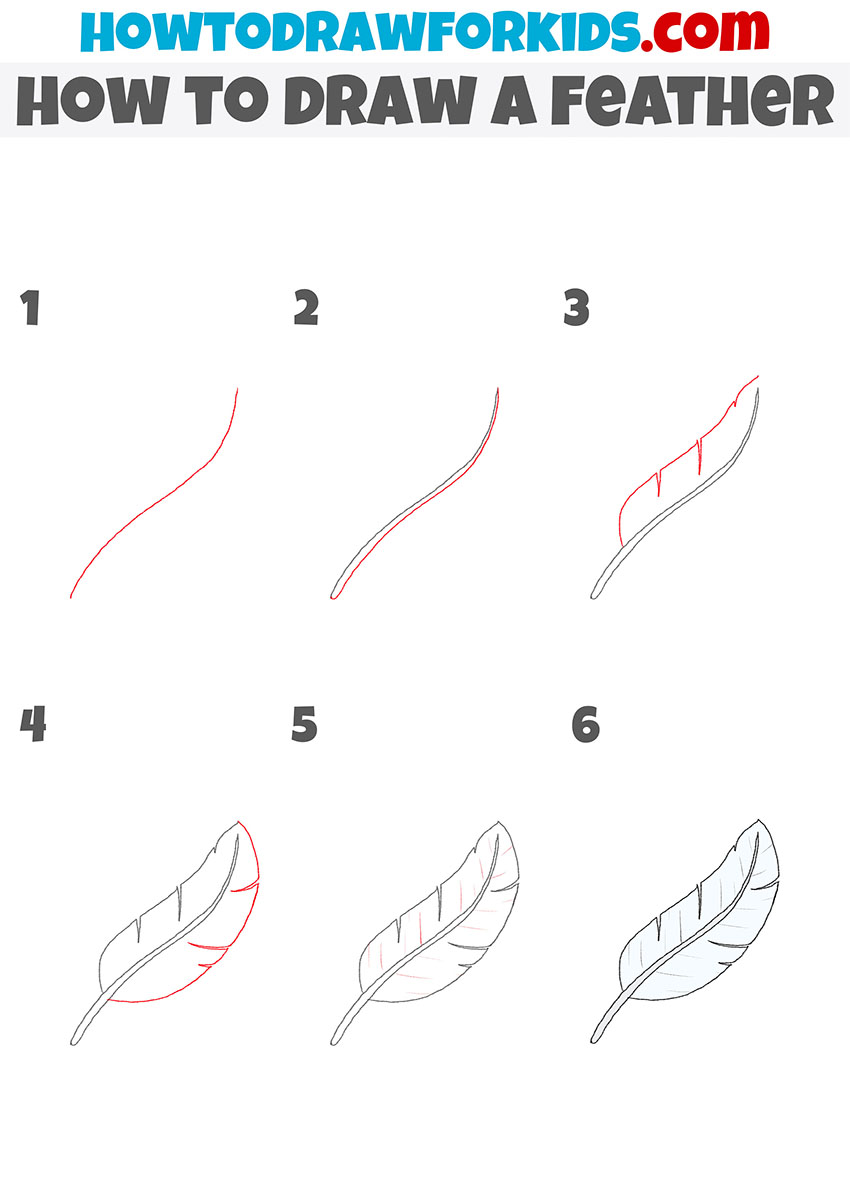 This lesson shows in detail how to draw a feather. This is a great object to draw as you will practice drawing smooth curved lines once again.
In the picture, you see a large feather. Such a feather can be on the wings or on the tail of any large bird. The feather has a shaft along which small, thin bristles are located. This feather looks very nice and can be used as a design element.
If you want to learn how to draw a feather, then carefully follow all the drawing steps and use small tips that will help you correctly depict the next element. To color the feather, you can use the same color as in the example, or you can choose any other shade.
Materials
Pencil
Paper
Eraser
Coloring supplies
Time needed: 30 minutes
How to Draw a Feather
Draw the outline of the rod.

Determine the size of the drawing and draw a smooth, curved line.

Depict the thickness.

Draw another smooth line along the original line.

Add the thin bristles on one side.

At the top of the feather, draw the row of bristles and make small tears in some places.

Draw the thin bristles on the other side.

Repeat the previous step and draw similar bristles on the underside of the feather.

Detail the feather.

Sketch out the thin, short strokes successively along the rod.

Color the feather.

For coloring, you will need a light blue or any other color of your choice.
By tradition, at the end of the lesson, there is a link that you can now use and download a short version of the lesson in PDF format. Thus, the lesson will always be at your fingertips, even when the Internet is not available.
How to Draw a Feather Step by Step
The image of a bird's feather is very often used in fashion design, in the interior and in many design works. If you learn how to draw a bird feather correctly, you can apply the acquired skills in the future. Now I will ask you to prepare all the necessary art supplies, and you can start exciting creative work.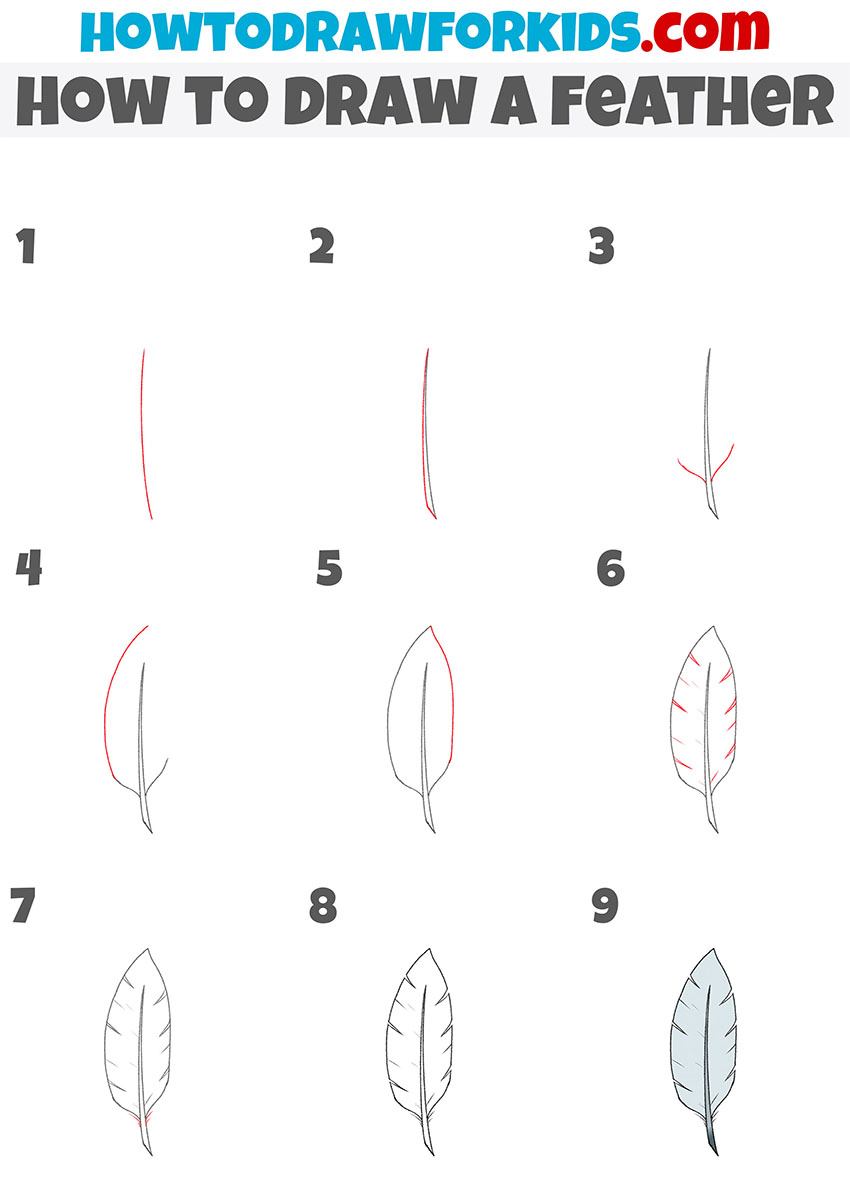 How to Draw an Easy Feather
The figure shows an ordinary bird feather, which has an elongated shape and a pointed end. There are small grooves along the edges of the feather. This is what the feathers of most birds on our planet look like.
Freehand lines are allowed in this tutorial and therefore the shape of the feather and the arrangement of the grooves in your drawing may differ slightly from my example. The main thing is to remember the sequence of steps so that in the future you can easily draw such a feather if necessary.