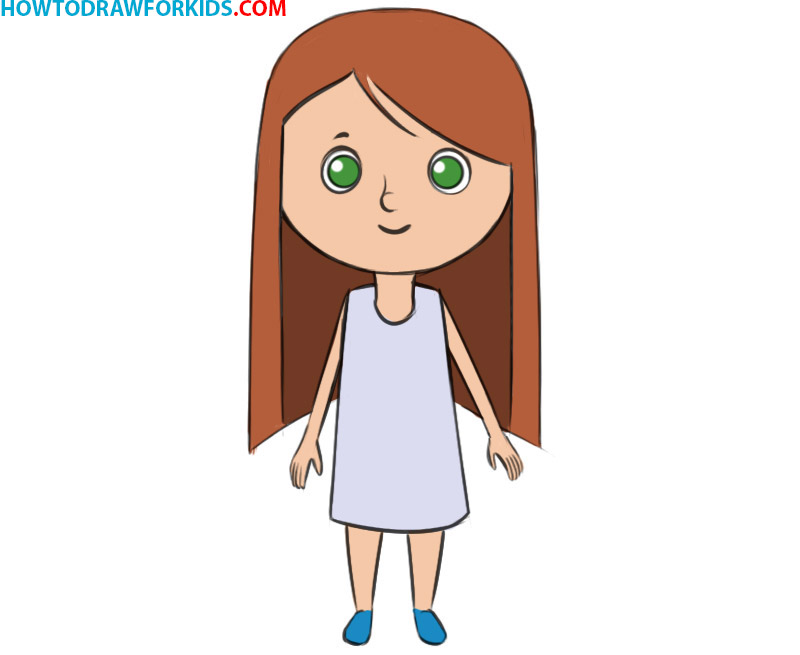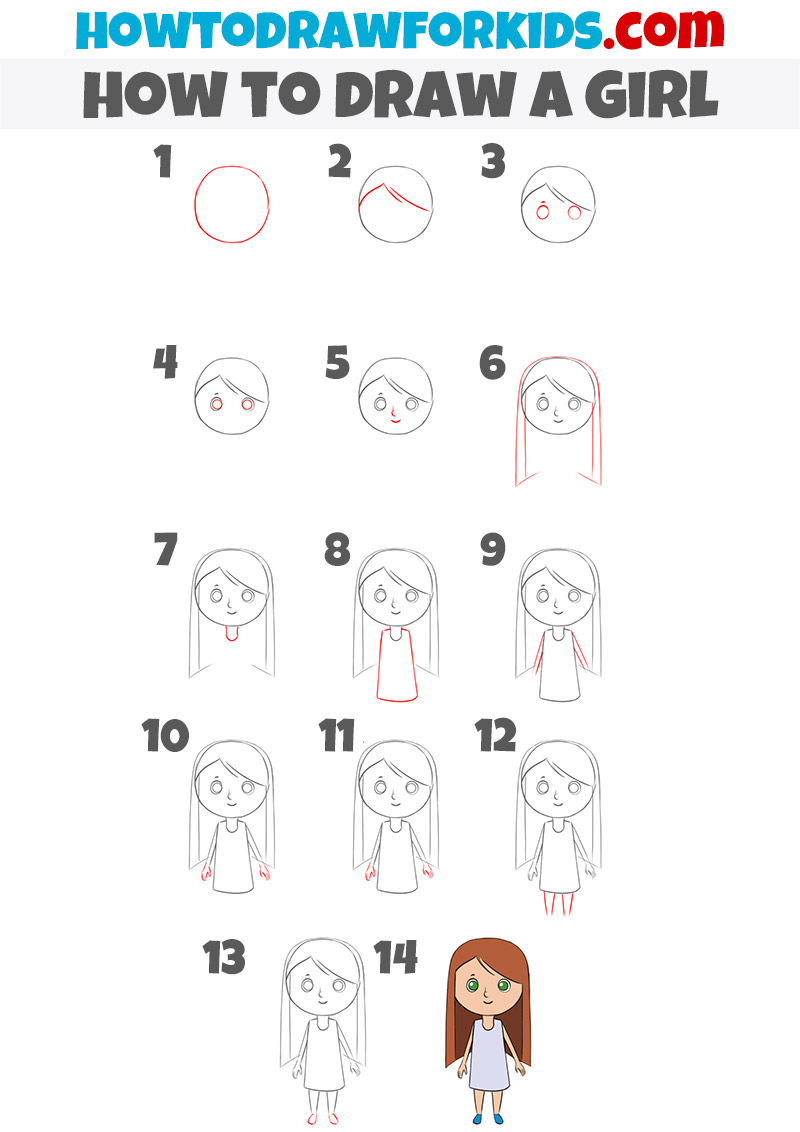 In this very simple thirteen-stage instruction, the team of Howtodrawforkids.com will show you how to draw a girl.
Step 1
Firstly, i will draw a large circle at the top of our paper sheet. Don't try to draw a perfectly flat circle. It will be great if you draw this without the auxiliary tools.
Step 2
Let's draw some oblique lines that represent the bottom of the hairstyle. You can draw a hairstyle of any shape. In our case, this is an acute angle and a smooth line.
Step 3
A pair of circular shapes will represent the location and shape of the eyes. A small short line which looks like a comma will mark the brow. Let's picture this.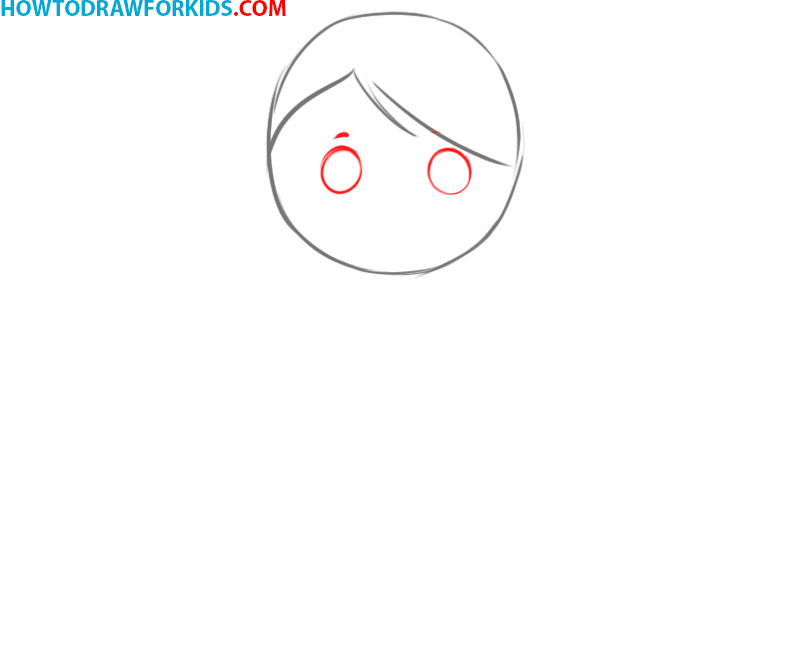 Step 4
Add a couple more round shapes inside the shapes from the previous step. These are two small circles that adjoin the medial edges of the eye contours.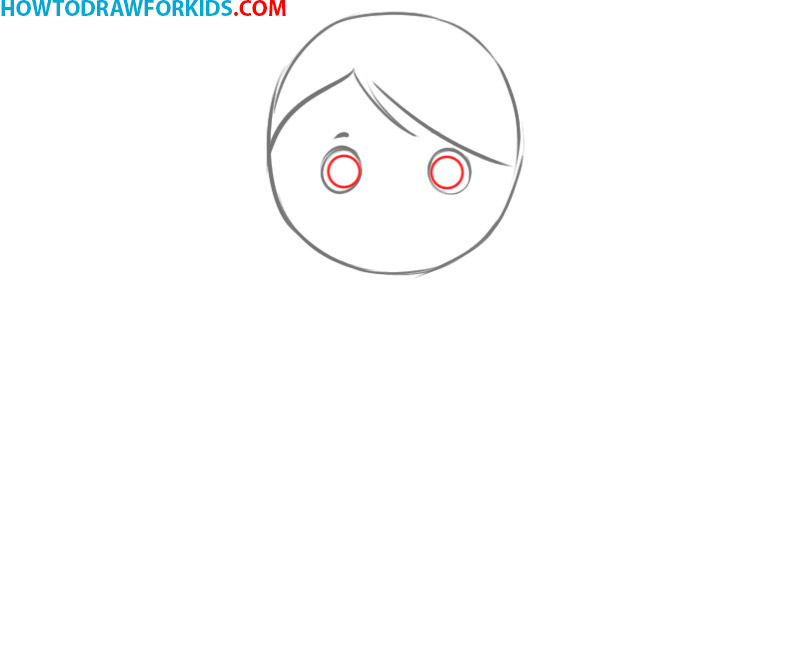 Step 5
We continue to draw the facial features of our girl. In this step, we will draw the outlines of the nose and mouth. The mouth looks like a small dash, and the nose looks like a semicircle and a slight line.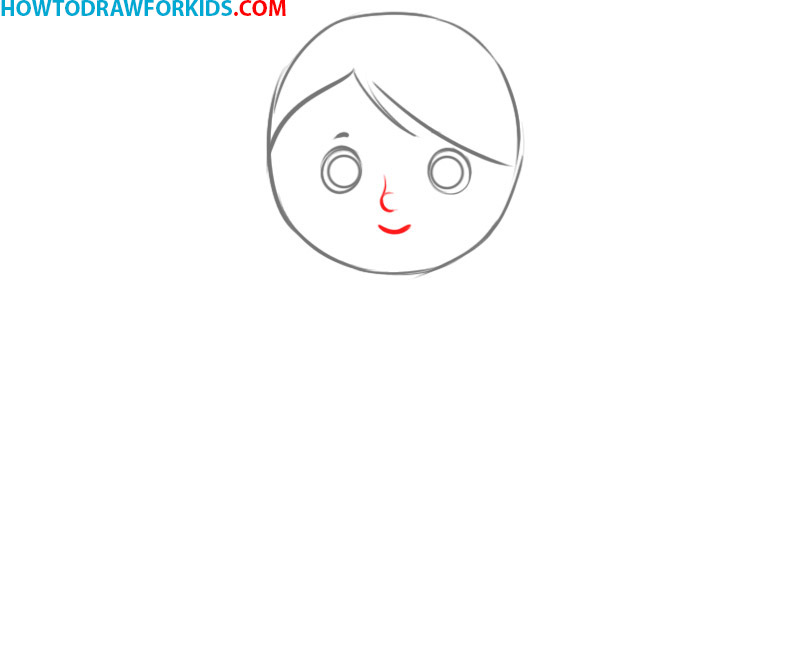 Step 6
This is another step that depends on your initial idea. You can create any hairstyle for this girl. We decided to draw long, straight hair that looks like a pair of straight lines.
Step 7
So we continue with the guide on how to draw a girl. Our girl has a rather slender physique. So let's draw a slender, graceful neck in this step.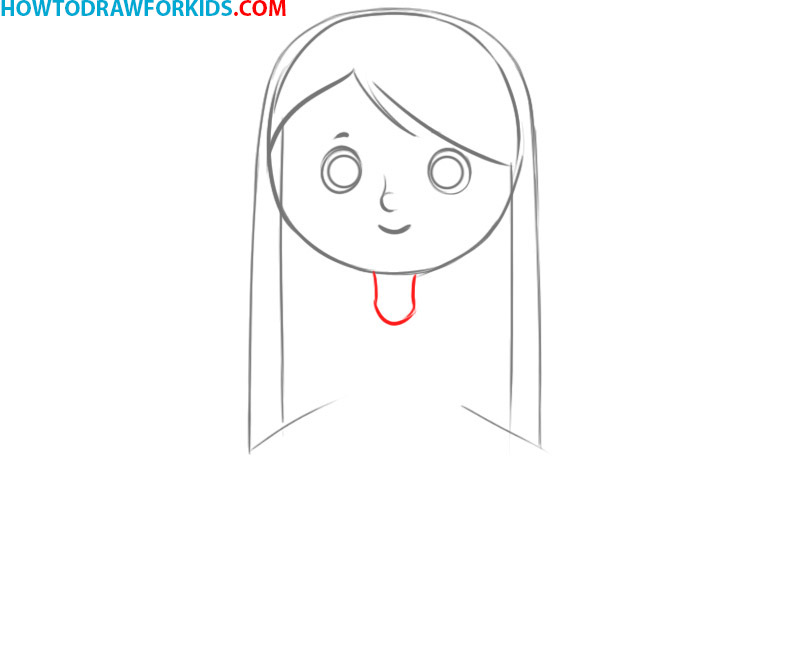 Step 8
In this step we will sketch out the outlines of the torso. It looks like a small trapezoid with a rounded bottom outline. Try not to draw a shape that is too wide.
Step 9
And now we will draw the thin arms of our girl. It looks like two pairs of straight lines that are at right angles to the torso.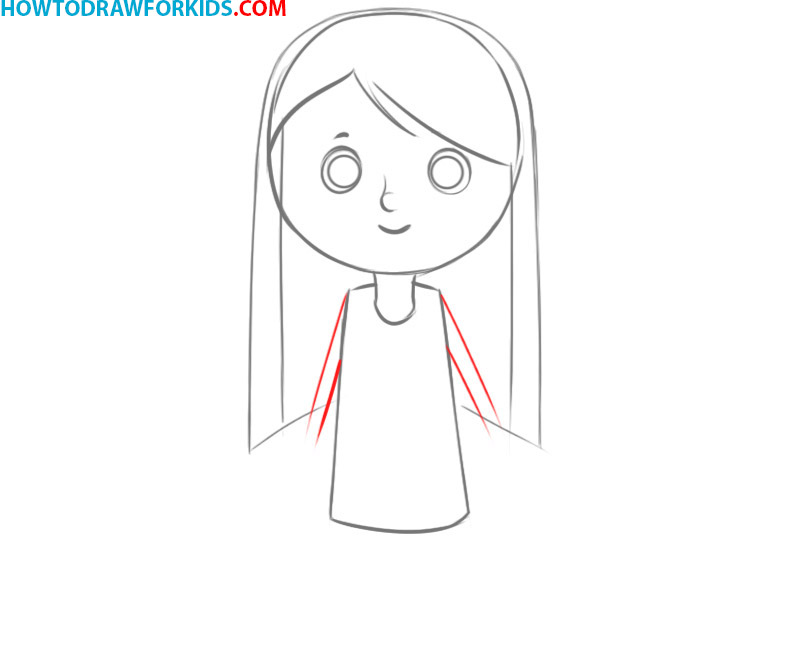 Step 10
Let's depict the hands of our character. Draw long, thin fingers and graceful forearms.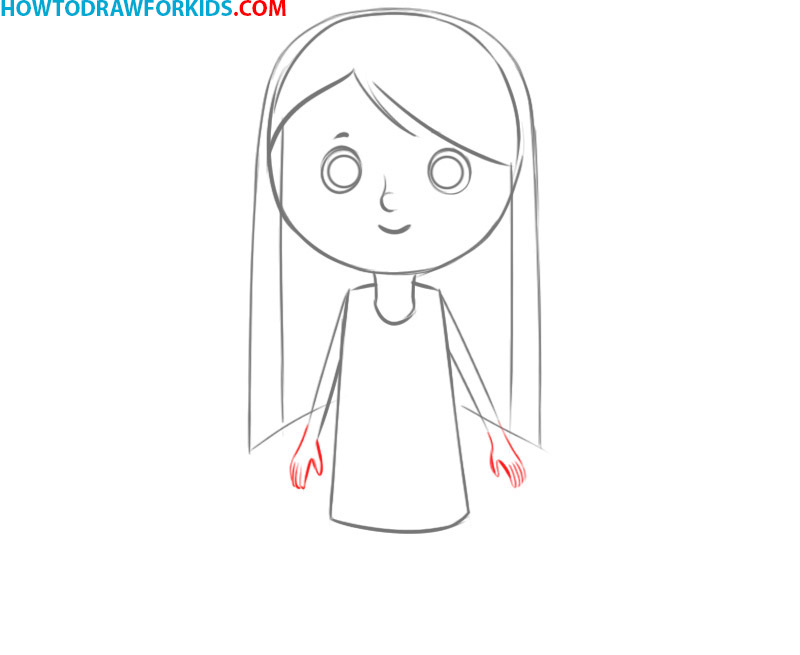 Step 11
So, we continue our guide on how to draw a girl. In this step we will draw the outlines of the middle part of the legs. These should be smooth contours without sharp bends.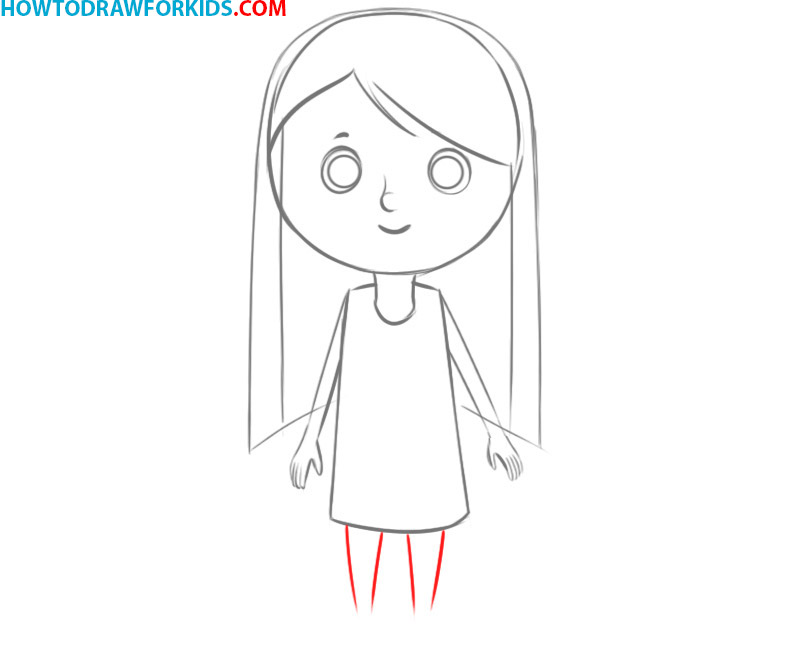 Step 12
Let's draw small rounded shapes with which we will outline the legs of our heroine. Avoid oversized shapes in this step.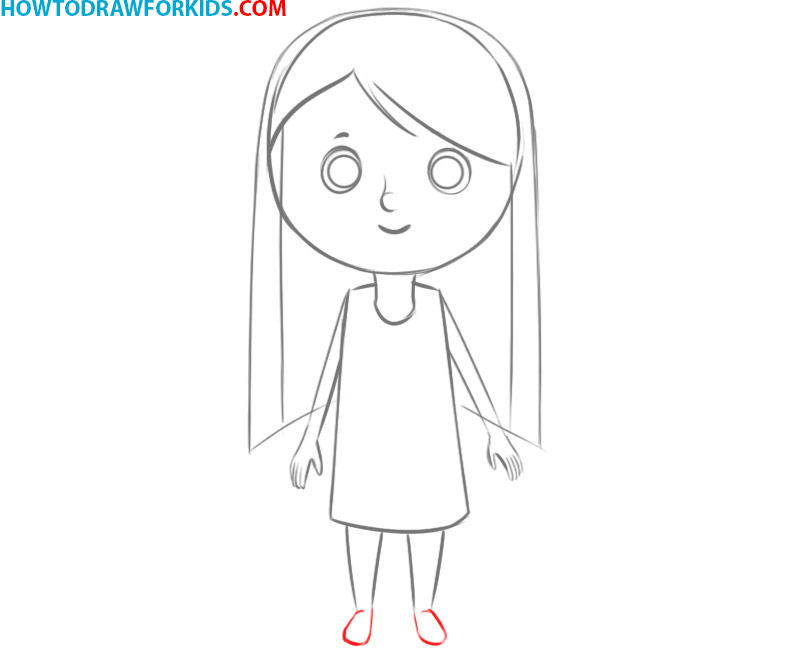 Step 13
Create a color scheme for this girl. We decided to choose a light blue dress and a dark blue shoes. Choose the same eye color anyway. Don't forget the white highlight inside each pupil.
So we completed the guide on how to draw a girl. Do not forget to write in the comments about all the problems that you encountered while working with this lesson. We will take this into account in future articles.