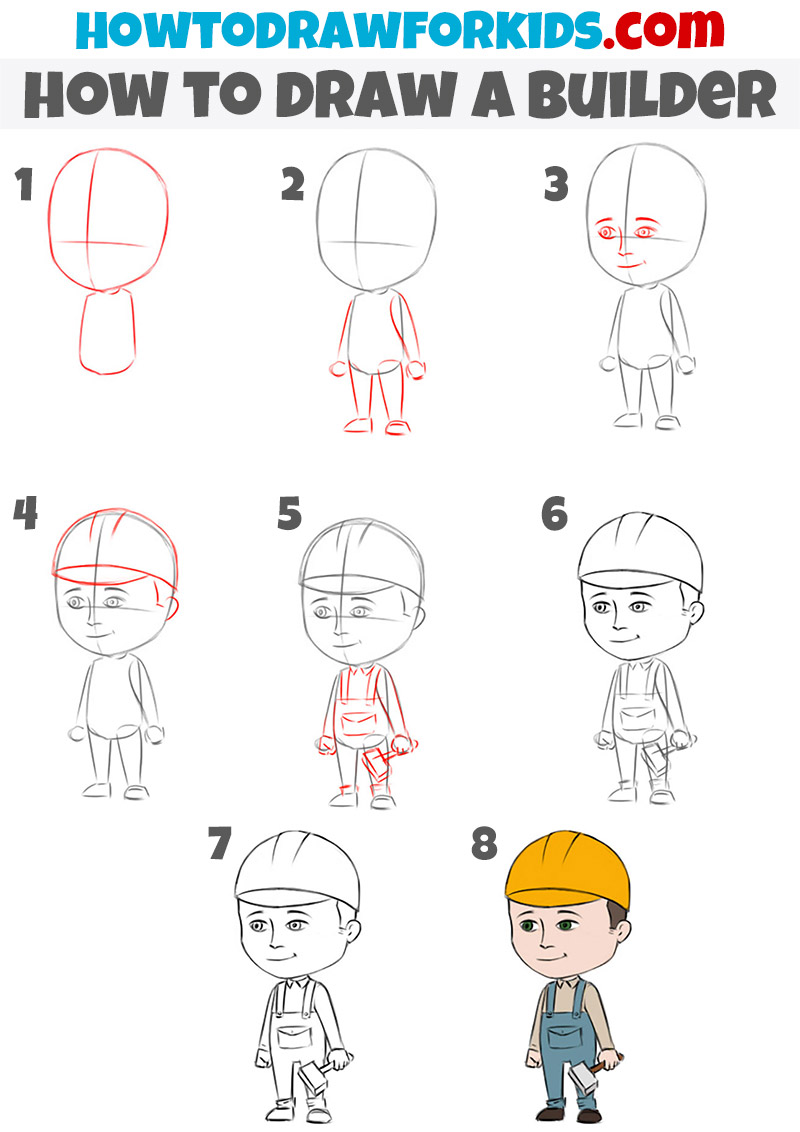 This is another super simple instruction from the series of tutorials about people in which I show you how to draw a builder for kids.
Like all the instructions on the pages of Howtodrawforkids.com, this instruction will be super simple. To portray a builder, you will need a pencil or marker, as well as a sheet of paper. At the very end of the guide on how to draw a builder for kids, you can use a set of colored pencils, paints, or markers for coloring.
Step 1
Start by drawing a head and a small torso. On the head, depict a crosshair for drawing a face.
Step 2
Now go to the torso and depict the arms and legs using simple lines.
Step 3
Now portray the details of the face using the construction lines created in the first stage.
Step 4
To make this person a builder, depict a helmet on his head.
Step 5
Now depict the work overalls. After that depict a construction hammer in the hand.
Step 6
Get rid of the construction lines and darken the necessary lines of the head.
Step 7
Now do the same operations, but with the torso and limbs.
Step 8
I decided to paint the helmet orange, shirt beige, overalls blue, and shoes brown. You can of course use any other colors.
Try adding some detail to make this artwork more voluminous. For example, you can depict shadows and some other tool in the second hand, such as a spatula.
If this article on how to draw a builder for kids was interesting to you, then be sure to visit our other instructions from the People section to learn how to draw a ninja, a doctor, an artist, and other interesting characters.