I suggest you complete this interesting drawing lesson, in which you will learn how to draw Luffy. This simple lesson consists of nine steps.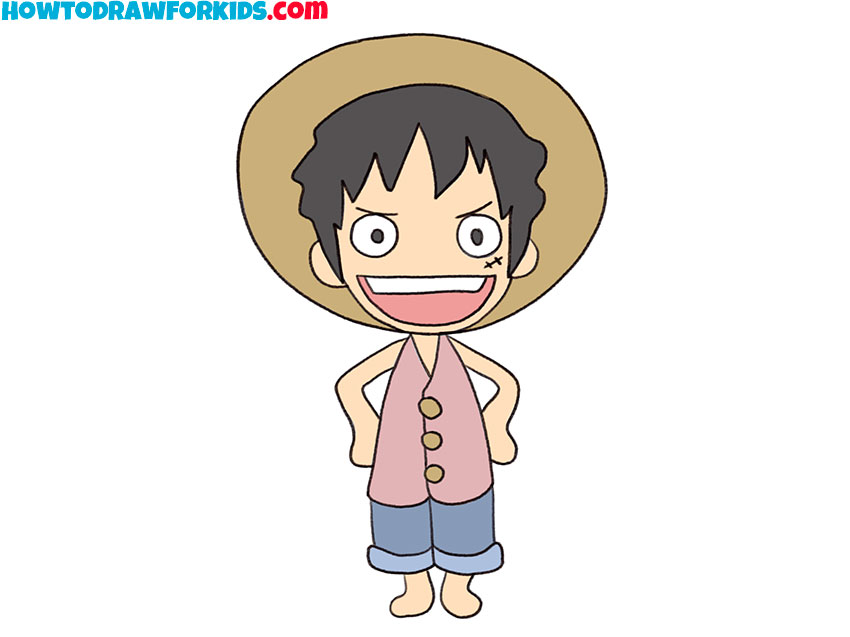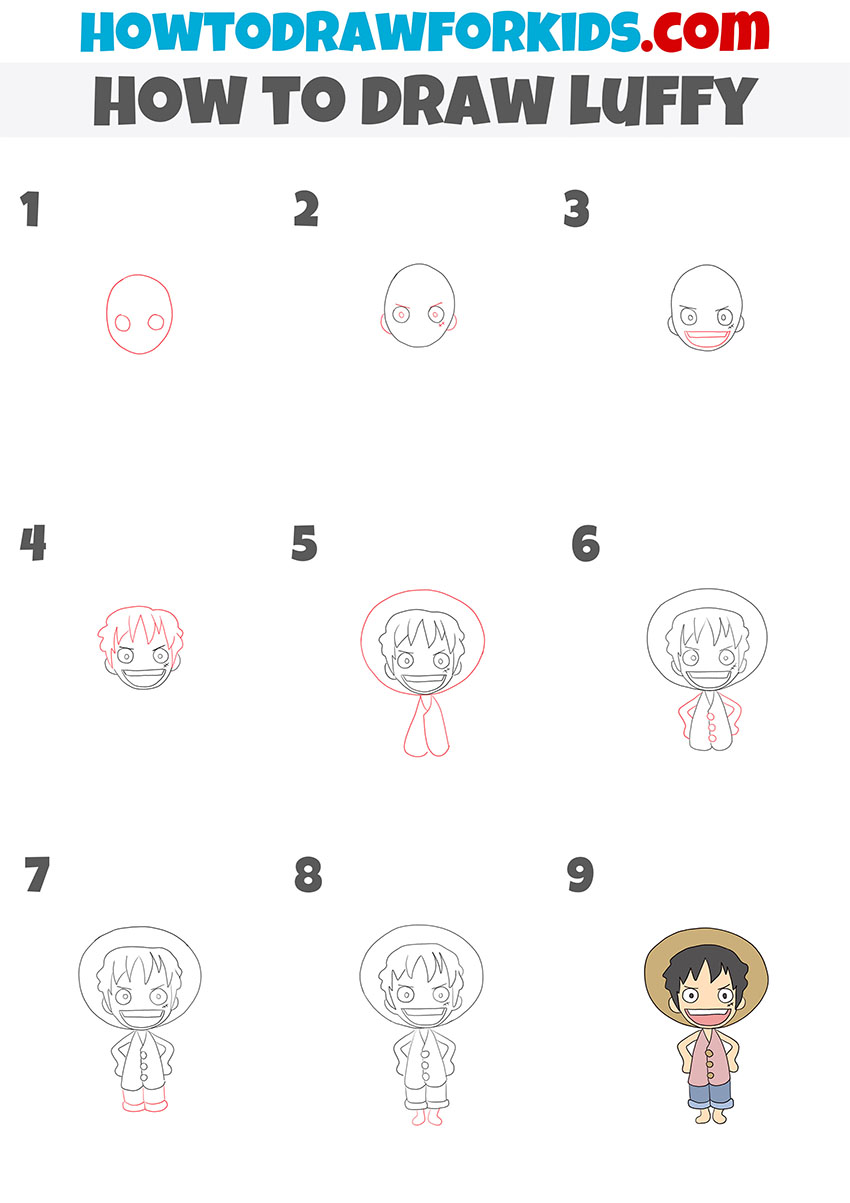 I have prepared for you a fascinating and unusual drawing lesson in which I will tell you how to draw Luffy step by step. If you are an anime fan, then this tutorial is sure to please you.
Luffy is the main protagonist of the anime and manga One Piece, the captain of the Straw Hat Pirates, and one of the top four fighters. Luffy is a young boy who is well known for his unusual straw hat.
He is usually dressed in short blue shorts, a red vest and sandals. Luffy also has an old scar under his left eye with two stitches, which he got by cutting himself with a knife to prove to Shanks that he is brave and not afraid of pain, and short black hair.
Materials
Pencil
Paper
Eraser
Coloring supplies
Time needed: 30 minutes.
How to Draw Luffy
Add the outline of the character's head and eyes.

Draw the head like an oval, and also add two eyes inside it, like circles.

Depict the ears and facial features.

Draw symmetrical arcs on the right and left of the head, add a few straight lines and circles.

Draw the Luffy's mouth.

At the bottom of the previously drawn head, depict the mouth using straight lines and an arc.

Sketch out the character's hair.

At the top of the head, depict the hair using wavy and curved lines of varying lengths.

Add the torso and costume elements.

Draw an oval around the character's head, and also add curved lines below the head.

Depict the hands and buttons.

Draw three circles on the torso, and also draw symmetrical arms using curved lines.

Add the Luffy's legs.

Below the previously drawn torso, add the legs using arcs and straight lines.

Finish drawing the legs of the character.

Use curved lines to draw the lower parts of the legs.

Color the drawing.

Use beige, shades of pink, gray, brown, shades of blue and black.
For your convenience, I have prepared a PDF file that contains all the useful information from this lesson, as well as additional practice materials that will help you develop your artistic abilities. You can download this file right now, so you don't lose it in the future, and return to this tutorial even without an internet connection.