This drawing lesson will help you learn how to draw Kylo step by step. This simple instruction is perfect for beginners to follow.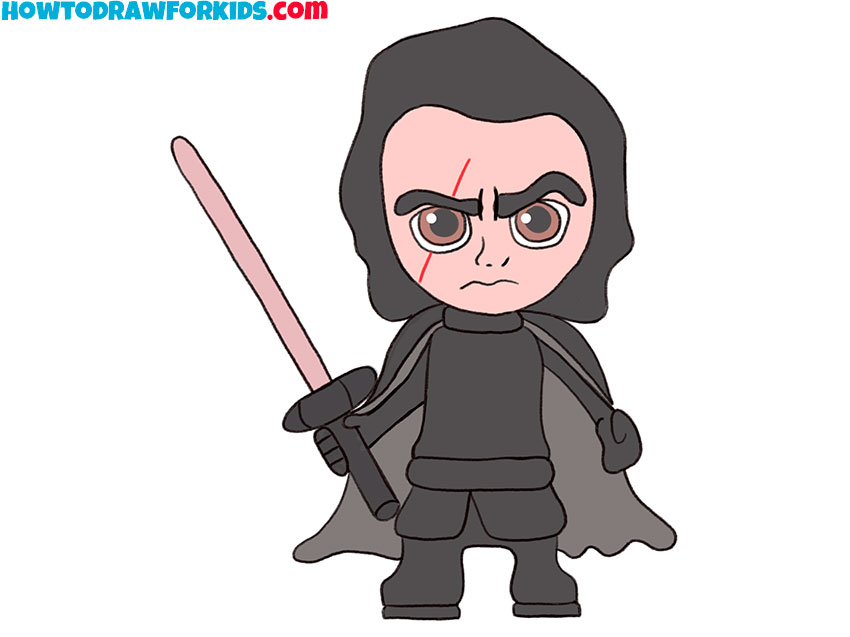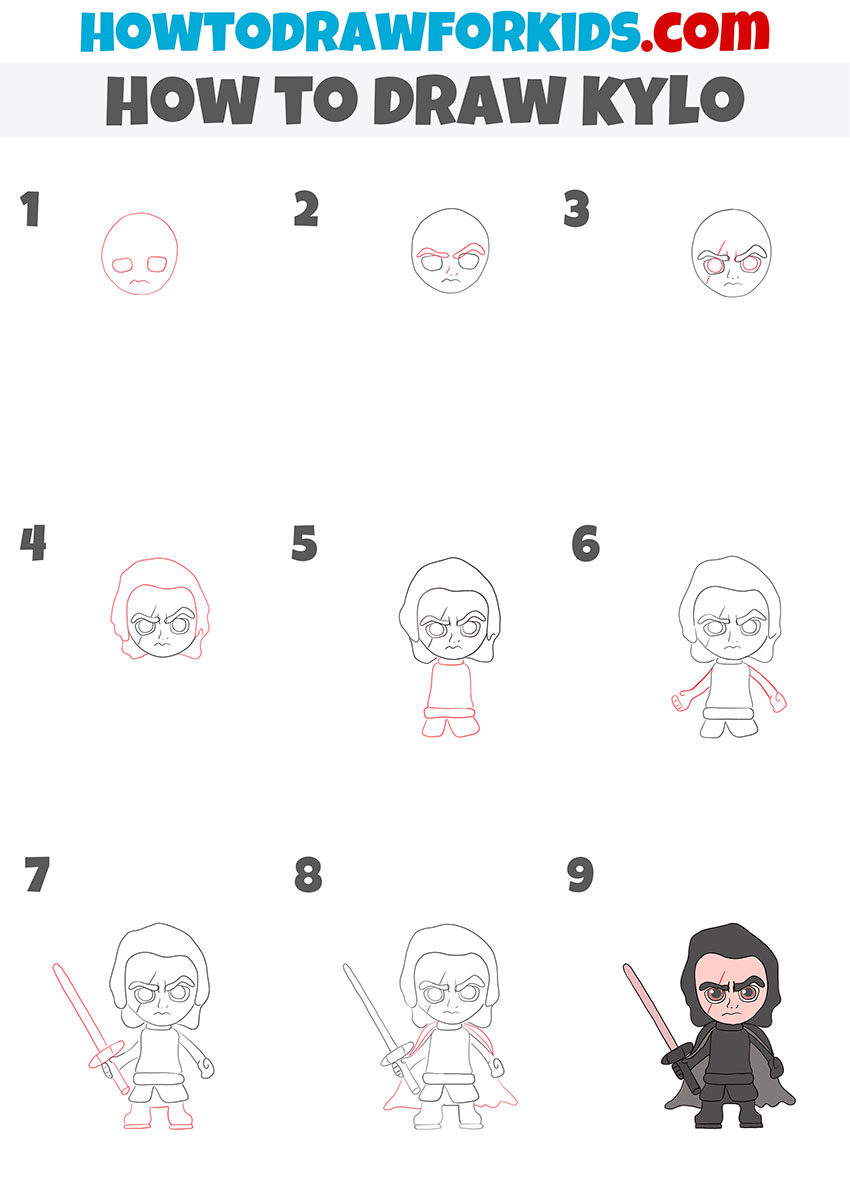 I suggest you complete a wonderful drawing lesson in which I will tell and show you how to draw Kylo step by step. This drawing lesson is dedicated to depicting your favorite characters.
Kylo is a famous Star Wars character. Kylo is one of the leaders of the First Order and a former apprentice of Luke Skywalker who switched to the dark side of the Force. Kylo Ren is ruthless, merciless, cruel, and self-confident, he is not able to control his temper and emotions, he is prone to fits of rage.
After he became the leader of the Knights and renamed himself Kylo Ren, he began wearing dark clothing, including black pants, a shirt, gloves, and boots.
Materials
Pencil
Paper
Eraser
Coloring supplies
Time needed: 30 minutes.
How to Draw Kylo
Draw the outline of the head and some facial features.

Depict the head in the form of a figure that looks like a circle, and also draw the eyes and mouth.

Add some more facial features.

Now you should draw the furrowed eyebrows as well as the nose using curved lines.

Finish drawing the character's facial features.

Depict a circle, not a full circle, as well as several lines of different lengths.

Depict the character's hair.

Sketch out several curved and wavy lines near the previously drawn character's head.

Add the outline of the character's torso.

To draw the Kylo's torso, add curved lines of various lengths below his head.

Add the character's upper limbs.

On the right and left sides of the torso, depict the arms using curved lines.

Sketch out the Kylo's legs and sword.

Depict two symmetrical legs using curved lines, add the sword on the left side.

Draw the elements of the costume.

Depict the character's cape by adding curved and wavy lines at the back of his torso.

Color the drawing.

Use beige, red, shades of brown, shades of gray and black.
Traditionally, for your convenience, I have prepared a PDF file that contains a short version of this lesson, as well as training materials that will help you complete this lesson. Download this file right now so as not to lose this lesson and return to it at any time convenient for you, even if you are not connected to the Internet.