In this tutorial, I will show you how to draw a hammer. Now you have to go through only seven simple steps.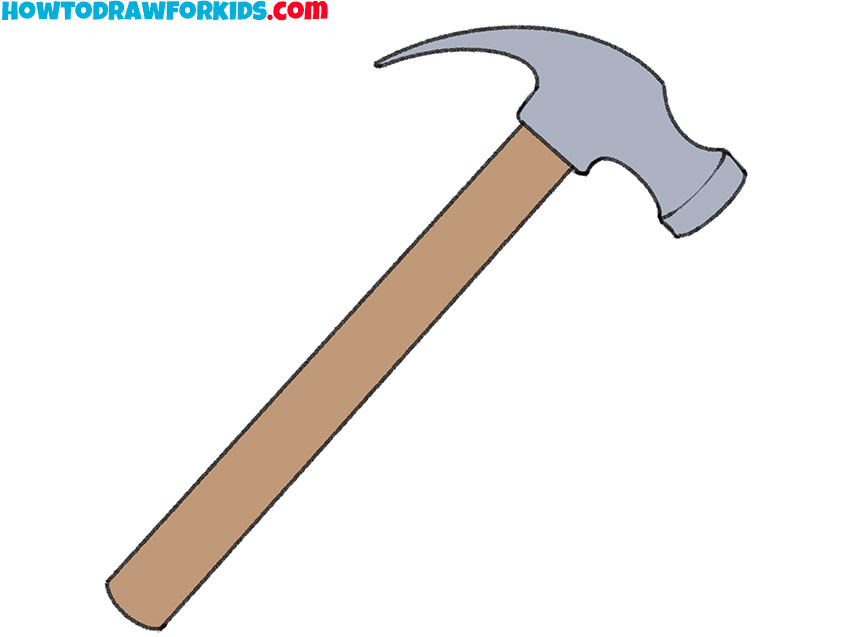 This tutorial shows in detail how to draw a hammer. This is a very important hand tool that is widely used in production and in the household. With a hammer, you can quickly hammer nails, break objects and perform many other actions.
The hammer is one of the most ancient tools. The first hammers had a primitive shape, gradually the hammer improved and its shape changed. Nowadays, hammers come in different sizes and are used in various industries.
The figure shows a conventional hammer, which consists of two elements – a wooden handle and a metal head. You can easily draw the elements if you carefully and accurately follow all the drawing steps.
Materials
Pencil
Paper
Eraser
Coloring supplies
Time needed: 30 minutes
How to Draw a Hammer
Draw the pointed edge.

Depict the sharp part of the hammer, which is used to break objects.

Add the middle part of the hammer.

Sketch out the main part of the hammer with curved lines.

Add the other end of the hammer.

Continue the lines and draw the part of the hammer that is used to drive nails.

Draw the impact part of the hammer.

Depict two parallel lines to draw the impact part of the hammer.

Start drawing the handle.

At this stage, sketch out a straight line.

Add the rest of the handle.

Draw one long line and depict the end of the handle with a short line.

Color the hammer.

You will need gray and brown.
At the end of the lesson, I suggest you download a PDF file for free, which contains a brief instruction and other useful materials. This will help you return to the lesson whenever you want, even if the Internet is not available.
Really Simple Hammer Drawing Tutorial
If the lesson you saw above seemed complicated to you, then let's try to look at the simplest way to draw a hammer, which consists of only three elementary steps.