In this tutorial I want to show you how to draw anime eyebrows. This step-by-step guide will be very useful for any aspiring artist.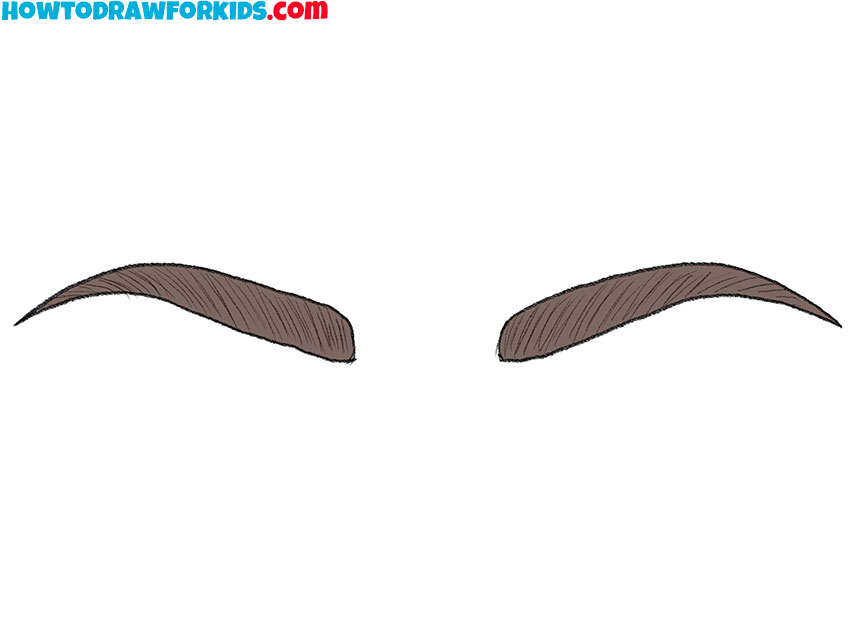 I am glad to offer you a new instruction on how to draw anime eyebrows. If you complete this lesson, you will acquire useful skills that will definitely come in handy when creating new drawings.
In the picture you see the eyebrows of the anime character. Eyebrows are beautifully shaped and look natural. Such eyebrows can be not only for anime characters, but also for any other characters that you will draw in the future, so remember all the steps so that you can easily draw eyebrows if necessary.
In order to draw even eyebrows, you will use auxiliary lines. These lines should be thin so that you can easily remove them later. During the lesson, take your time and try to maintain symmetry.
Materials
Pencil
Paper
Eraser
Coloring supplies
Time needed: 30 minutes
How to Draw Anime Eyebrows
Draw guidelines.

Determine the size of your drawing and draw two straight horizontal lines.

Designate the width of the eyebrows.

Add the marks with which you will determine the width of the eyebrows and the distance between them.

Depict the lower outline of the eyebrows.

Draw smooth curved lines between the marks, as shown in the example.

Add the upper outline of the eyebrows.

Draw two more smooth lines at the top to give the eyebrows the necessary shape.

Sketch out the hair.

With the help of thin strokes depict the hair. Pay attention to the direction of the hair growth.

Correct inaccuracies.

Use the eraser to remove all extra lines in your drawing.

Color the drawing.

Use any natural brown shade.
Now you have learned how to draw anime eyebrows and once again trained your creative skills. Subscribe to us on social networks so as not to miss new exciting drawing lessons. Especially for your convenience, I have prepared a PDF file with a short version of the lesson in advance. Download the file and draw at any convenient time, even if the Internet is unavailable.