I suggest you complete another interesting lesson in which I will show you how to draw an easy cat step by step.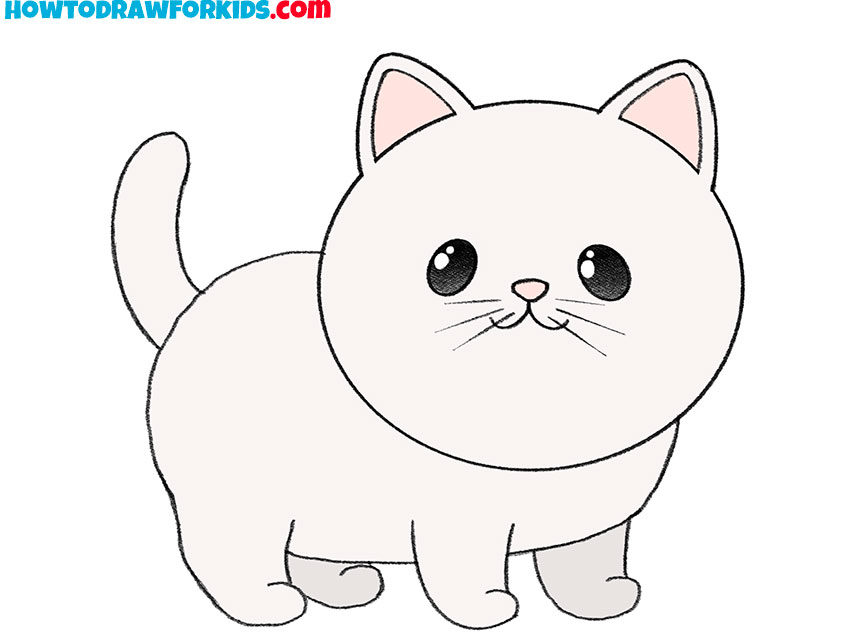 Now I will show you a new way how to draw an easy cat step by step. Cats are graceful, affectionate animals, and in this picture, the cat really looks very cute.
The cat has a rounded shape, the head is larger than the body, and the legs and tail are short. Consider these proportions in your drawing.
This lesson will require your ability to make smooth rounded lines. Be careful and attentive at every stage of drawing, and use the little tips that I have prepared for your convenience.
For coloring, you can use the same color as in the example, or you can choose any other color you like. If you wish, you can draw spots or stripes, so you get a great bright pattern.
Materials
Pencil
Paper
Eraser
Coloring supplies
Time needed: 30 minutes.
How to Draw an Easy Cat
Draw the head and torso.

Depict a straight oval to draw the head and then add the torso using a smooth rounded line.

Depict the eyes.

Draw two small identical ovals.

Sketch out the nose and mouth.

The nose is triangular in shape. Draw the mouth using short rounded lines.

Draw the ears.

The ears are triangular in shape. Make sure the ears are the same size.

Add the inside of the ear and whiskers.

Draw smooth lines inside each ear. Then using short thin lines draw the whiskers on each side.

Depict the front legs.

With smooth lines draw the short legs. Try to correctly depict the shape of the legs.

Add the hind legs.

With the help of smooth lines draw two hind legs that are located side by side.

Sketch out the tail.

The tail is short and carried up.

Color the easy cat.

Use grey, pink and black. Add highlights to the eyes.
You can now download a free PDF file containing a short version of the lesson and additional useful resources. Use this file any time you want to return to this tutorial.