Now I'll show you how to draw water splashes. This tutorial will be very easy to follow, and you will get great results the first time.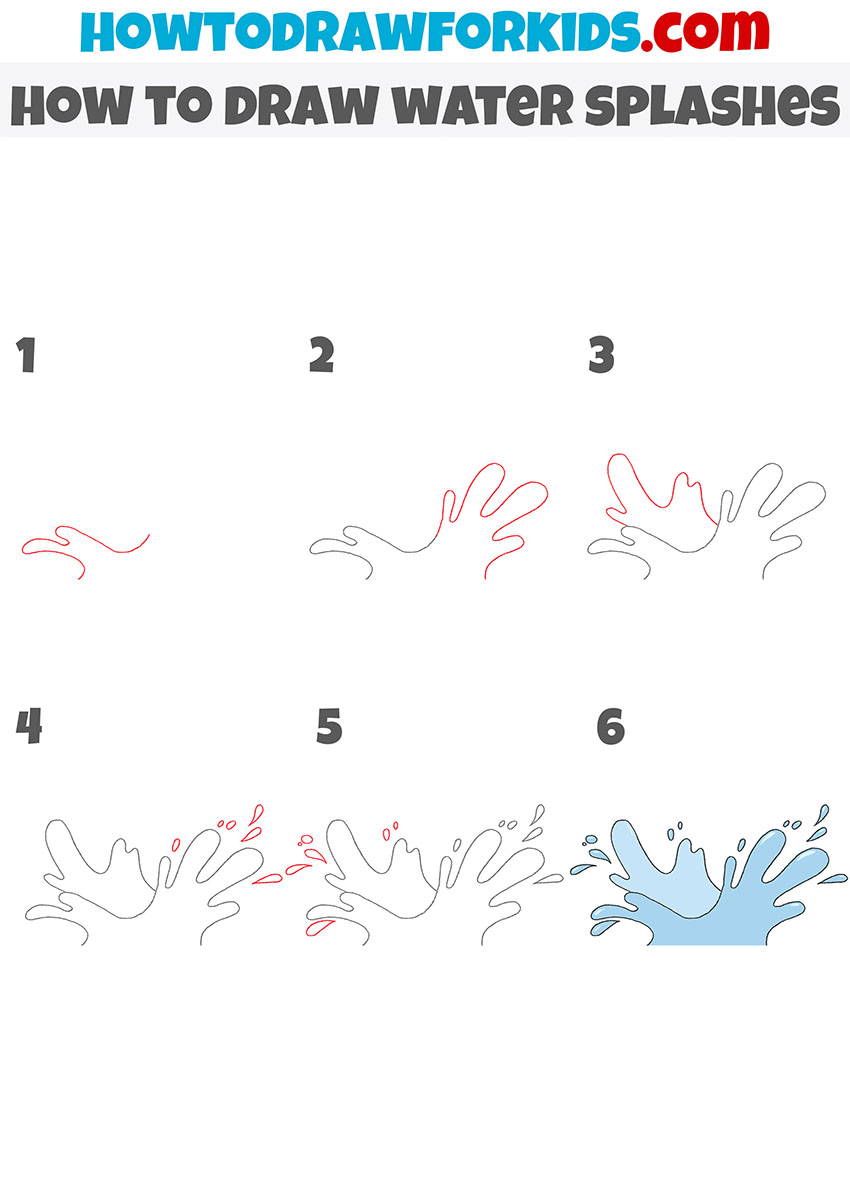 With the help of a simple instruction, you will learn how to draw water splashes. The instruction includes only six steps that you can quickly follow, even if you have no experience in drawing.
Such splashes are formed when a heavy object falls into the water or when a stream of water pours down and is removed from the surface. For example, if you throw a stone into a pond, large splashes will appear or such splashes form at the bottom of the waterfall.
In the picture you see splashes of water that have an uneven shape. Freehand lines are allowed in this tutorial, and the shape of the water in your drawing may differ from my example. So grab your art supplies and get started with the tutorial.
Materials
Pencil
Paper
Eraser
Coloring supplies
Time needed: 20 minutes
How to Draw Water Splashes
Draw the splashes on one side.

First, sketch out a free-form curved line.

Add the splashes from the other side.

Continue the top line and add the splashes of the water from the right side.

Depict the splashes of the water in the background.

At this stage, draw another long curved line as shown in the example.

Sketch out the water drops.

On the right side of the picture, draw several drops of the water of different sizes.

Add the drops of the water.

Repeat the previous step and draw some drops on the left side of the drawing.

Color the drawing.

For coloring, you will need different shades of blue.
So a very simple and interesting lesson came to an end, in which you learned how to draw water splashes. Write in the comments if you liked this lesson. I will be glad to receive feedback from you. Especially for your convenience, I have previously created a PDF file that contains a brief instruction and additional training materials necessary for the quality implementation of this lesson.