How to Draw a Bowling Ball
In this tutorial, I will show you how to draw a bowling ball. The instruction is very simple and contains only four steps.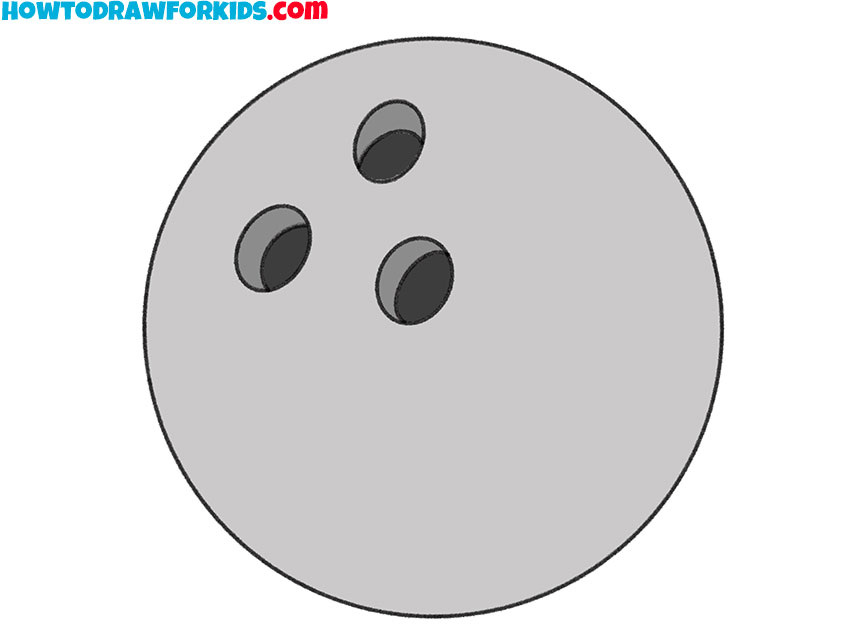 Now you will learn how to draw a bowling ball. This is a very simple object that any child and aspiring artist can easily draw. Bowling is an exciting pastime.
With the help of a ball, it is necessary to knock down the skittles, which are installed in a certain way. Surely you watched this sports game, or maybe you tried to play it yourself.
A bowling ball is an essential sports equipment that consists of a core and a cover. Usually the core is made of polyurethane or ceramic, and the coating is plastic, so the ball is heavy in weight. The ball has three holes that serve as an insert for the player's fingers, but there are balls without holes.
The figure shows a ball that has three finger holes. If you want to make the ball more realistic, then add shadows and highlights. Try to make a smooth outline, you can use improvised materials, but it will be better if you draw a circle yourself.
Materials
Pencil
Paper
Eraser
Coloring supplies
Time needed: 15 minutes
How to Draw a Bowling Ball
Draw the outer outline.

Determine the size and location of your drawing and draw an even circle.

Depict the holes.

At this stage, draw three small ovals.

Add the thickness of the ball.

Draw a small line in each circle to depict the volume.

Color the bowling ball.

At this stage, use shades of gray.
The bowling ball is ready! If you liked this drawing lesson, then leave a small review in the comments. Also write what kind of sport you like and what kind of sports equipment you would like to draw. I promise that I will take into account all your wishes when compiling new, exciting lessons.
As usual, for your convenience, I have prepared a PDF file in advance, which contains a brief instruction and additional useful tools. This will help you return to the lesson whenever you need to, even if you don't have Internet access.