In this tutorial, you will learn how to draw a Bugatti. Follow this simple lesson and enjoy the process of drawing.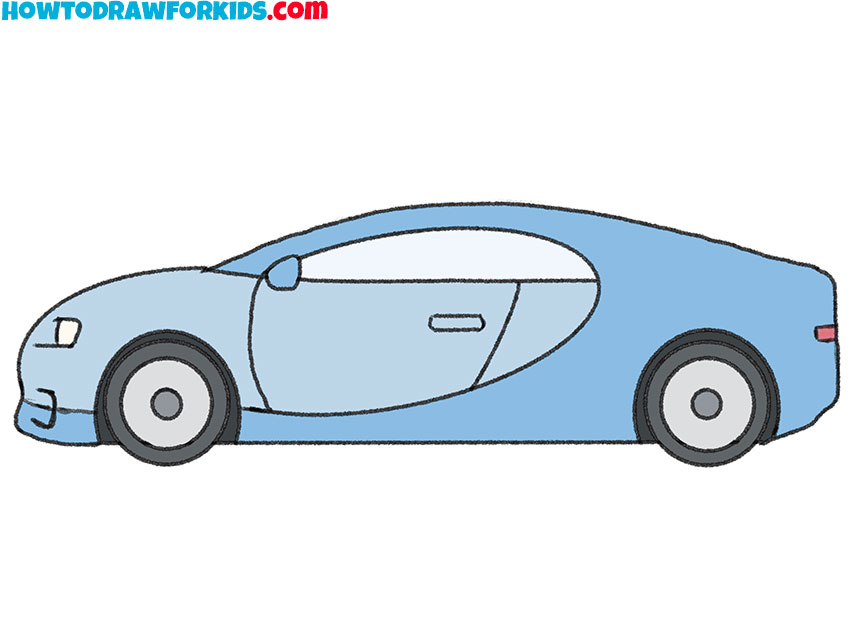 If you are interested in cars and want to improve your drawing skills, then you will definitely enjoy this tutorial. Here I will show in detail how to draw a Bugatti. This is a passenger car that is produced by a French automobile company.
The model range is represented by sports, racing and exclusive cars. You can see that the car has a beautiful design and looks very stylish.
This is a comfortable mobile car that can reach high speed, while driving is easy and pleasant. Thanks to its excellent technical characteristics and excellent external design, Bugatti is world-famous and in demand among motorists.
Now you have to draw a Bugatti car using a clear and accessible instruction. Each step in this instruction is visualized and supplemented with a small hint so that you can correctly depict the next element.
Materials
Pencil
Paper
Eraser
Coloring supplies
Time needed: 30 minutes
How to Draw a Bugatti
Draw the body of the car.

Use straight and rounded lines, and make curves where needed.

Add the outline of the door.

Sketch out one smooth, curved line.

Depict the wheels.

Draw two even identical circles.

Add the wheel arches.

Depict a smooth, rounded line above each wheel.

Add the remaining elements of the door.

At this stage, draw a few lines to complete the door.

Depict the rims on the wheels.

Inside each wheel, add circles of different sizes.

Add the rest of the elements.

Draw the rear and front lights, side mirror and door handle.

Correct inaccuracies.

Carefully remove unnecessary lines.

Color the Bugatti.

Choose any colors you like.
Now I invite you to download the PDF file, which contains a quick start guide and other useful materials. Rather, download the file and use it at any convenient time.