How to Draw Rudolph the Red-Nosed Reindeer
Today in this tutorial, I'll show you how to draw Rudolph the Red-Nosed Reindeer. I hope you enjoy this lesson.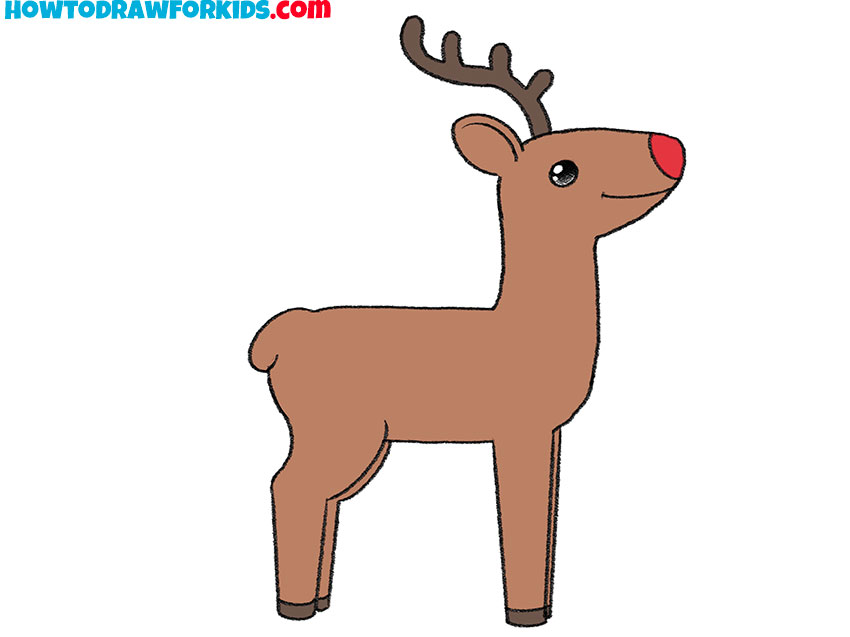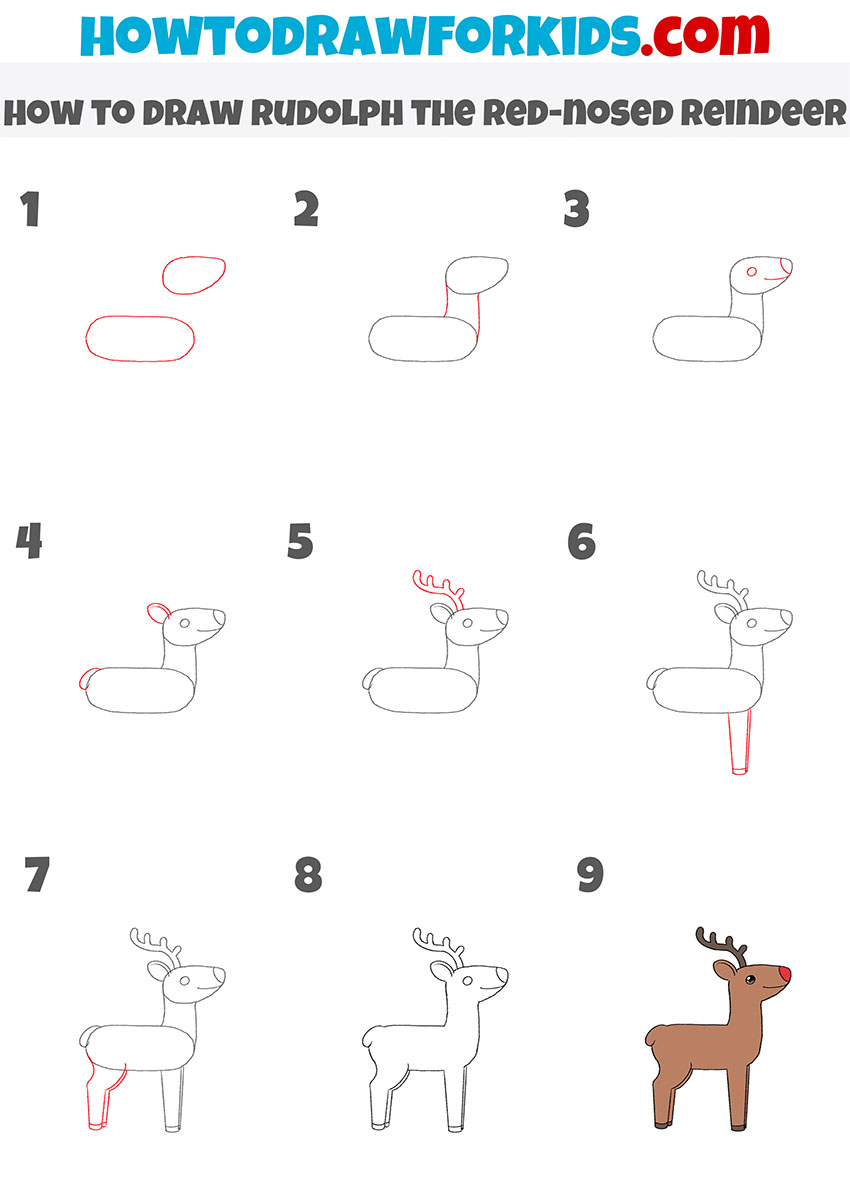 Now I will show you in detail how to draw a Rudolph the Red-Nosed Reindeer. This is a popular character associated with Christmas. I hope you watched the fascinating animated film about this amazing deer.
Rudolph the Red-Nosed Reindeer differed from other deer in that he had a red nose. This served as an occasion for ridicule, but it was the luminous nose of a deer that helped Santa Claus successfully get on a sleigh on a foggy Christmas evening.
The image of Rudolf's reindeer can be seen on various products associated with the celebration of Christmas. This lesson will be useful for you and will help you to train your artistic skills. Be careful and carefully draw all the lines, as indicated in the instructions.
Materials
Pencil
Paper
Eraser
Coloring supplies
Time needed: 30 minutes
How to Draw Rudolph the Red-Nosed Reindeer
Draw the outline of the head and torso.

Depict two ovals of the same shape as in the example, while maintaining proportions.

Depict the neck.

Using two smooth lines, connect the head and torso.

Add elements of the muzzle.

Sketch out the big nose, eye, and mouth.

Draw the ear and tail.

With the help of smooth rounded lines depict the ear and the small tail.

Depict the horns.

Be careful at this stage and try to correctly depict all the processes on the horns.

Draw the front legs.

Use straight lines to depict the front legs, add the hooves at the bottom.

Sketch out the hind legs.

Draw two hind legs that are located side by side.

Correct inaccuracies.

With the eraser, remove all unnecessary lines in the drawing.

Color the drawing.

You will need grey, red, black and brown.
Rudolph the Red-Nosed Reindeer is ready! Now you have learned how to draw this popular character. I hope that you liked this lesson and you felt the atmosphere of the holiday. Write about your impressions in the comments.
By tradition, at the end of the lesson, you can download a brief instruction that I have prepared for your convenience. Save this PDF file and draw whenever you want.