An interesting and useful drawing lesson on how to draw a hot dog is ready. I'm sure you'll be able to do the job easily.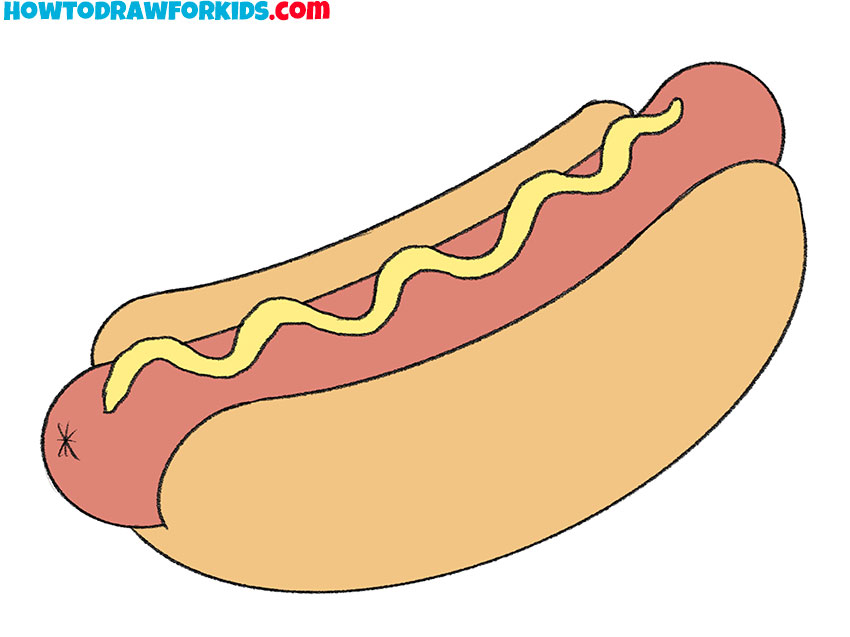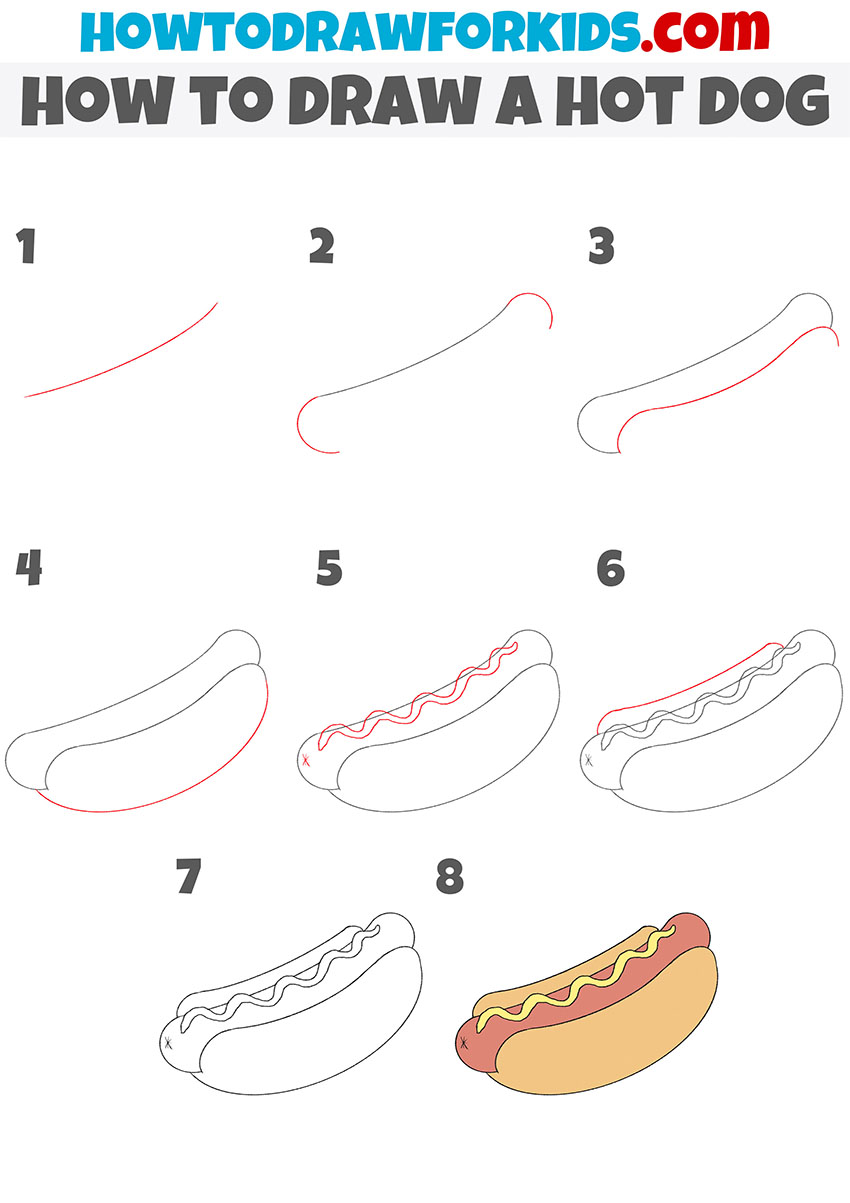 In this easy-to-understand step-by-step guide, I will tell and show you how to draw a hot dog. This is another lesson that is about drawing fast food. This lesson is sure to help you improve your artistic skills.
A hot dog is a food consisting of a grilled or steamed sausage served in the slit of a partially sliced bun. The sausage used is a wiener or a frankfurter. Hot dog preparation and condiments vary worldwide. Typical condiments include mustard, ketchup, mayonnaise, relish, and cheese sauce, and common garnishes include onions, sauerkraut, jalapeños, chili, grated cheese, coleslaw, bacon, and olives. The first hot dogs originated in Germany and then became very popular in the United States.
Now you can get started on this exciting drawing lesson!
Materials
Pencil
Paper
Eraser
Coloring supplies
Time needed: 20 minutes
How to Draw a Hot Dog
Draw the top of the sausage.

To complete this step you should draw one curved line.

Add the edges of the sausage.

Continue the previously drawn curved line with two small arches.

Start drawing the outline of the bun.

Below the previously drawn outline of the sausage depict a long flowing curved line.

Add the bottom of the bun.

To do this step, you have to continue the previously drawn curved line with a long arc.

Draw mustard and an element on the edge of the sausage.

Add an element with short straight lines and draw two wavy lines connected at the edges.

Add another part of the bun.

Above the previously drawn mustard depict a long curved line.

Erase unnecessary lines.

Use an eraser to remove auxiliary lines that appeared during the drawing process.

Color the drawing.

To color the hot dog you drew, use pink, yellow, and light brown.
So, that was a lesson about drawing a hot dog. I hope this lesson was enjoyable and helpful for you. I remind you that for your convenience I have again prepared a PDF file in which you can find a short version of this lesson and other useful materials. Download this file to return to this lesson any time you want, even without an internet connection.