How to Draw a Disney Princess
In this tutorial, I want to show you how to draw a Disney princess. Follow all the drawing steps and make sure that drawing beauties is easy.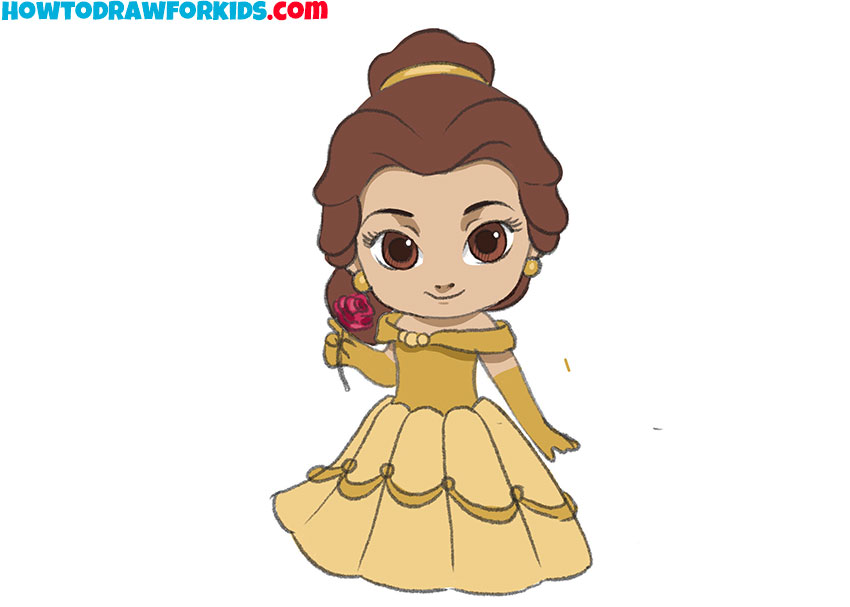 Especially for beginners, I have prepared a master class in which you will learn how to draw a Disney princess. As an example, I chose the heroine from the popular cartoon Beauty and the Beast.
Surely you watched this cartoon and remember that this cute girl's name is Belle. The girl has fair skin and beautiful brown hair. More than anything, Belle loves to read and dream.
In this tutorial, the Disney Beauty is presented in chibi style and the drawing has all the features that are characteristic of this style. The princess has a large head, expressive facial features, a small torso and short limbs.
Materials
Pencil
Paper
Eraser
Coloring supplies
Time needed: 35 minutes
How to Draw a Disney Princess
Draw the head.

Depict two circles of different sizes and add markings for the elements of the face.

Add the facial features.

Draw the big eyes, nose, and mouth. At the bottom, refine the outline of the face.

Depict the hair on top.

Use smooth curved lines to draw the bouffant hairstyle.

Sketch out the rest of the hair.

At this stage, add some strands on the sides.

Draw the rest of the elements.

Depict the pupils, eyelashes, upper eyelids, ears, and the round earrings.

Add the upper body and arms.

The torso is small, one arm is bent at the elbow joint, the other arm is straightened.

Depict the hands and bottom of the dress.

Add small hands and use curved lines to draw wedges on the dress.

Sketch out the rose and detail the clothes.

Draw the rose in the princess's hand and add decorative elements to the dress.

Color the Disney Princess.

You will need yellow, beige, brown, and red.
Finally, I suggest you download a PDF file that contains the most important information for the effective implementation of this lesson.