Thanks to this easy instruction, you can quickly learn how to draw a simple rose step-by-step and get a good result the first time.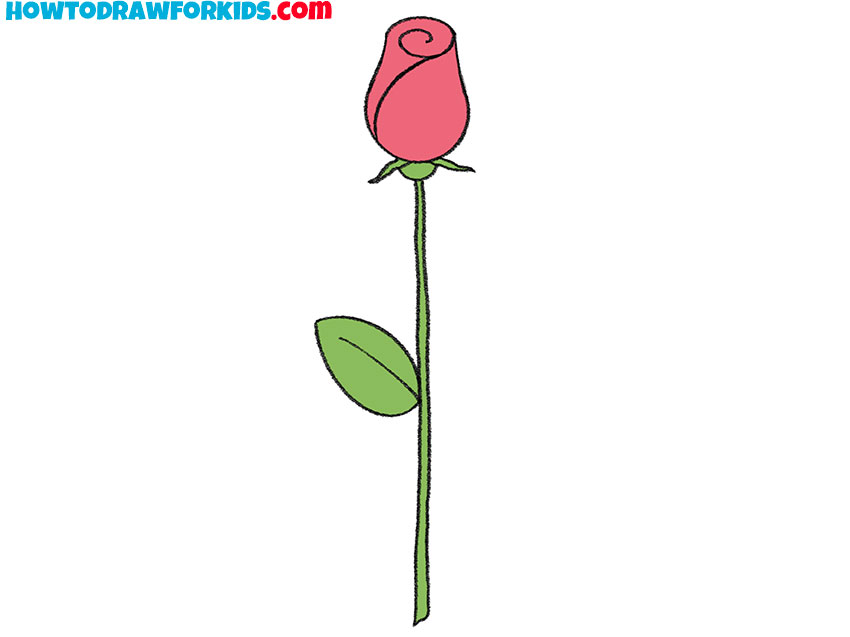 In this lesson, I will tell you and show you in detail how to draw a simple rose step by step. The step-by-step guide is really very simple and designed especially for beginners.
Now I will show you another way how to draw a simple rose. I hope you enjoy these beautiful flowers and enjoy this lesson. Simple lines are used here, which even a beginner can easily repeat.
In the picture, you see an unopened rosebud. The flower is depicted schematically and there is no need to draw individual petals. It is enough to draw a general outline, and the rose will be easily recognizable.
Materials
Pencil
Paper
Eraser
Coloring supplies
Time needed: 25 minutes.
How to Draw a Simple Rose Step by Step
Draw the outline of the bud.

At the initial stage, draw a figure that has the shape of an egg.

Depict the top of the bud.

Sketch out the top edge of the petals with a smooth line.

Add the side contour of one petal.

Draw a smooth, curved line from the bottom edge to the top edge.

Sketch out the middle of the bud.

At this stage, draw a line in the form of the spiral.

Add the receptacle and sepals.

Depict the receptacle in the shape of a semicircle and add two thin sepals around the edges.

Draw the stem.

Depict two vertical lines and draw a cut at the bottom.

Sketch out the leaf.

On the left side, draw one oval-shaped leaf.

Correct inaccuracies.

Compare your drawing with my example and correct inaccuracies if necessary.

Color the simple rose.

Choose any colors for the drawing.
Finally, I suggest you download the short version of the lesson as a PDF file. If you save this file, you can return to the lesson at any time, even if you don't have Internet access.