In this drawing lesson, you will learn how to draw Wonder Woman step by step. This simple lesson consists of nine steps.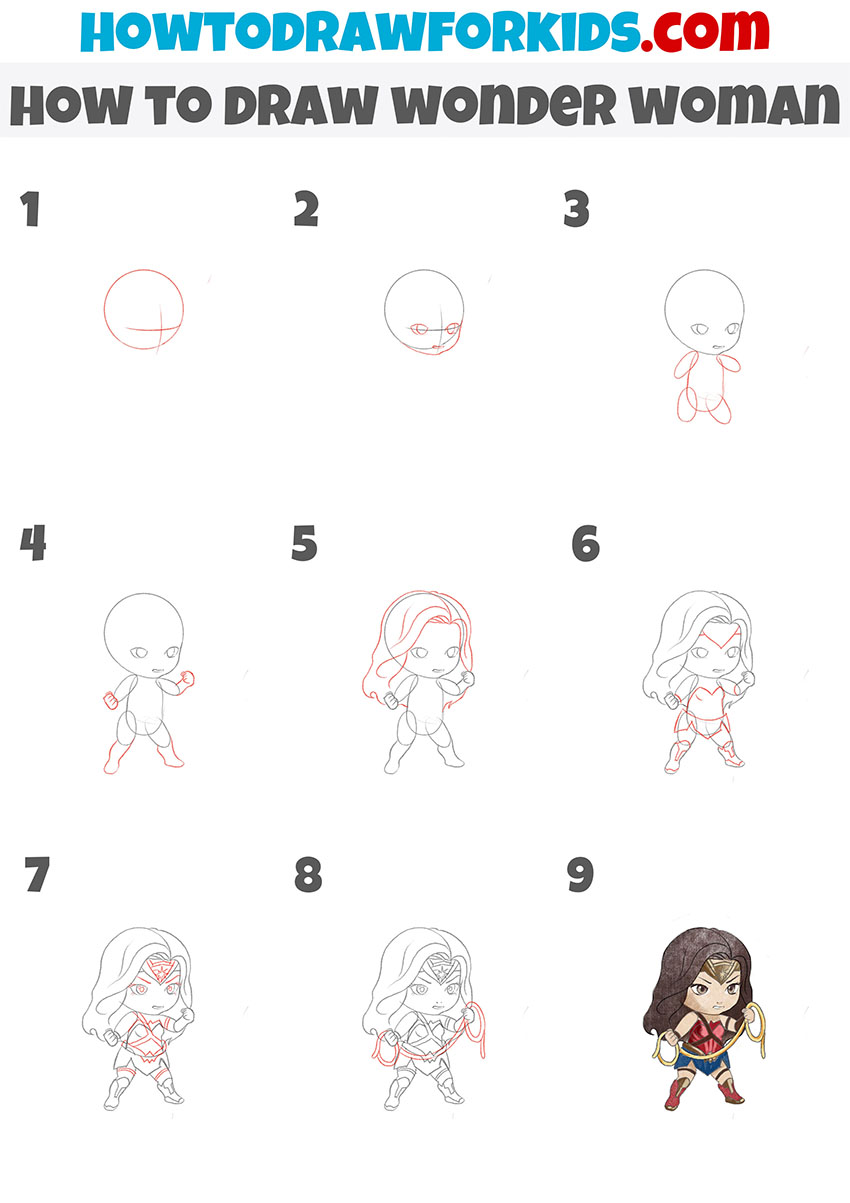 I suggest you complete this wonderful and unusual drawing lesson, in which I will tell and show you how to draw Wonder Woman step by step. If you are a lover of comics, then this drawing lesson will definitely not leave you indifferent!
Wonder Woman is a comic book superheroine published by DC Comics. Onaya is a warlike Amazon princess. Wonder Woman was called Diana, she is the daughter of Queen Hippolyta and King Zeus of Olympus.
Born on Themyscira, Diana was raised in paradise, where she listened to tales of her sisters' great mission to defeat the god of war, Ares, and bring peace to all. Diana possesses superhuman strength, high resistance to damage and magical attacks. The agility, balance, and coordination of Wonder Woman's movements are far beyond the reach of Olympic-level athletes.
Materials
Pencil
Paper
Eraser
Coloring supplies
Time needed: 30 minutes
How to Draw Wonder Woman
Draw the outline of the head and add markings.

Depict one circle, and also add two intersecting curved lines inside it.

Depict the lower part of the head and facial features.

At the bottom of the drawn circle, draw a long, curved line, and draw the eyes and mouth.

Add the outline of the torso and limbs.

Below the previously drawn character's head, add some ovals and curved lines.

Sketch out the arms and feet.

Use curved lines of varying lengths to draw the ends of the character's arms and legs.

Draw the character's hair.

Around the previously drawn torso and head, draw a lot of wavy, curved lines.

Add elements of the Wonder Woman costume.

On the character's head and torso, draw lines to represent the costume, bandanna, and shoes.

Add decorative elements.

Inside the contours of the costume, add curved lines, draw the eyebrows and eyes.

Sketch out the rope.

Near the arms and torso of the character, add incomplete ovals and rounded lines.

Color the drawing.

To color the Wonder Woman, use beige, gray, brown, red, and blue.
If you liked this tutorial and found it useful, you can share it with your friends. I remind you that you can download a PDF file that contains a short version of this lesson and additional useful practice materials.