Today in this easy step-by-step tutorial you will get useful drawing skills that will help you learn how to draw a rubber boot.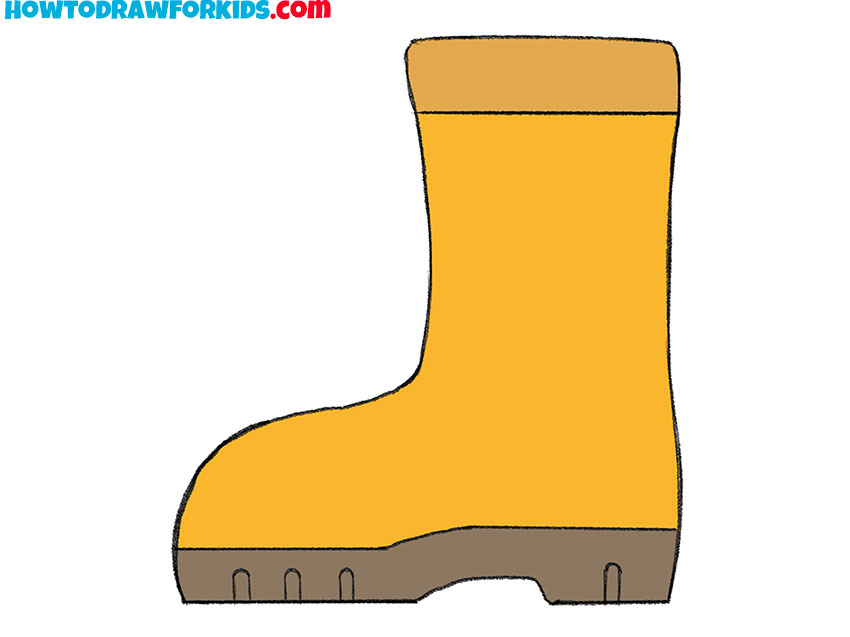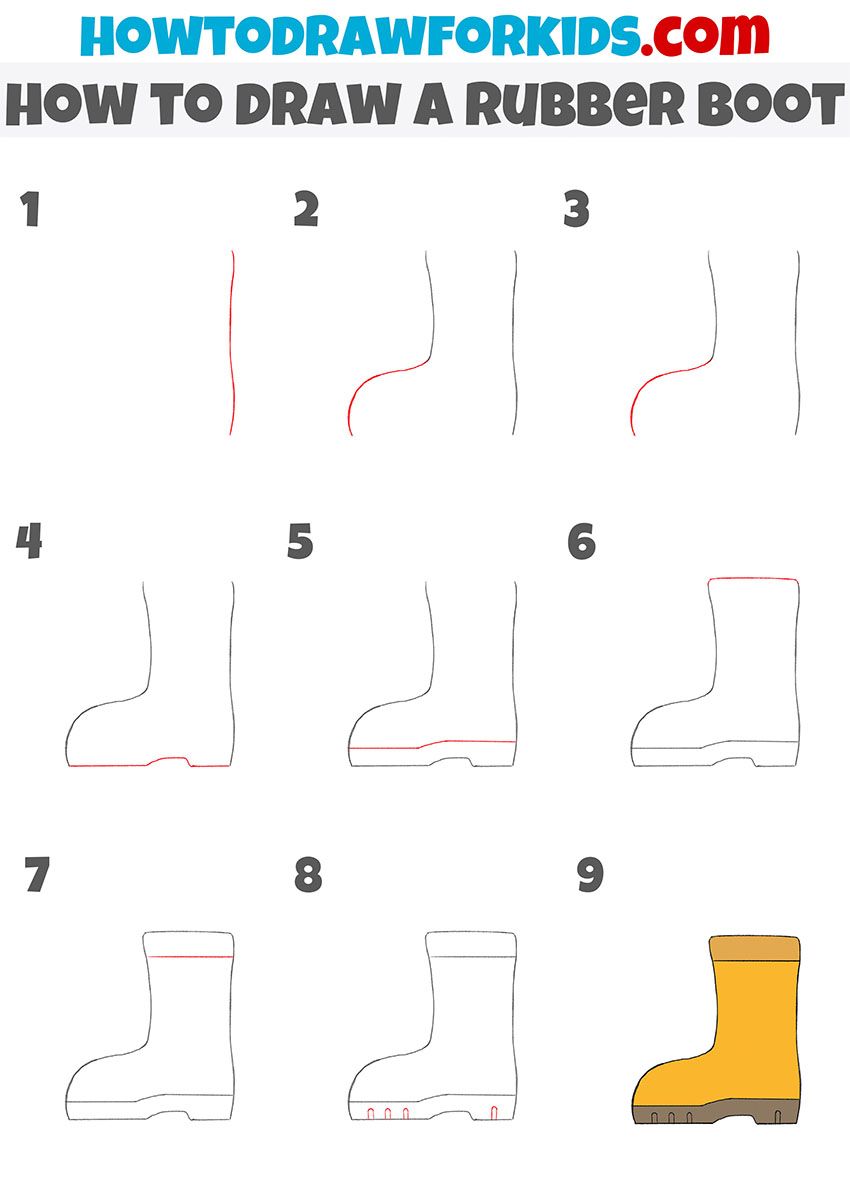 In this tutorial, I will show you how to draw a rubber boot. Now you have to follow a few simple steps to get new useful skills.
I suggest you use simple instructions and learn how to draw a rubber boot. These are comfortable shoes that can be worn on a rainy hike or fishing trip. The boot has a medium height and a high sole.
In this lesson, you will need your ability to make smooth rounded lines. Try to correctly depict the outer contour of the boot, you will draw the rest of the elements without effort.
For coloring, you can choose the same color that is recommended in the instructions or you can choose any other color of your choice.
Materials
Pencil
Paper
Eraser
Coloring supplies
Time needed: 20 minutes
How to Draw a Rubber Boot
Draw the back of the boot.

Sketch out a smooth curved line.

Add the front top of the boot.

Draw a small smooth line, while maintaining proportions.

Depict the toe of the boot.

Continue the line and draw the rounded toe of the boot.

Add the bottom outline of the boot.

At the bottom, draw a smooth curved line that connects the front and back of the boot.

Sketch out the height of the sole.

Draw one smooth, curved line, as shown in the example.

Depict the top of the boot.

Draw one connecting line at the top.

Add details.

Draw the element to the top of the boot.

Detail the sole.

On the sole, consistently draw curly elements.

Color the rubber boot.

For the drawing, choose any colors that you like.
The lesson is over and now you have learned how to draw a rubber boot. You can use the acquired skills when you want to draw a human figure. There are other interesting lessons on my site that show in detail how to draw elements of shoes and clothes. Follow the lessons that you like the most and train your artistic abilities.
For your convenience, I have prepared a simplified version of the guide as a PDF file in advance. Download the file so that the lesson is always available to you.