How to Draw the Night Sky
In this tutorial, you will learn how to draw the night sky. You will really like this simple lesson and learn useful skills.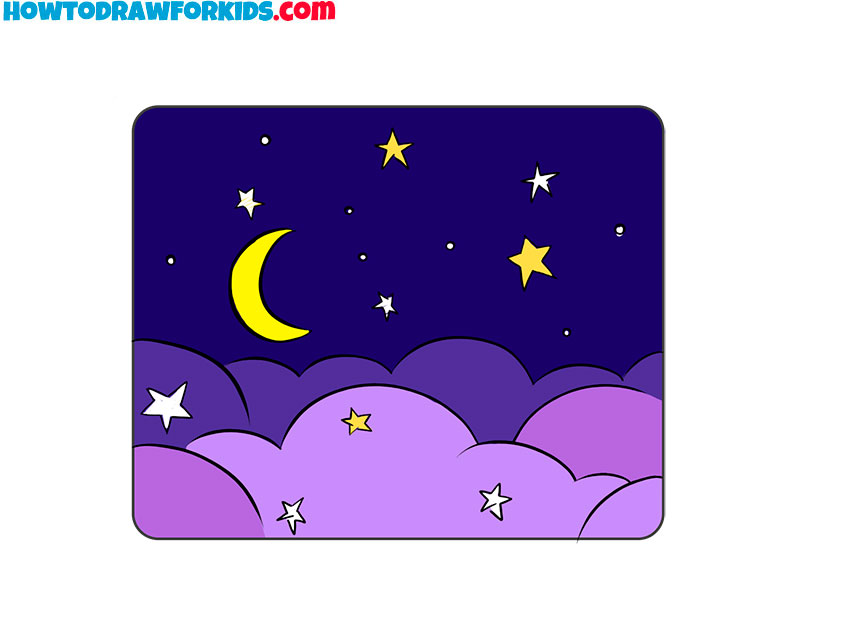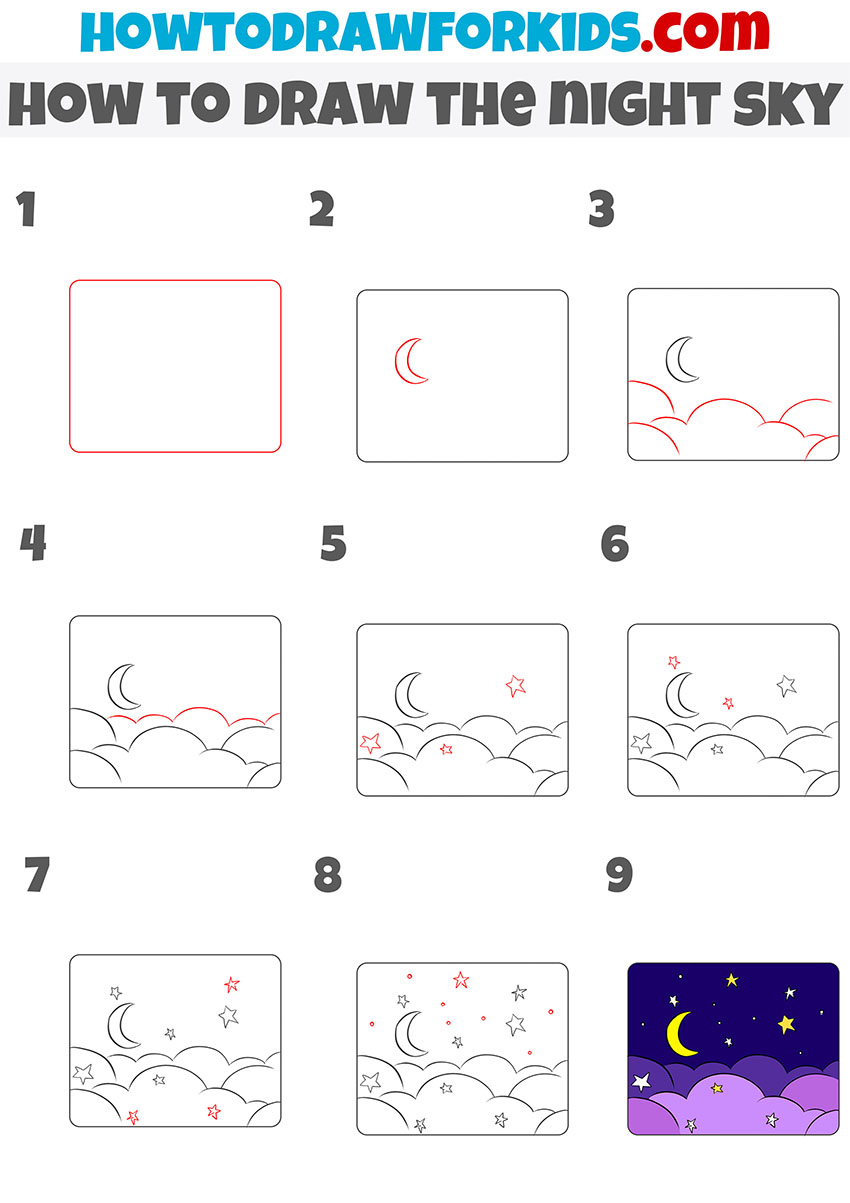 In this tutorial, I want to show you how to draw the night sky. This lesson will be one of the most interesting and useful for you. Now you can have a great time and learn new skills.
Drawing the night sky is very easy. This walkthrough uses simple lines and minimal elements. If you are a beginner artist and have never painted the night sky before, then with the help of this lesson you will learn how to do it quickly and efficiently. I'm sure you will succeed the first time.
In the picture, you see celestial bodies – the moon, stars, and clouds below. The picture looks very nice due to the fact that the clouds have different shades. Be sure to depict this in your drawing.
Materials
Pencil
Paper
Eraser
Coloring supplies
Time needed: 25 minutes
How to Draw the Night Sky
Draw the frame.

Resize the picture and draw a rounded rectangle.

Depict the moon.

Draw the outline of the moon using two smooth semicircular lines.

Add the clouds.

At the bottom of the picture, depict some semicircular lines.

Sketch out more clouds.

Add some semi-circular lines to create clouds in the background.

Add other stars.

Draw two smaller stars near the moon.

Depict more stars.

Add three more stars to different parts of the picture.

Add details.

Sketch out the smallest stars. To do this, sketch out several small circles in the sky.

Color the night sky.

Choose yellow for the moon and stars, blue for the sky, and shades of purple for the clouds.
The lesson is over and now you know how to draw the night sky. Hope you tried hard and are now happy with the result. This pattern can be a great interior decoration. You can frame the picture and hang it on the wall.
If you liked this tutorial, then you can leave your feedback in the comments. At the end of the tutorial, I invite you to download the PDF file that I have prepared for your convenience. This file contains a short version of the manual and additional helpful content. This will help you return to the lesson at any convenient time.