With the help of this lesson you will learn how to draw skis. In just eight steps, you will learn how to draw popular sports equipment.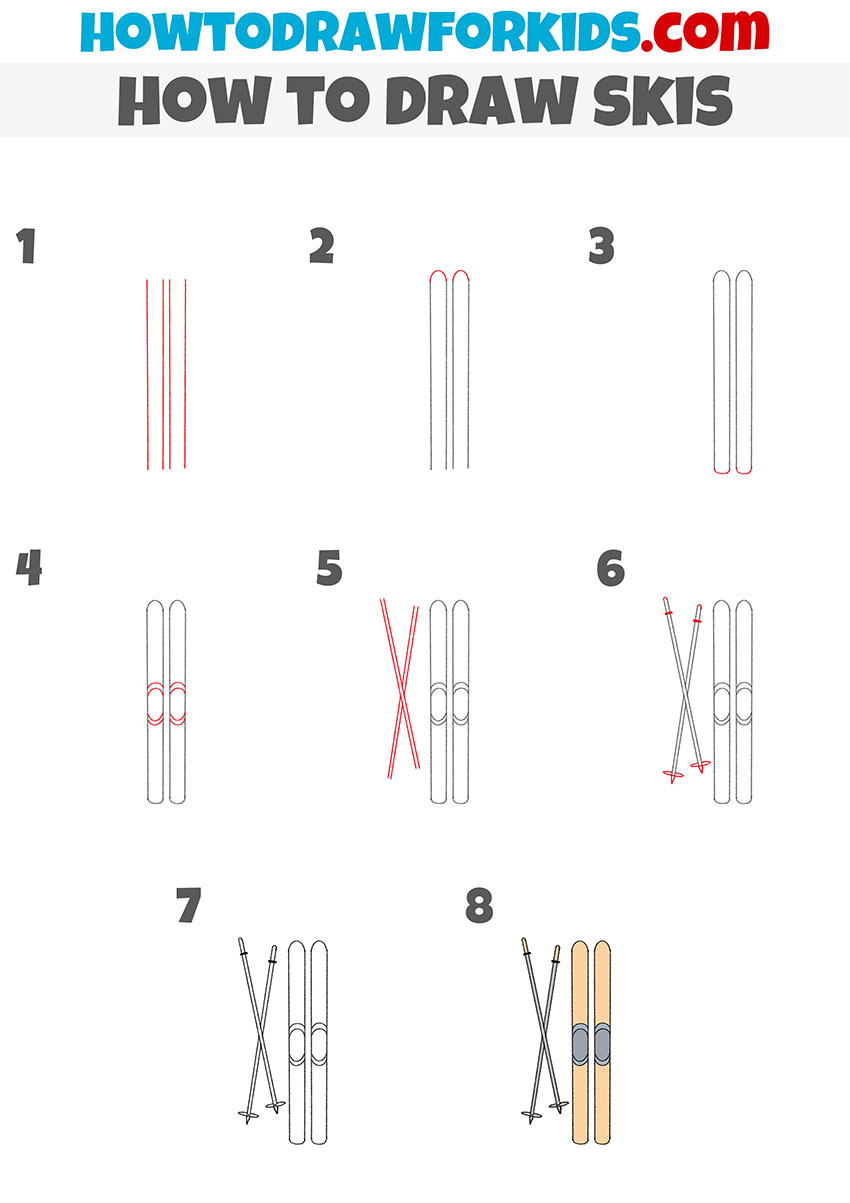 I invite all beginner artists to a fascinating lesson in which I will show you how to draw skis step by step. This lesson will be very useful for you, as you will once again practice drawing straight lines and drawing the same objects.
Skis are a handy tool for getting around in the snow. Skis are long flat runners with curved ends. Also, two sticks with sharp ends are used to move, which help to maintain balance and speed up movement.
All steps in the instructions are very simple, so you can easily draw this sports equipment. So grab your art supplies and get down to some fun creative work.
Materials
Pencil
Paper
Eraser
Coloring supplies
Time needed: 30 minutes
How to Draw Skis
Draw the outlines of the skis.

Sketch out four straight vertical lines in parallel.

Depict the ends of the skis on one side.

Draw curved connecting lines across the top of the drawing.

Add the ends of the skis on the other side.

Repeat the previous step and draw curved connecting lines at the bottom of the drawing.

Depict the mount.

Draw several semicircular lines in the middle of each ski.

Draw the main parts of the sticks.

Depict the long thin sticks near the skis using straight lines.

Detail the sticks.

On the sticks, add the handles and lower parts.

Correct inaccuracies.

Look at the drawing and if you notice any mistakes, correct them at this stage.

Color the drawing.

You will need different shades of gray and beige.
The lesson is over, and now you have learned how to draw skis. Leave your comment, so I know if you enjoyed this tutorial. Don't forget to download the PDF file, which contains a short version of this tutorial and additional helpful resources.