How to Draw a Girl in a Dress
I invite you to a new drawing lesson in which I will show you how to draw a girl in a dress. I promise you a quick and beautiful result.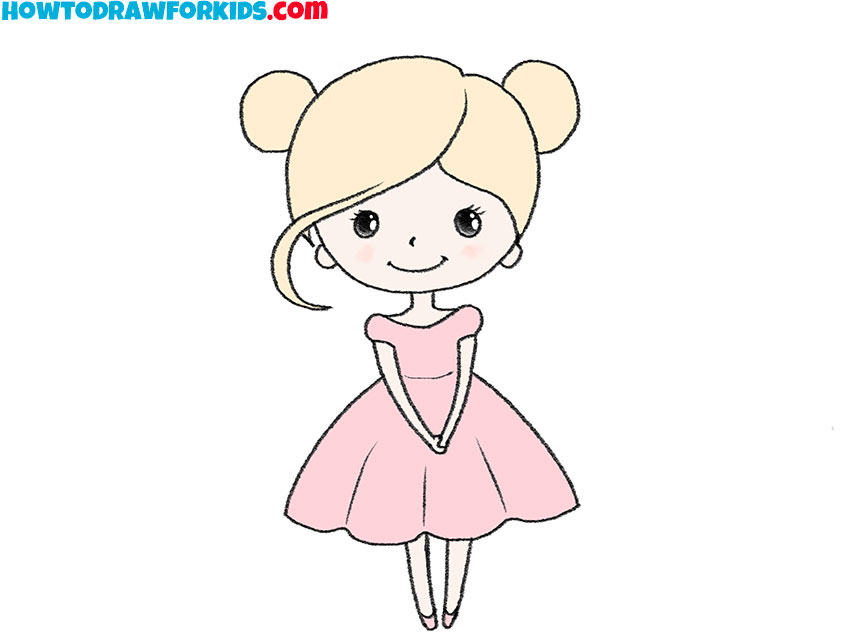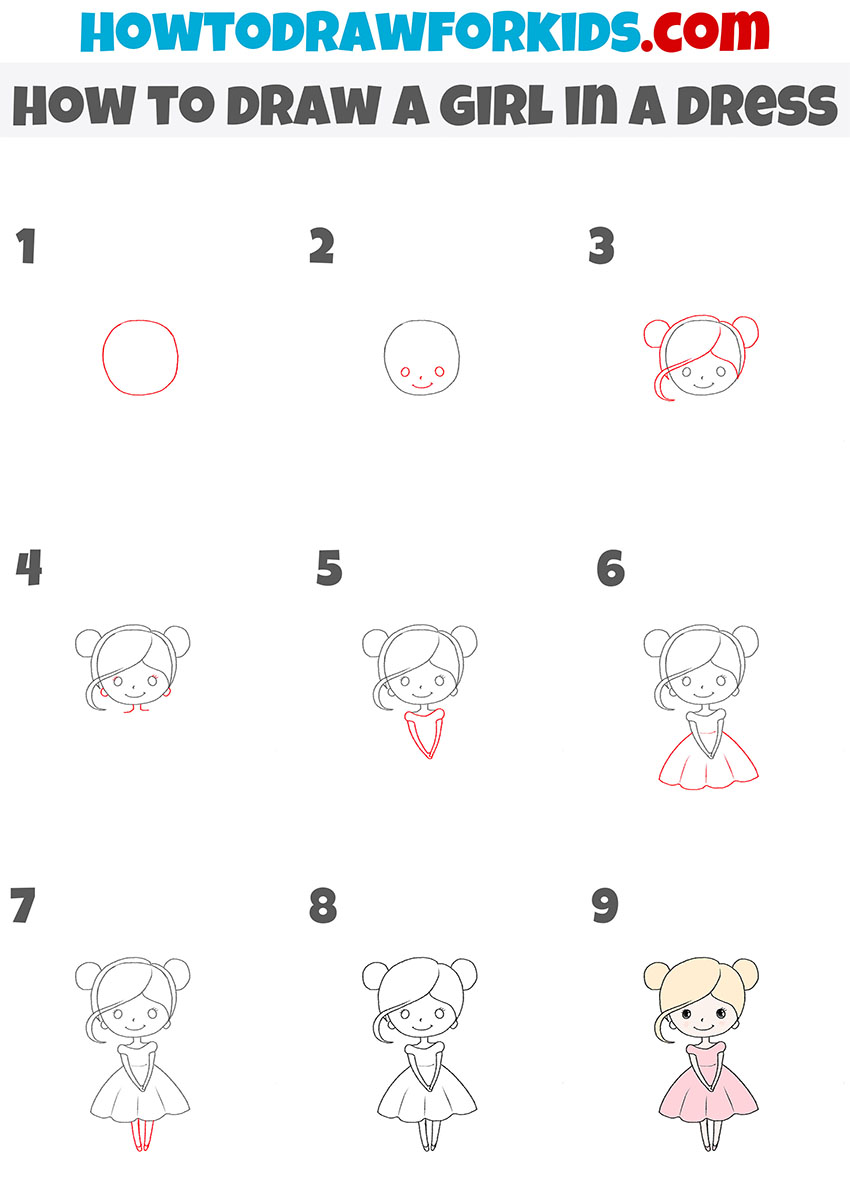 This lesson will help you improve your artistic skills, and now you will learn how to draw a girl in a dress. The picture shows a beautiful girl wearing a magnificent ball gown. Here the girl looks unrealistic, but very cute.
Pay attention to body proportions. The girl has a large head, a relatively small body and short limbs. Try to keep these proportions in your drawing.
Remember all the drawing steps so that in the future you can easily portray such a girl if necessary. You can use the acquired skills to create new beautiful drawings. If all the art supplies are already at the ready, then you can get to work.
Materials
Pencil
Paper
Eraser
Coloring supplies
Time needed: 30 minutes
How to Draw a Girl in a Dress
Draw the head.

Determine the size of your drawing and draw a circle.

Add the facial features.

Draw two eyes in the shape of an oval, add the nose and draw the mouth with a curved line.

Depict the hair.

Draw the top outline of the hair, add the strand near the face and two buns on the sides of the head.

Sketch out the eyelashes, ears, and neck.

Add the short eyelashes, use curved lines to draw the ears and add the short neck.

Draw the upper body.

Depict the rounded shoulders and thin arms in which the brushes are connected together.

Depict the bottom of the dress.

Draw smooth lines down and draw the bottom contour with a wavy line. Sketch out the folds.

Add the legs.

Below, depict the thin legs in the same position as in the example.

Correct inaccuracies.

Using the eraser, carefully remove all extra lines in your drawing.

Color the drawing.

Color the hair and skin with any natural shades. Color the dress pink.
The lesson is over. I hope the girl in your drawing looks very cute. Show the drawing to your friends and invite them to complete this lesson together. Improve your creativity and have a good time. If you want to keep access to this lesson, then right now download the PDF file, which contains a brief instruction and additional useful content.