Today I want to tell you and show you in detail how to draw Ash Ketchum. I am sure you will enjoy this step-by-step guide.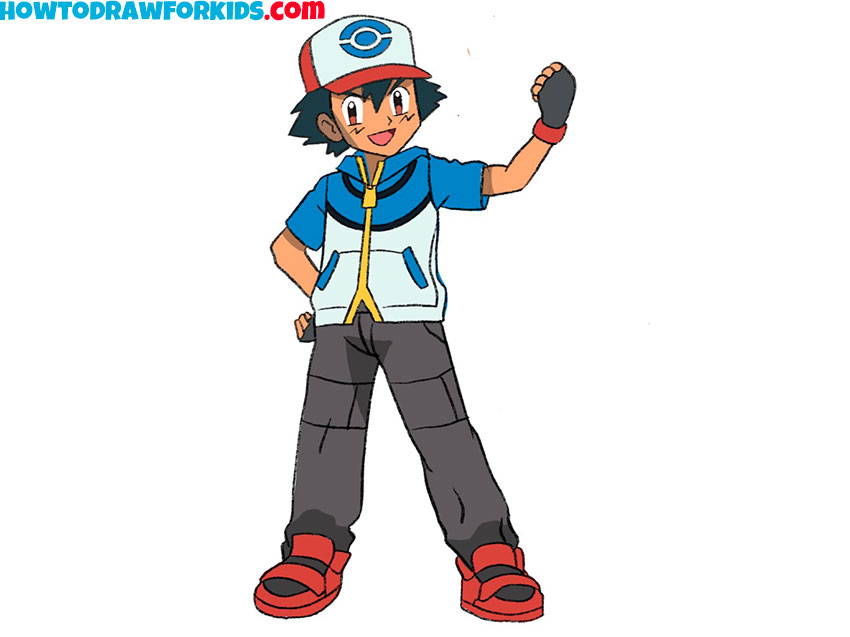 In this lesson, we will analyze how to draw Ash Ketchum. This is the character of the popular cartoon "Pokémon". Ash Ketchum is a slender teenager with dark hair, dark skin, and brown eyes.
In this tutorial, Ash Ketchum is shown wearing a stylish tracksuit, trendy sneakers, and a wide cap. It is in this image that you will draw a popular character and a simple instruction will help you with this, in which each step is demonstrated and supplemented with a small hint.
The lesson will be very useful, because once again you will practice drawing a human figure. So, check if you have all the art supplies at the ready, and you can start the lesson.
Materials
Pencil
Paper
Eraser
Coloring supplies
Time needed: 35 minutes.
How to Draw Ash Ketchum
Draw the head.

Depict a semicircular upper outline and depict the pointed chin. Then add the ear.

Add facial features.

Sketch out the eyes, eyebrows, nose, mouth, skin folds and the inside of the ear.

Depict the cap and hair.

Add the cap with a visor and depict the emblem. Add spiky strands of hair on the sides.

Sketch out the upper body.

Draw the sports T-shirt with short sleeves, the collar, and the zipper in the center.

Draw the pants.

With the help of jagged lines, depict sports pants. Add the olds and curves.

Depict the sneakers.

Sneakers are made up of several elements. Consistently draw all parts of the shoe.

Add the hands.

Depict the position of the hands, in which one hand is raised up, the other rests on the side.

Detail the clothes.

Draw the zipper, pockets, and other additional elements on the T-shirt and trousers.

Color the Ash Ketchum.

Use the brightest colors so that you get a colorful, rich drawing.
Especially for your convenience, I have prepared a PDF file with a short version of the lesson in advance. Download the file and draw at any convenient time, when there is a desire to be creative.