In this lesson I will show you how to draw a tuxedo. The skills you gain will definitely come in handy in the future.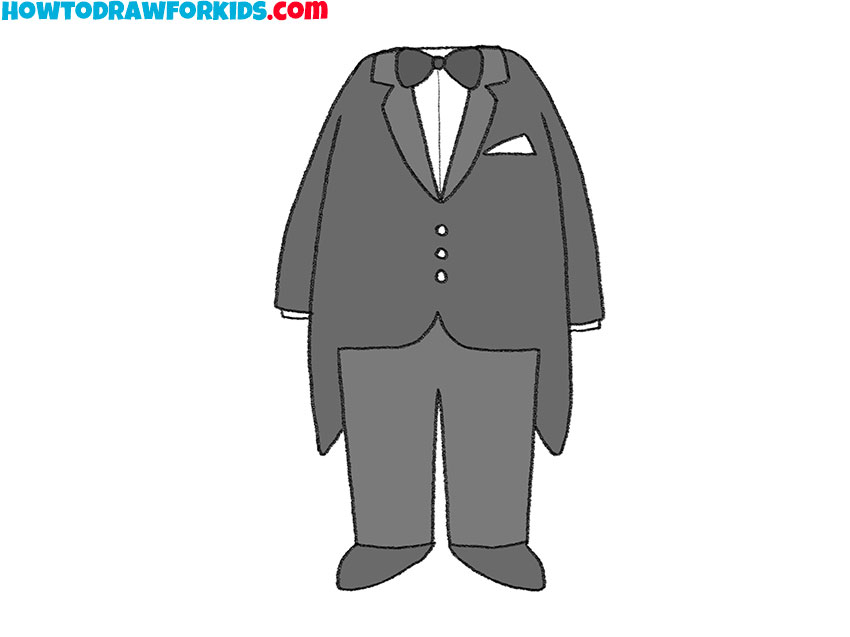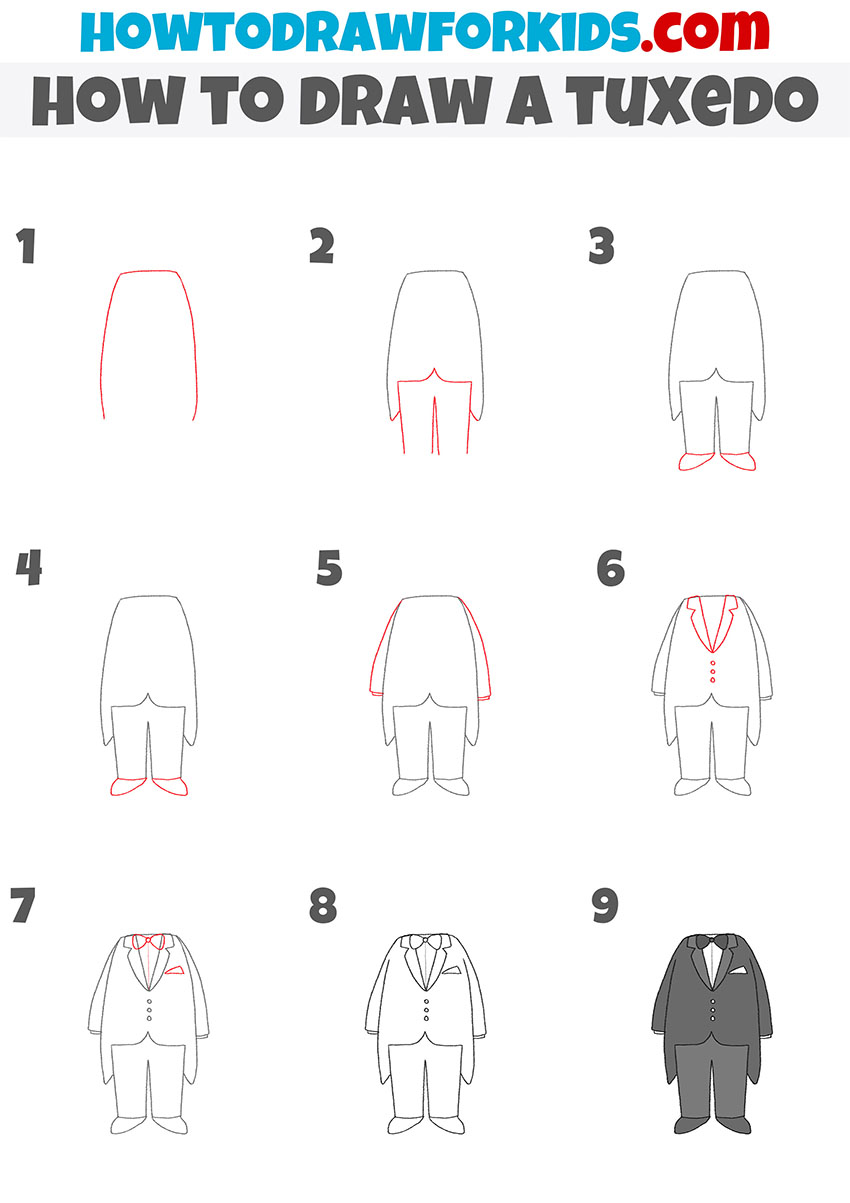 I decided to dedicate this lesson to drawing elements of clothing, and now I will show you how to draw a tuxedo. This is a jacket with an open chest and long lapels. Typically, a tuxedo is black or dark blue.
The tuxedo comes with a white shirt, black bow tie and black shoes. These are attire for evening events, but sometimes a tuxedo is worn in the morning and afternoon if the dress code requires it.
You can use the acquired skills in the future when you want to draw a person in such clothes. Be careful at every stage of drawing and carefully draw all the lines that are marked in red. Take your time and keep the proportions.
Materials
Pencil
Paper
Eraser
Coloring supplies
Time needed: 30 minutes
How to Draw a Tuxedo
Draw the top outline of the tuxedo.

With the help of several smooth lines, depict the figure of the same shape as in the example.

Add the bottom of the tuxedo and pants.

With curved lines draw the bottom of the tuxedo and with straight lines draw the trousers.

Sketch out the shoes.

At the bottom of the picture, draw the shoes in which the feet are directed in different directions.

Depict the sleeves.

Draw smooth lines and depict the sleeves. Add the cuffs at the bottom.

Detail the front of the tuxedo.

Draw the collar and below add the buttons in the form of small circles.

Add the rest of the elements.

Sketch out the small side pocket and the bow tie.

Correct inaccuracies.

With the eraser, carefully remove the extra lines in your drawing.

Color the drawing.

For coloring, you will need different shades of gray and black.
The lesson has come to an end, and now you can evaluate the result of your work. If you were careful at every stage of drawing, then you should get a great drawing. I recommend that you follow the other lessons presented on this site and learn how to draw different types of clothes and shoes. Download a PDF of the short version of the lesson so that you can return to this lesson if necessary, even if the Internet is not available.