In the lesson how to draw an orchid, only smooth lines and simple rounded shapes are used, so you can easily draw this flower.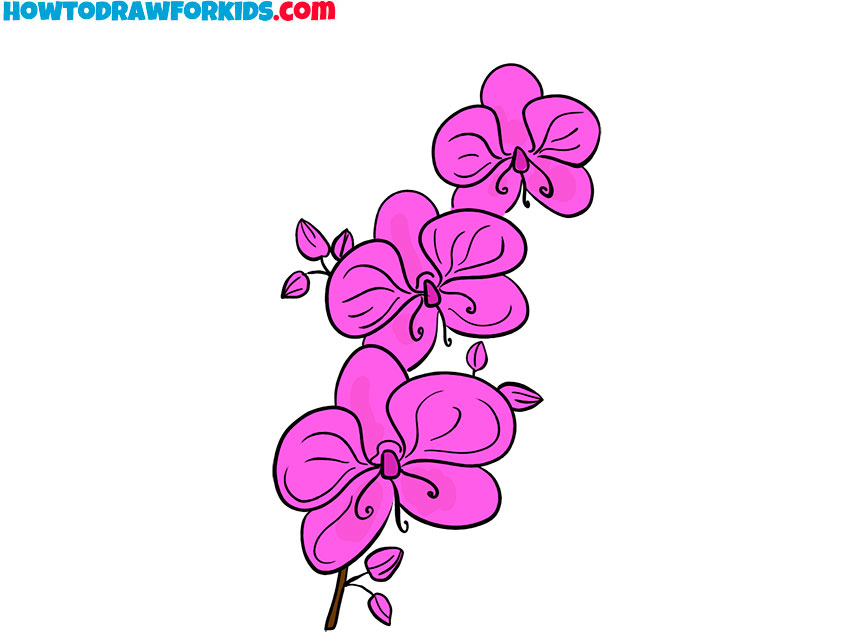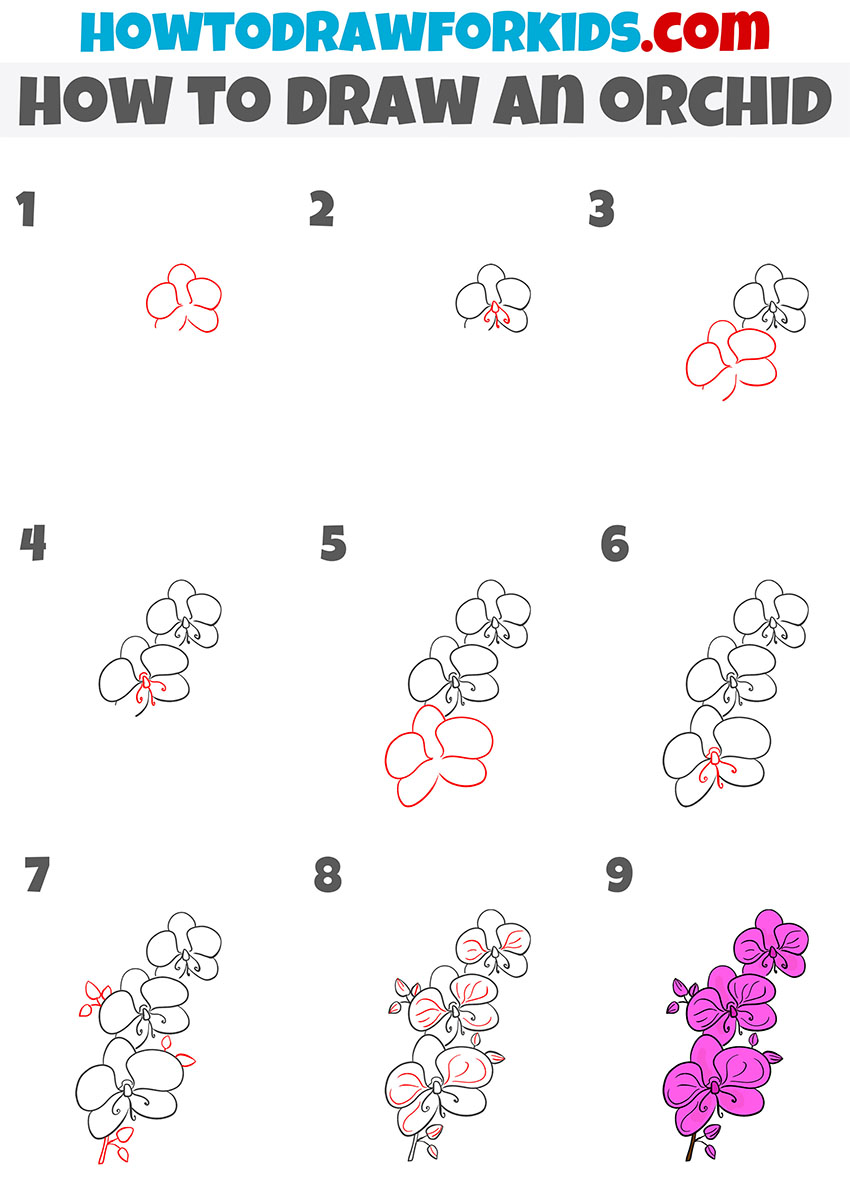 In this tutorial, you will learn how to draw an orchid. This is a great drawing object and you will love this tutorial. Orchid is a beautiful tropical flower. There are different types of this plant in the world. The orchid comes in different colors – white, pink, red, burgundy, yellow, lilac, purple. Orchid petals may be solid or may contain small spots.
In this tutorial, the shape of the flowers is the same. It is enough to learn how to draw one flower and you will make the rest of the flowers quickly and easily. Several flowers of different sizes are located on one thin stem.
For coloring the orchid, you can use any shade. I recommend adding small spots and streaks on the petals. Thus, the flower will look more realistic.
Materials
Pencil
Paper
Eraser
Coloring supplies
Time needed: 30 minutes.
How to Draw an Orchid
Draw the first flower.

With smooth rounded lines, draw the outline of the first flower as in my example.

Depict the inside of the flower.

Add small stamens in the center of the flower.

Add the second flower.

Step down a bit from the first flower and draw the second flower of the same shape.

Draw the inside of the second flower.

Using a few thin lines, add the stamens inside the flower.

Sketch out the third flower.

At this stage, draw the flower as in the previous steps.

Add the inside of the third flower.

Repeat the second and fourth steps of this lesson.

Depict small buds.

Sketch out some unopened flowers.

Add details.

Draw the veins on the petals using thin lines.

Color the drawing.

You can use purple or any of the colors I indicated at the beginning of the tutorial.
I hope you are happy with the result of your work. Use the acquired skills in your further creativity. Try drawing different colors of orchids. Add other objects to your drawing. For example, draw a vase.
Don't forget to write your feedback on this tutorial in the comments. To conclude this tutorial, I invite you to download a PDF that contains a short tutorial and additional helpful content.