In this lesson, you will be able to learn how to draw a jaguar step by step. This is another useful lesson dedicated to the image of animals.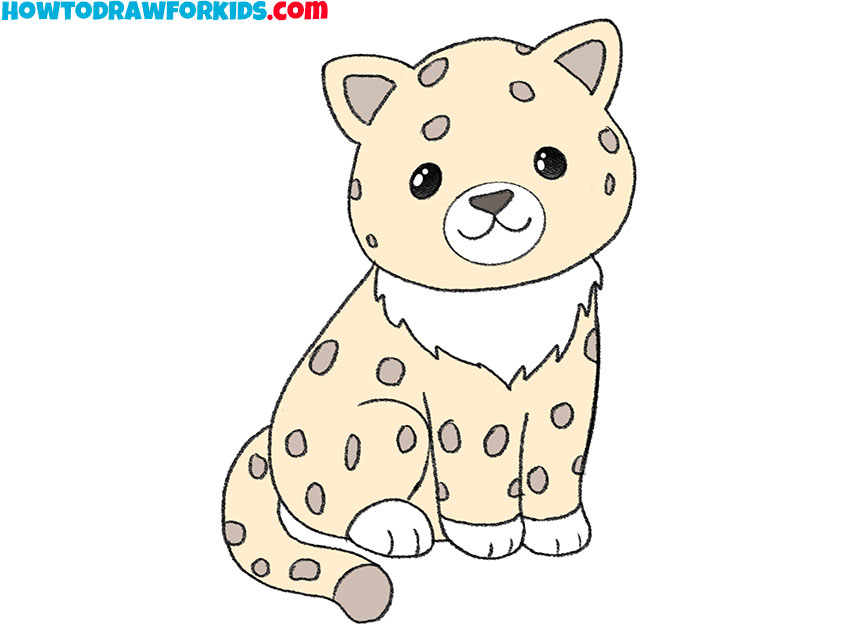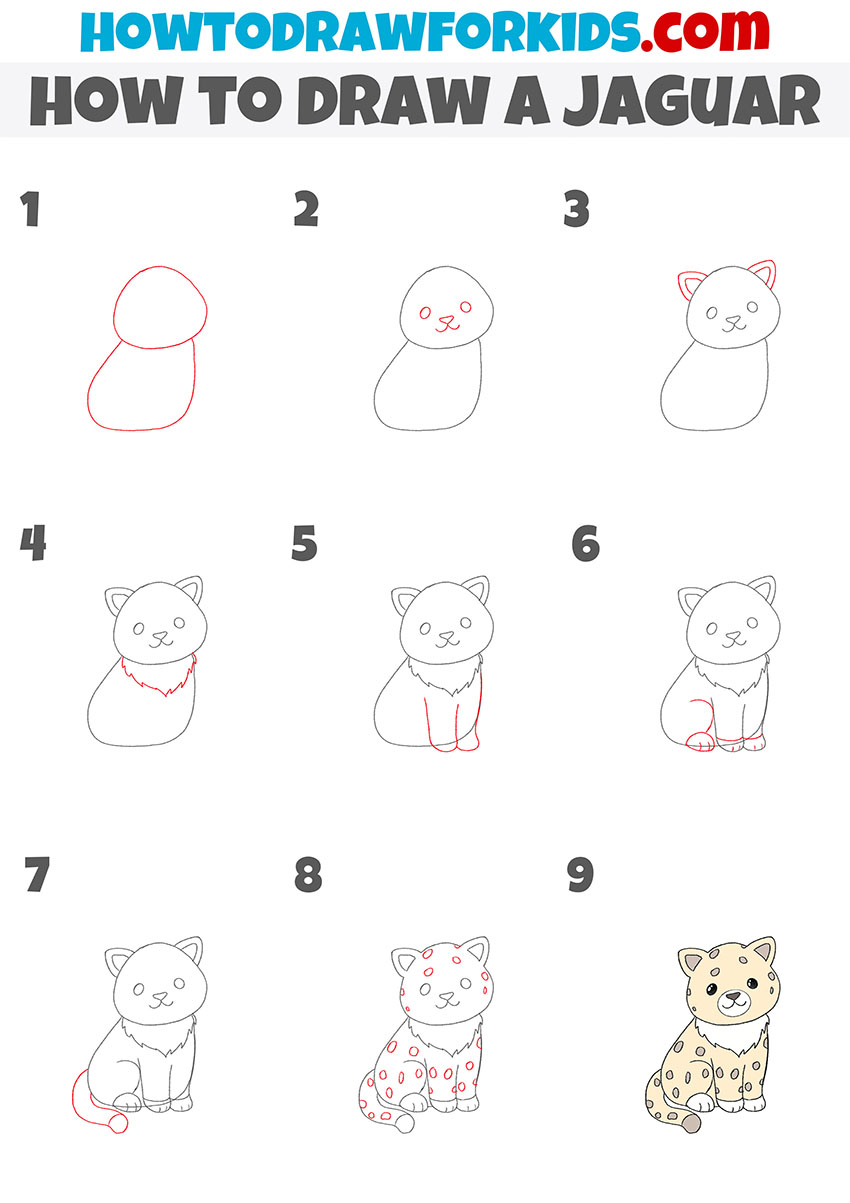 I bring to your attention this informative and fascinating drawing lesson, in which I have prepared for you instructions on how to draw a jaguar step by step.
The animal that is the object of drawing in this lesson is probably familiar to each of you. You may have seen a jaguar in various films, cartoons, video games, books, and also in a zoo. In this tutorial you will see a baby jaguar which will be drawn in a cartoon style.
The jaguar is an animal similar to the leopard, but larger. It is also distinguished by a special pattern on the skin, it has ring-shaped dark spots, inside which there are smaller spots.
Materials
Pencil
Paper
Eraser
Coloring supplies
Time needed: 30 minutes.
How to Draw a Jaguar
Draw the outlines of the head and torso.

Use curved lines to draw the head and add the torso below it.

Add the facial features of the jaguar.

Draw two eyes, the nose and the mouth using ovals, arcs and a curved line.

Sketch out the ears of the jaguar.

The ears of the jaguar are similar to those of the cat. Add them at the top of the head.

Depict the fur on the chest of the jaguar.

Below the head, draw pointed strands of wool using zigzag and curved lines.

Add the outlines of the front limbs of the jaguar.

To draw the two front legs of the jaguar, use curved lines as shown.

Finish drawing the front paws and add the outlines of the hind paw.

Draw arcs and lines at the bottom of the front paws. Sketch out the paw.

Draw the tail of the jaguar.

At the back of the jaguar's body, draw the rounded tail using curved lines and an arc.

Add details.

On the surface of the jaguar's body, add many ovals and curved lines, as shown in the picture.

Color the drawing.

To color the jaguar, use beige, black, and shades of brown.
I remind you that you can download the PDF file that I have prepared especially for your convenience. This file contains a short version of this lesson and has additional useful training materials. Download this file so as not to lose it and return to this lesson at any time convenient for you.