In this drawing lesson, I will tell you how to draw a golden retriever step by step. This lesson is sure to please each of you.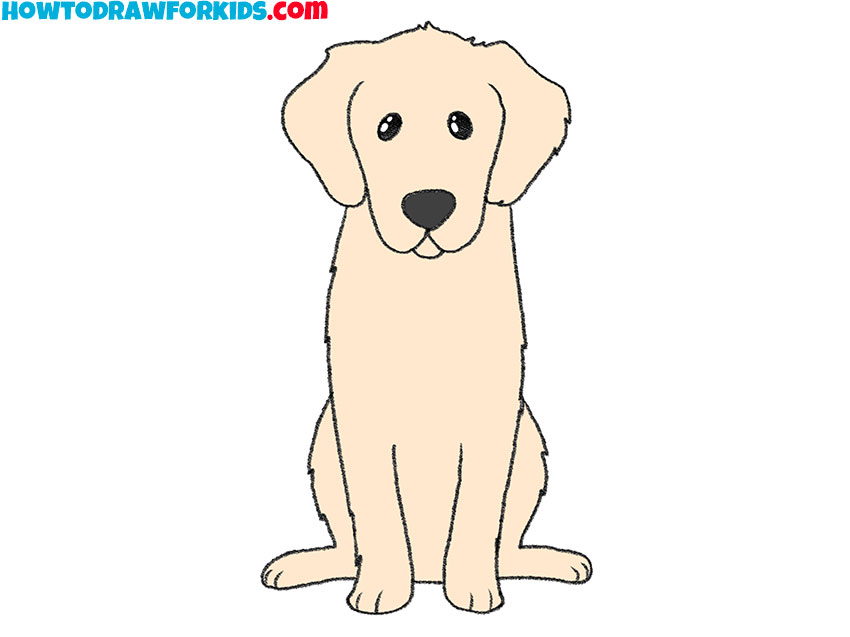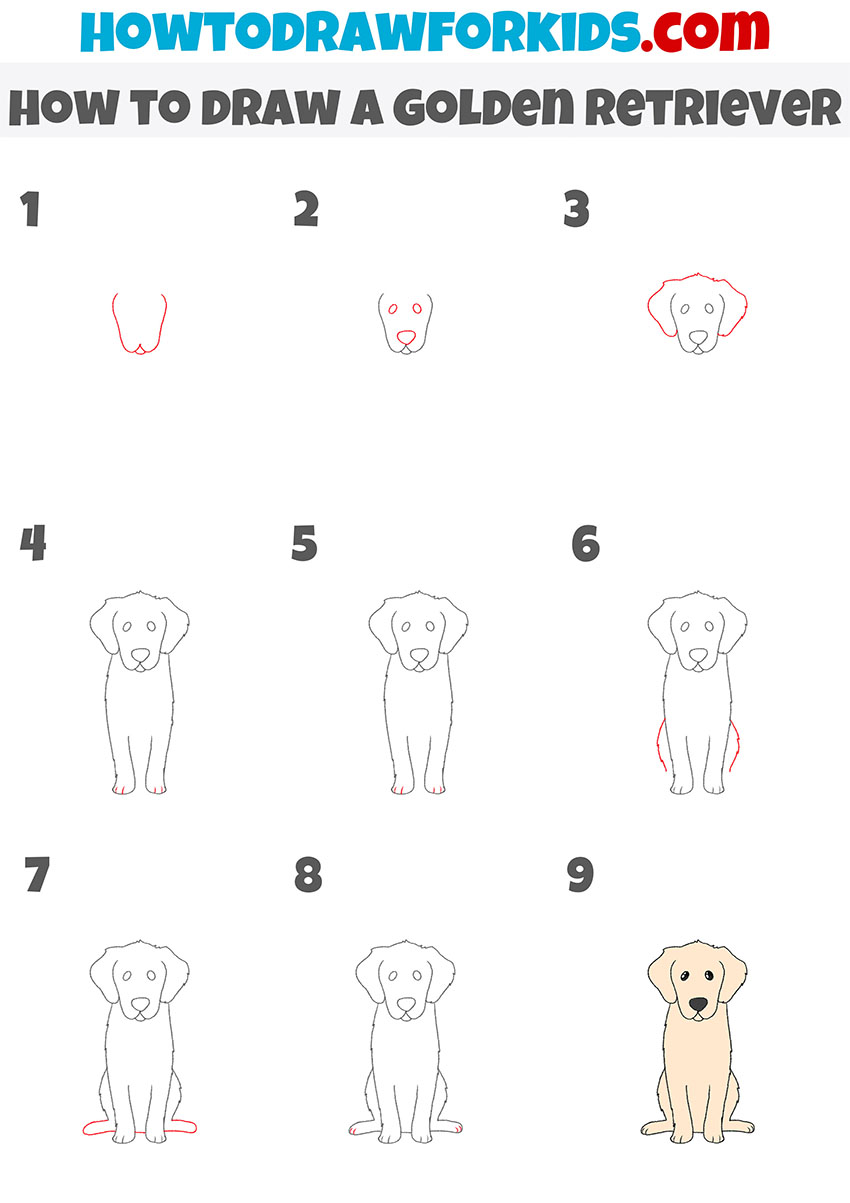 I have prepared for you a wonderful and useful drawing lesson in which I will tell and show you how to draw a golden retriever step by step. If you are dog lovers, then this lesson will definitely not leave you indifferent.
I specially prepared this lesson simple enough so that any aspiring artist or child can easily cope with its implementation. All you need to draw a great drawing is to follow my instructions carefully and have a great mood.
Golden Retrievers have a luxurious, slightly wavy, shiny coat and a slender body. Their muzzle is long, even, gradually tapering from base to nose. The ears of the golden retriever are moderately long, hanging.
The color of the golden retriever can be presented in the form of various shades of golden color: beige, cream, light red. It is known that dogs of this breed are considered excellent companions and best friends of hunters.
To learn how to draw a dog of this breed, I suggest you start this drawing lesson right now. Prepare the art supplies you will need during the drawing process, and then enjoy your creativity.
Materials
Pencil
Paper
Eraser
Coloring supplies
Time needed: 30 minutes.
How to Draw a Golden Retriever
Draw the outlines of the Golden Retriever's head.

To complete this step, use two symmetrical curved lines and an arc at the bottom of them.

Add the facial features of the Golden Retriever.

Now you should add two oval eyes and the nose using a curved line.

Depict the top of the head and ears.

Draw curved lines above the previously drawn elements and on the sides of the head.

Sketch out the torso and forelimbs of the dog.

Below the previously drawn head, draw curved lines, as shown in the figure.

Add the fingers on the front legs of the dog.

At the bottom of the previously drawn paws, draw short, curved lines to indicate the toes.

Start drawing the back of the Golden Retriever.

On the right and left sides of the previously drawn torso and front legs, add curved lines.

Finish drawing the torso and paws.

Draw the flanked feet and lower torso using curved lines.

Add the outlines of the fingers on the hind legs.

Now you should add short, curved lines around the edges of the Golden Retriever's hind legs.

Color the drawing.

To color the Golden Retriever, use beige, gray, and black.
I remind you that you can download the PDF file that I have prepared especially for your convenience. This file contains a short version of this lesson and has additional useful training materials. Download this file so as not to lose it and return to this lesson at any time convenient for you.