I have prepared for you a very interesting lesson on how to draw Bulbasaur. I hope you will like this tutorial!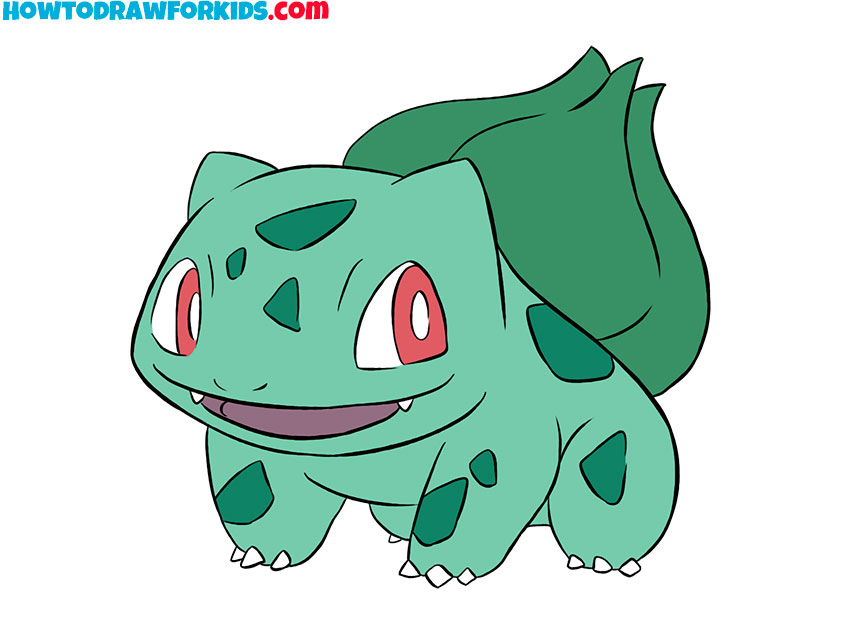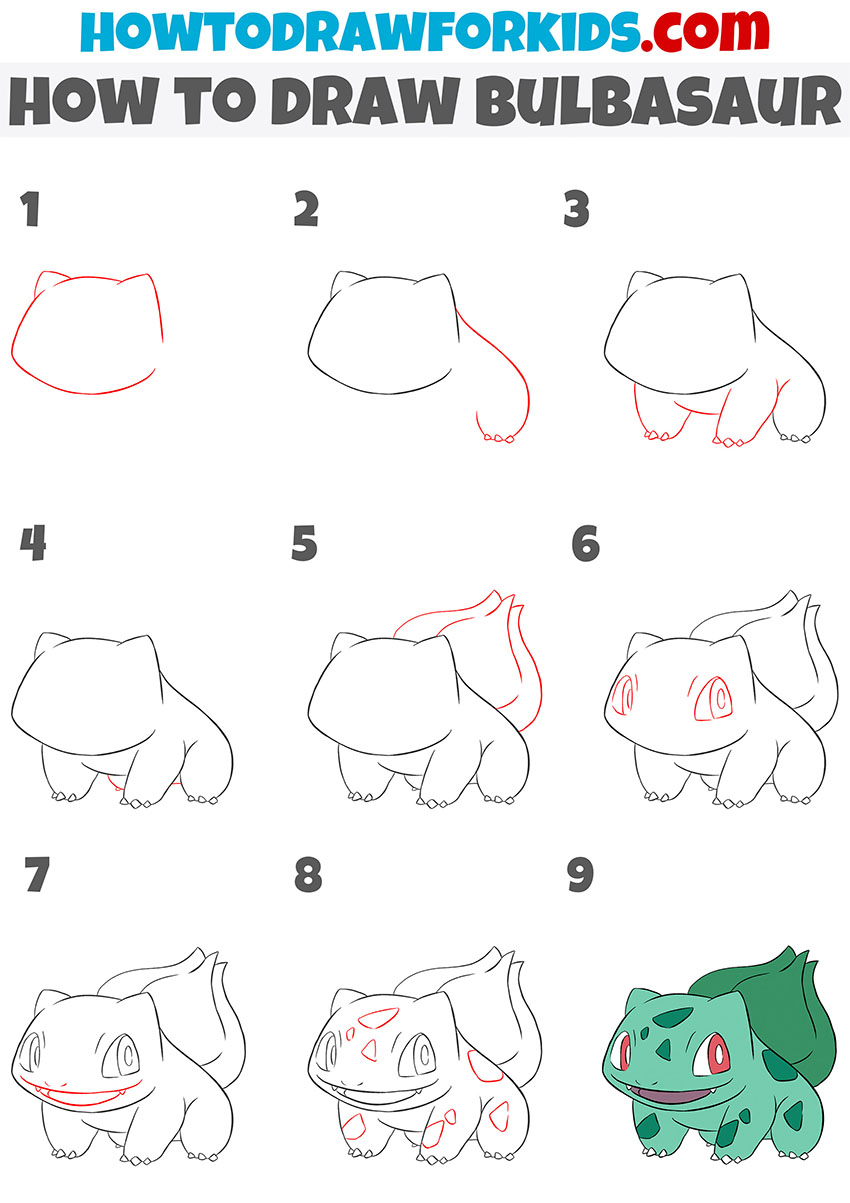 With this easy tutorial, you will learn how to draw a Bulbasaur. Undoubtedly, you will be interested in drawing this unusual character and after completing the lesson you will have a pleasant experience.
Bulbasaur is a small, blue-green, four-legged Pokémon with spots on its body. This is a fictional character that has an original appearance.
Bulbasaur has a bulb on its back that provides energy and contains nutrients. The eyes of Bulbasaur are red, the mouth is very wide and small sharp teeth are visible at the edges. The paws are short and thick, with small claws at the ends of the paws.
With the help of a simple step-by-step guide, you can easily draw a Bulbasaur, you can be sure of your abilities. Be careful and careful at every step to get the best result.
Materials
Pencil
Paper
Eraser
Coloring supplies
Time needed: 30 minutes
How to Draw Bulbasaur
Draw the head.

With the help of smooth lines draw the outline of the head, add small triangular ears.

Sketch out the back and hind leg.

From the head, draw a smooth line that goes into the hind leg. Add claws.

Add the chest and front legs.

With smooth lines draw two short front legs, add claws at the ends of the legs.

Depict the second hind leg and part of the belly.

Draw another hind leg. Sketch out a short line between the front and back legs.

Draw the bulb on the back.

Using a few smooth lines draw a bulb of the same shape as shown in the example.

Sketch out the eyes.

On the muzzle, draw big eyes that are located far from each other.

Add the mouth.

Using smooth lines depict the wide mouth. Add small teeth around the edges.

Draw spots.

On all parts of the body draw spots of different sizes and shapes.

Color the Bulbasaur.

You will need shades of green for the body. Use red for the eyes and purple for the mouth.
For your convenience, I have created a PDF file containing a short version of the lesson and additional useful materials.