CatDog, CatDog, alone in the world is a little CatDog! Sound familiar? Right, in this tutorial, I would like to show you how to draw CatDog.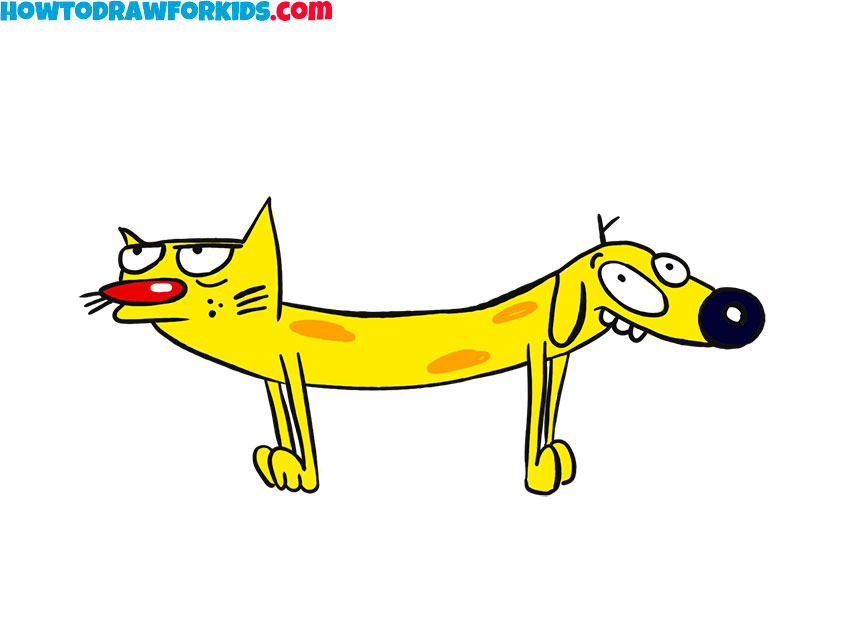 In this tutorial, I want to show you how to draw CatDog. This character is very сute and funny! Surely many of you have ever seen CatDog in a cartoon.
CatDog is a hero of the animated series of the same name. This is a fictional yellow-red animal with a dog on one side of its body and a cat on the other. A cat and a dog are opposites of each other in character, but they have to put up because they are one creature. In the cartoon, various amazing and funny stories often happen with this hero.
The CatDog drawing tutorial has nine easy steps. I am sure that you will cope with it because this lesson is designed specifically for children and novice artists.
Let's start doing this funny drawing tutorial!
Materials
Pencil
Paper
Eraser
Coloring supplies
Time needed: 23 minutes
How to Draw CatDog
Draw the back of the CatDog.

Depict this step using a curved line.

Add the outlines of the heads of the cat and the dog.

Portray this part of the picture as shown in the sample.

Sketch the dog's facial features.

Draw the eyes and nose of the animal using ovals and a circle.

Add the facial features of the cat.

You can depict these details using curved lines.

Create the belly of the CatDog, as well as the teeth of the dog.

Use a curved line and short, rounded lines to complete this task.

Draw the paws of the CatDog.

It will not be difficult for you to depict these elements.

Portray the pupils and whiskers of the cat.

Use dots and short, straight lines to draw these details.

Add some elements.

Use bright yellow, orange, red and black colors.
I'm sure you did a great job with the CatDog drawing tutorial! Now you know how to draw this funny cartoon character.
If you liked this tutorial, you can share it with your friends. I will be glad if you share your impressions of this lesson in the comments, as well as ask your questions and suggest ideas for new lessons. Don't forget to subscribe to our social networks.
As before, I have prepared for you the PDF file that you can download and use any time, even if you do not have an Internet connection.