Do you like small dogs as much as I do? Why don't we portray her then? Then let me show you how to draw a small dog in just a couple of steps.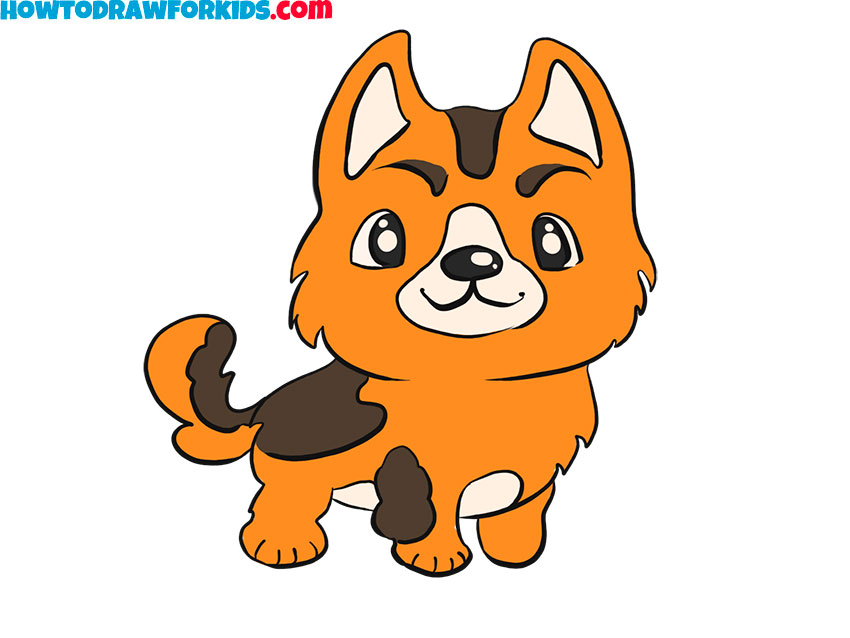 We have prepared an interesting and useful small dog drawing tutorial for you. In this tutorial, you will learn how to draw a small dog. We have already offered you similar lessons and now you will have a good time again and improve your skills.
This job is simple and you can easily do it. Our tips will help you every step of the way. Memorize the sequence of steps, and then you can draw such a puppy without prompting.
This picture shows the cute cartoon puppy. He has a large head and short legs. These proportions give it a funny look. The puppy has a bright color. You can paint it in the same colors as in the sample, or you can get creative and choose the colors yourself. So let's start drawing.
Materials
Pencil
Paper
Eraser
Coloring supplies
Time needed: 18 minutes.
How to Draw a Small Dog
Draw the head.

Take your example and try to draw a similar line.

Draw the torso.

Add some small lines to indicate the torso.

Depict the paws.

Add two front legs and one hind leg to the torso.

Draw the eyes and muzzle.

At this stage, be careful and correctly draw the shape of the eyes and muzzle.

Portray the eyebrows, pupils, nose, and mouth.

These are simple elements that are easy to draw. The main thing is to respect the proportions.

Draw the inside of the ear, forehead, and tail.

The ears are small triangles. Draw all other elements with smooth lines.

Add spots on the dog's body.

To do this, draw some curved, free-form lines.

Draw the belly and outline the toes.

This step is the easiest one. Look closely at the pattern and repeat.

Color the dog.

Use orange for the entire torso and brown for the spots.
We hope you enjoyed this small dog drawing tutorial and are happy with the result. Now you can draw any picture in which this small dog will be present.
Show the result of your work to your friends and share your impressions. You can complete lessons together, compete and comment.
For your convenience, we have prepared a PDF file that contains a short version of the lesson. We suggest downloading this file and drawing anytime, even when there is no internet.