How to Draw a Chibi Character
Basic Principles on How to Draw a Chibi Character Step-by-Step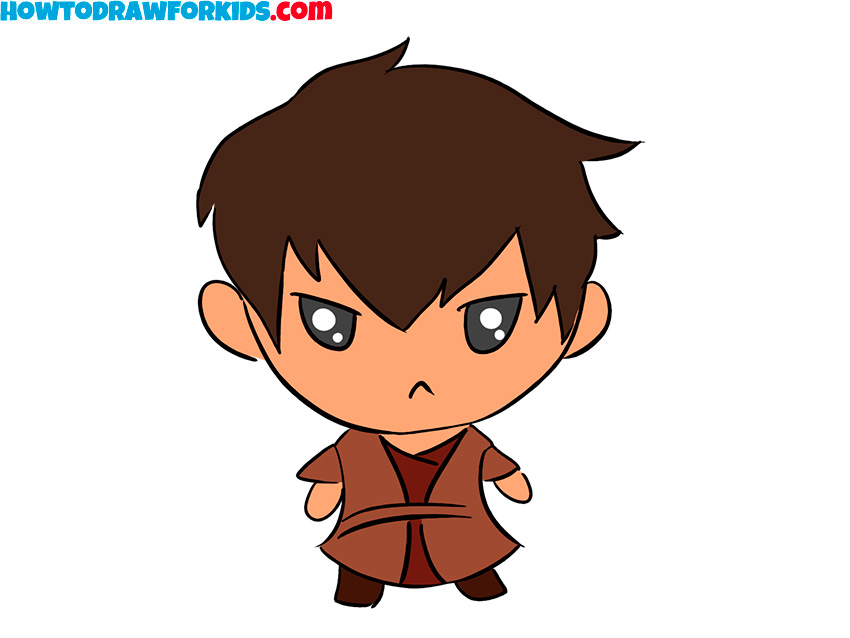 As you know, Chibi is a special drawing style. According to the concept of this style, the characters should have a rather funny look and distorted proportions. A distinctive feature of the chibi is a very large head and a very small body.
To draw a chibi with high quality and style, you need to try to do it as often as possible. Over time, you will notice very marked progress. However, I am sure that many of you will learn how to draw chibi quickly and efficiently.
So grab your favorite pencils, paper, erasers, provide quality light, and start drawing. I hope that my guide will be really useful for you, dear readers.
Materials
Pencil
Paper
Eraser
Coloring supplies
Time needed: 25 minutes
How to Draw a Chibi Character
Draw the face.

Draw the lower part of our chibi character's face. Place this shape in the center of the piece of paper. It looks like a smooth, inverted arc.

Depict a hairstyle.

Draw the outlines of the hair. If you are drawing a girl, create a fluffy hairstyle or long hair. Also you can just draw the top outline of the head if you want to draw a bald character.


Draw the body.

Be careful with the proportions in this step. Chibi do have a very small body.

Add arms and legs.

Small, rounded limbs are typical for the chibi style. The hands and feet look like small, rounded shapes.

Draw the facial features.

Big eyes are a clear legacy of anime. It's not hard to guess that the chibi style originated from anime.

Draw the clothes.

Choose clothes for your chibi character according to your taste. Avoid unnecessary details, try to get by with a few lines.

Color the drawing.

Use the most appropriate colors for your chibi character.
So, we have finished drawing the chibi character. I hope you got a great result. For your comfort, I have prepared a special pdf version of this tutorial: