Today, in this drawing lesson, you can learn how to draw a sea turtle. This is not the most difficult drawing tutorial, but if you follow our steps you will end up with a very nice sketch.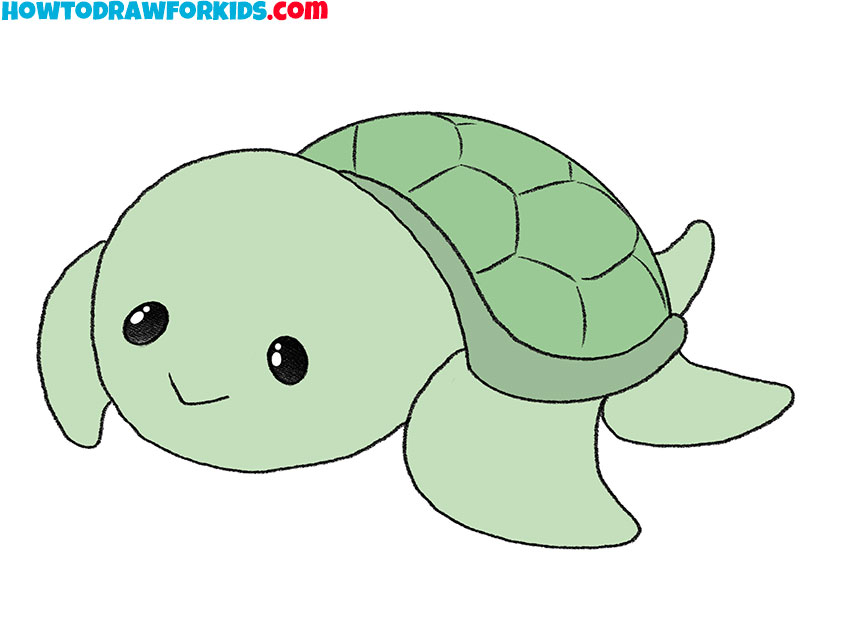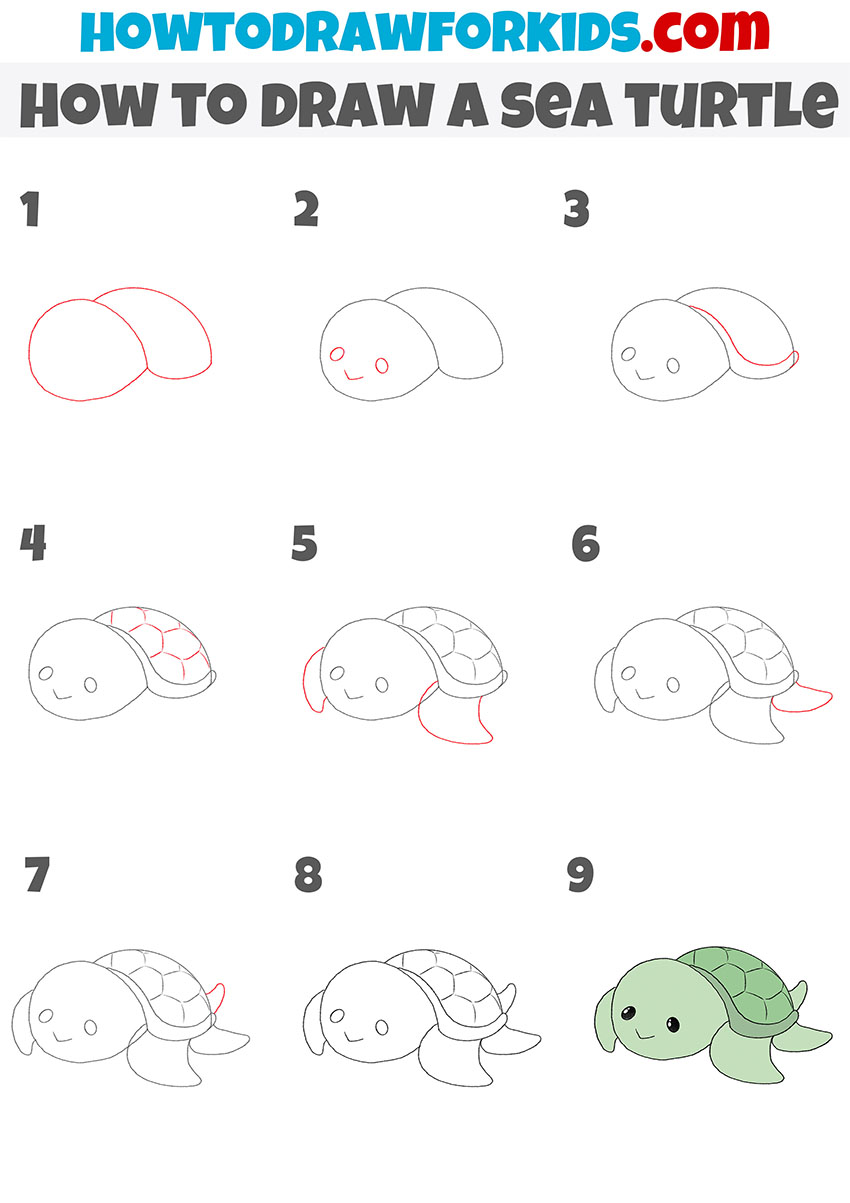 I suggest you complete this fascinating drawing lesson, in which I would like to tell you and show you how to draw a sea turtle step by step. The body of sea turtles is adapted for swimming.
Unlike land turtles, sea turtles cannot retract their heads under their shells. From above, sea turtles are protected by a convex dorsal shield, which is called the shell.
Usually the color of sea turtles is dark green or brown with stripes, dark or light spots. This color helps sea turtles camouflage themselves among sharp corals and against the background of a light surface of the water.
After you learn how to draw a sea turtle with the help of this instruction, you will be able to depict this reptile in your future paintings. For example, you can depict a seascape or an underwater world. The sea turtle that you will draw in this tutorial will be made in a cartoon style, so it will look cute enough.
Materials
Pencil
Paper
Eraser
Coloring supplies
Time needed: 30 minutes
How to Draw a Sea Turtle
Draw the outline of the turtle's head and torso.

To depict these parts of the body, use curved lines, as shown in the figure.

Add facial features.

Inside the outline of the turtle's head, add two identical ovals, as well as a curved line.

Depict the shell element.

Draw a long, curved line along the turtle's body as shown.

Add decorative elements to the shell.

Using straight lines of different lengths, draw the decorative relief on the tortoise shell.

Draw the sea turtle's front flippers.

Add these body parts using curved lines of varying lengths.

Add the turtle's back flippers.

Now draw another element with a curved line.

Depict the turtle's tail.

At the back of the turtle's torso, draw the pointed tail using a curved line.

Correct inaccuracies.

Use the eraser to remove any unnecessary guidelines.

Color the drawing.

To color the sea turtle, use different shades of green and black.
Now you can download a PDF file in which I have prepared useful practice materials for you to improve your artistic skills. Download this file right now, so you don't lose this lesson in the future.
To successfully complete this lesson, you will need your ability to draw smooth, curved lines and maintain proportions. Carefully draw all the lines that are marked in red to get an excellent result. If you want to make your drawing brighter and more saturated, you can come up with an environment for the turtle. So, prepare all the necessary art supplies and start the lesson.