I invite you to a lesson in which I will show you how to draw a pizza slice. The instruction includes six simple steps.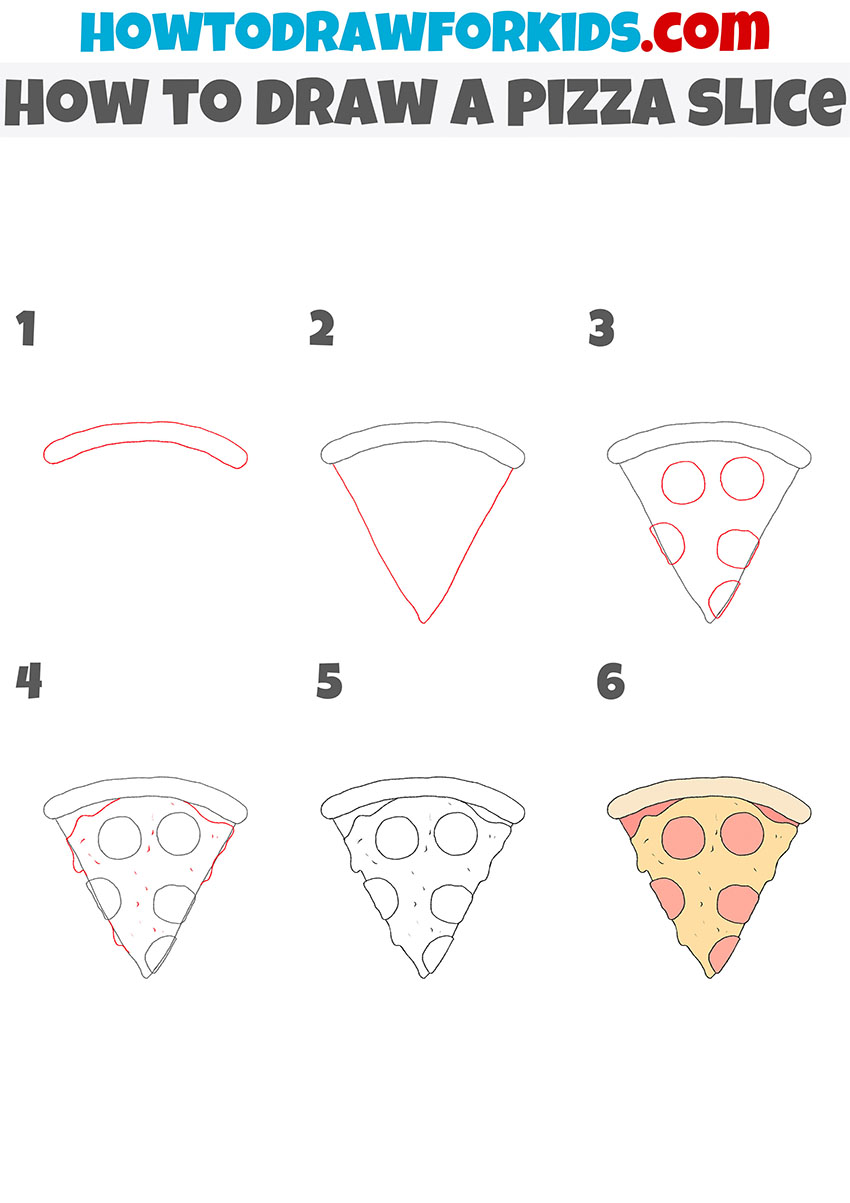 I am sure that you will really like the new lesson on how to draw a pizza slice. This lesson was created specifically for children and beginners, so simple lines and a minimum of elements is used here.
The figure shows a pizza slice that has a triangular shape. The upper contour is the visible part of the yeast cake, and everything else is the filling, which consists of tomato sauce, cheese, and sausage. You can easily draw these elements with the help of my clear and accessible instructions.
Memorize all the drawing steps so that in the future you can easily draw a pizza slice if necessary. Now grab all the art supplies you need to complete this tutorial and get to work.
Materials
Pencil
Paper
Eraser
Coloring supplies
Time needed: 30 minutes
How to Draw a Pizza Slice
Draw the dough.

Depict the long, slightly curved stripe with rounded ends.

Add the rest of the outline.

Draw two lines to make a triangle shape.

Depict the sausage pieces.

Add some circles and half circles.

Sketch out the rest of the elements.

Use a jagged line to draw the outline of the tomato sauce and add many short strokes.

Correct inaccuracies.

Take the eraser and carefully remove all the extra lines in your drawing.

Color the drawing.

For coloring, you will need beige, orange, and red.
Now you have completed all the steps in this tutorial, and you know how to draw a pizza slice. If you have any questions, you can ask them in the comments. Don't forget to download the PDF file that I have prepared especially for your convenience. In this file you will find a brief instruction and additional useful materials necessary for the effective implementation of the lesson.