I suggest you complete this useful drawing lesson in which you will learn how to draw a calla lily. This simple lesson consists of nine steps.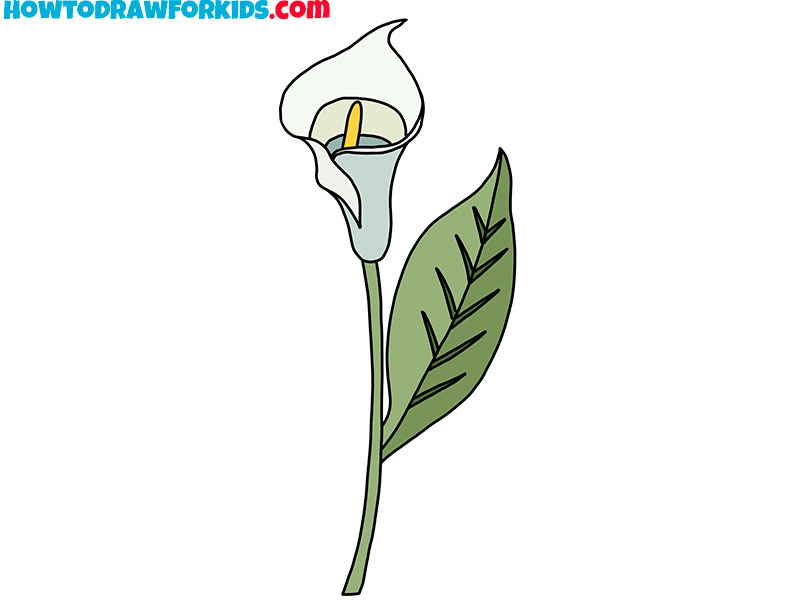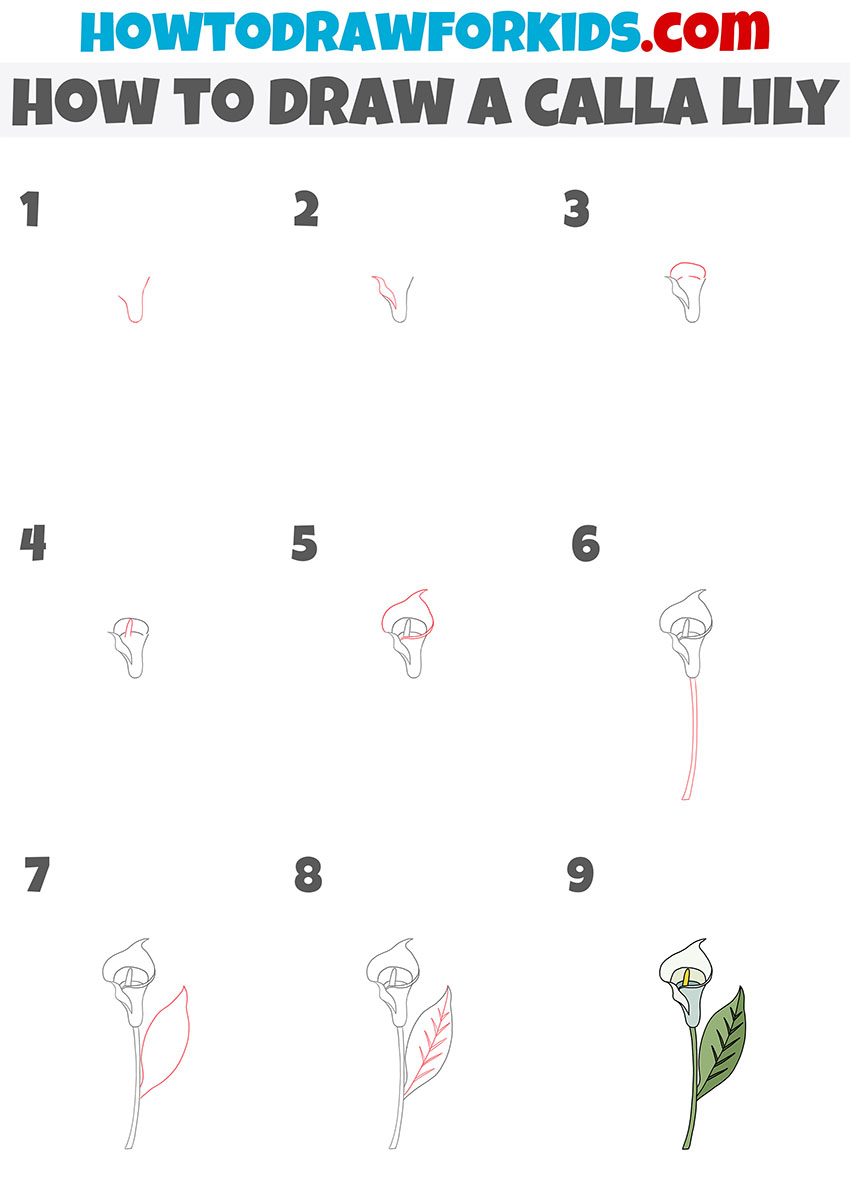 So, I have prepared for you an excellent and very exciting drawing lesson in which I will tell and show you how to draw a calla lily step by step. This drawing lesson is dedicated to the image of a well-known plant.
Surely you know that the ability to draw various plants is very important for any artist. By learning how to draw a calla lily with the help of this instruction, you will be able to add this image to any natural landscape you have drawn, flowers in a vase, a bouquet of flowers or another beautiful picture.
This drawing lesson is designed specifically for beginner artists, as well as children, so you will definitely cope with the implementation of this lesson without difficulty.
Materials
Pencil
Paper
Eraser
Coloring supplies
Time needed: 30 minutes
How to Draw a Calla Lily
Start drawing the calla lily bud.

Draw the bottom outline of the flower bud using a curved line as shown.

Add the outer part of the flower bud bent outward.

Near the previously drawn curved line, draw two curved lines to depict the bud as voluminous.

Start drawing the top of the flower bud.

On top of the drawn curved lines, add arcs of varying lengths and a curved line above them.

Depict the ear of the calla lily inflorescence.

Between the two drawn arcs, draw one curved line inside the outline of the flower bud.

Add the top part of the flower.

Use curved lines as shown in the picture to draw the pointed top of the bud.

Sketch out the outline of the calla lily stem.

Below the previously drawn flower bud, depict the stem using two curved and one straight line.

Draw the calla lily leaf.

On the right side of the drawn stem, draw the pointed leaf using curved lines of varying lengths.

Add the veins to the calla lily leaf.

Inside the drawn leaf outline, draw many lines of different lengths, as shown in the figure.

Color the drawing.

To color the calla lily, use different shades of blue, yellow, and also shades of green.
Don't forget to download the PDF file, which contains a short version of this lesson, as well as additional practice materials to help you complete it.