How to Draw Skye from PAW Patrol
In this lesson, I want to show you how to draw Skye from PAW Patrol. I'm sure you'll enjoy this tutorial a lot.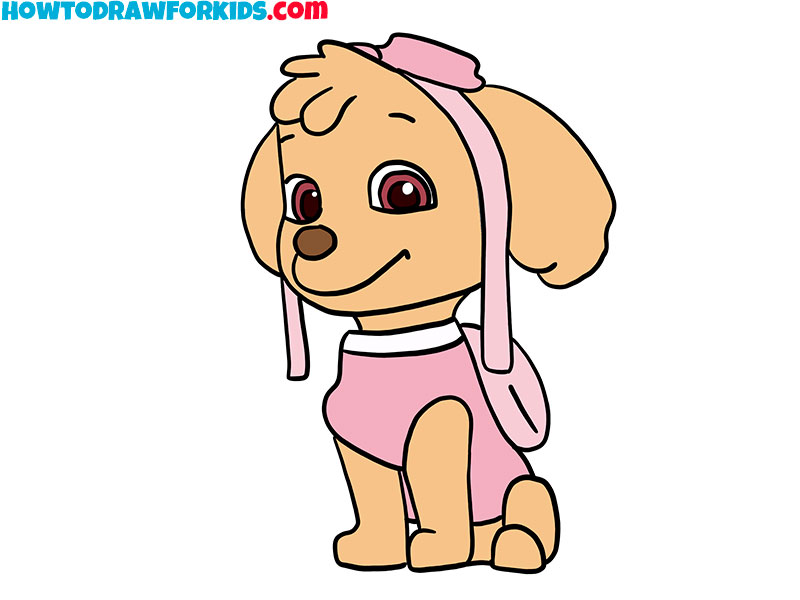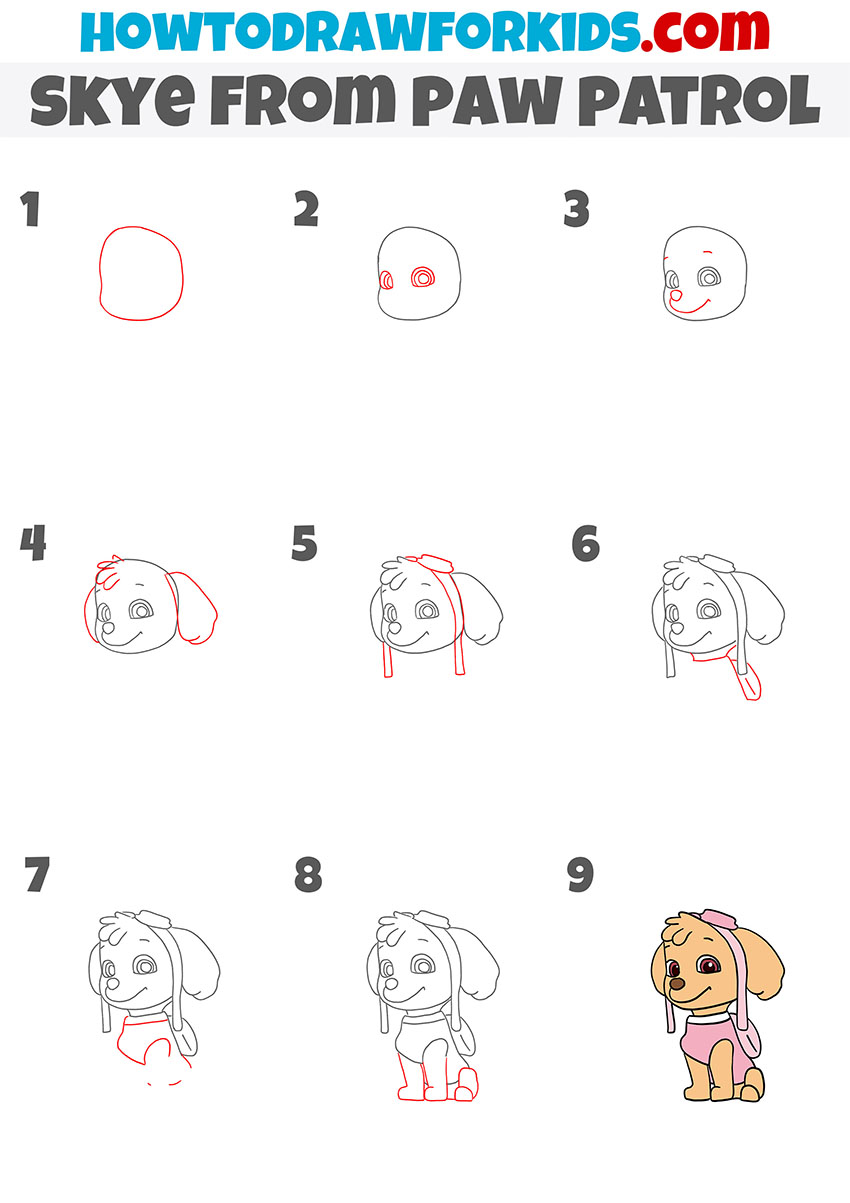 Now you will learn how to draw Skye from PAW Patrol. Surely you watched this animated series and therefore draw one of the characters with interest. Skye is a funny cockapoo puppy. According to the plot, Skye performs the functions of an air rescuer and takes part in almost all rescue missions. This lesson is suitable for beginner artists and children.
Among all the puppies, Skye has the smallest stature. Skye has a delicate and graceful build, and has a short, bushy tail in the back. Skye has a cream color, and hanging curly floppy ears give the character a special charm. Skye is very agile and can even do somersaults in the air.
Skye is very emotional, friendly, and helpful. Thanks to her cheerful disposition, Skye often finds herself in the center of attention and the rescue team loves her jokes very much. Skyeis dressed in a pink suit, has special flight goggles on her head, a collar around her neck, and a satchel on her back. During the lesson, try to carefully draw all the lines so that in the end the character is easily recognizable. Use small hints at each step of the drawing to achieve the best result.
Materials
Pencil
Paper
Eraser
Coloring supplies
Time needed: 30 minutes
How to Draw Skye from PAW Patrol
Draw the head.

The head is in the shape of an irregular circle.

Depict the eyes.

Approximately in the middle of the head, draw two eyes and immediately add the iris and pupil.

Add the rest of the muzzle elements.

Draw the small nose, short eyebrows and add the mouth using a smooth curved line.

Sketch out the ears and fur.

Draw the small tuft of hair on the head and use smooth lines to add two hanging ears.

Draw the flight goggles.

At the top, draw the glasses and add narrow straps on the sides.

Depict the neck and backpack on the back.

Below the head, add the short wide neck and draw the small backpack on the back.

Add the outline of the torso.

Be careful at this step and try to draw the same lines as shown in the example.

Sketch out the paws.

Now draw two front and one back paw in a sitting position.

Color the drawing.

For coloring, use beige, brown, and pink.
This is the end of a fascinating lesson in which you learned how to draw Skye from the PAW Patrol. Write down what emotions you had while doing this lesson. Did you immediately get the desired result, or did you encounter difficulties during the work? As a reminder, you can now download a free PDF file that contains a brief instruction and additional useful materials needed to complete this lesson.