In this really simple drawing tutorial for kids, I will show you how to draw a llama – a South American mammal from the camelid family.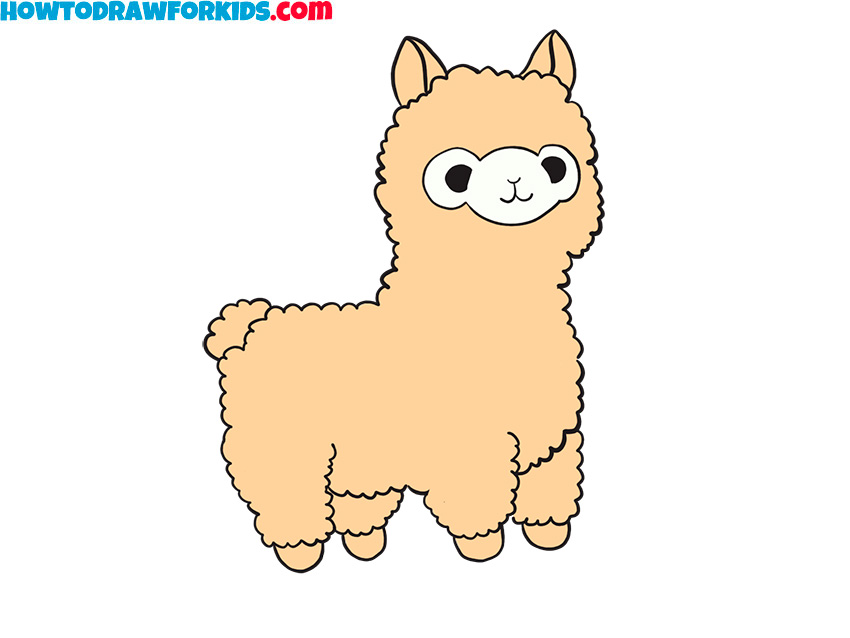 With the help of this lesson on how to draw a llama, you can draw another animal – an alpaca. The fact is that these two animals are very similar to each other, and therefore they are drawn about the same.
Among other things, this tutorial will help a young artist learn how to create contours and geometric shapes using wavy lines. Please note that all the outlines of the llama are composed of wavy and uneven lines. It seems as if the llama is made of cotton wool or coffee foam.
The nine easy steps of this tutorial are traditionally made up of really simple lines and shapes. In addition, I have kept the proportionality of the complexity of the stages. Throughout the entire instruction, the young artist will not face an increase in complexity and will be able to cope with the task without any problems.
So, if you're ready, then let's get started!
Materials
Pencil
Paper
Eraser
Coloring supplies
Time needed: 30 minutes.
How to Draw a Llama
Sketch out the head of the llama.

Using a wavy line, create a semi-circular geometric shape like in my example.


Draw the torso.

Continuing the wavy line, form the outlines of the torso.


Draw the legs closest to us.

The legs, like the head and torso, should be depicted using a wavy line.


Add the remaining legs.

These legs are behind the ones we drew earlier, and are partially covered by them.


Add the hooves.

To do this, use four simple semicircular lines.


Draw the ears and tail.

The tail should be created using another wavy line, and the ears using two pyramidal shapes.


Draw the face of llama.

First sketch out the outlines of the face, then the eyes, nose, and mouth.


Erase the guidelines.

Try not to touch the lines of the body parts of the animal.


Color the llama.

Use a dark beige for the coat and hooves and a light beige for the face.

The llama drawing lesson is complete. To be able to use this instruction without the Internet, you can open or download the PDF version. You can print it and use it any time you want. You can also distribute it to your students if you are an art teacher.