How to Draw a Hoodie on Someone
In this drawing lesson, you will learn how to draw a hoodie on someone. This lesson will be very useful and exciting for you.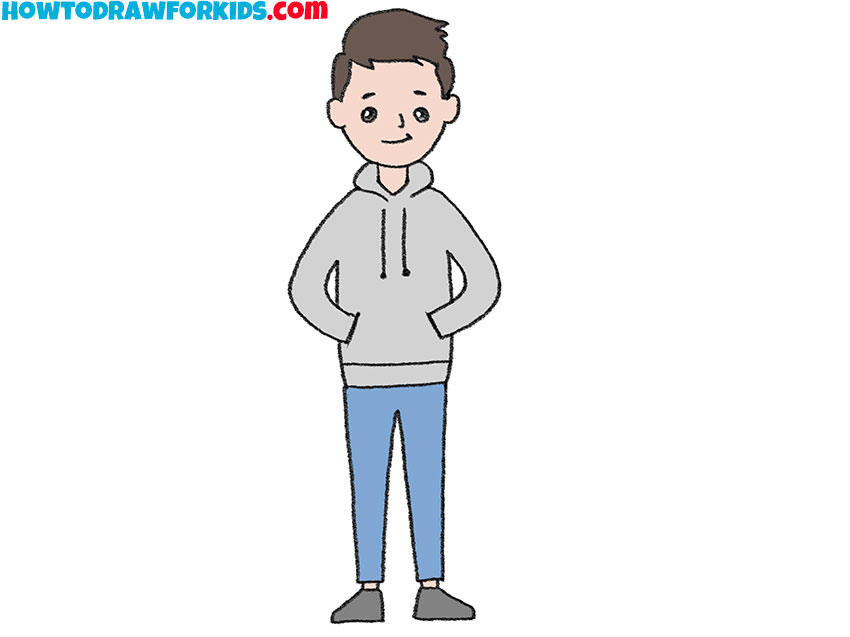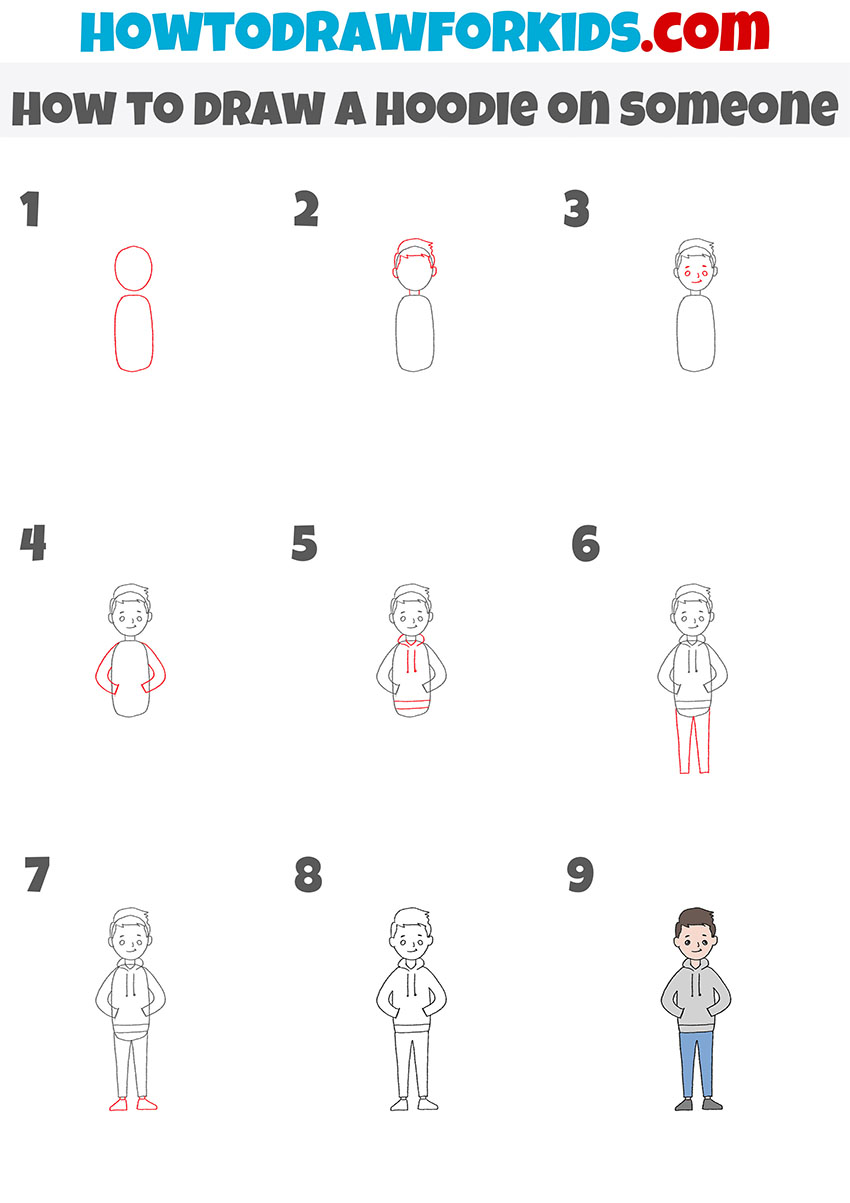 I am happy to offer you a great drawing lesson in which I will tell you how to draw a hoodie on someone in just nine easy steps. Any novice artist or child can easily complete this lesson, as it does not contain any difficult-to-follow elements.
With the help of this drawing lesson, you will be able to practice drawing people and clothes.
I am sure that many of you have hoodies in your closet and love to wear this piece of clothing.
The hoodie is a sweatshirt or sweater made of soft cotton jersey or fleece with a hood and hidden side pockets. Hoodie is one of the most common wardrobe items.
In doing this drawing lesson, you will depict a young guy with a short haircut, dressed in a hoodie. He stands straight and smiles, his hands are in his pockets, and the pillars are spread apart. This is one of the most popular human postures.
By learning how to draw a hoodie on someone, you can also draw some other person or character wearing a hoodie and standing in the same pose. If you are ready to get started, then I recommend that you check if you have all the art supplies prepared, and then carefully follow these instructions.
Materials
Pencil
Paper
Eraser
Coloring supplies
Time needed: 30 minutes
How to Draw a Hoodie on Someone
Draw the outline of the head and torso of the person.

Depict the head as an oval, and also add a shape that looks like a deformed oval below it.

Add the neck, ears, and hair.

Connect the previously drawn shapes with short lines, add arcs and curved lines on the head.

Depict the facial features of the person.

Inside the head draw the eyes, eyebrows, nose, and mouth using ovals and curved lines.

Sketch out the person's hands.

From the right and left sides, draw curved lines and connect their ends with straight lines.

Draw elements to the hoodie.

Depict the hood, two drawstrings hanging down, and the lines at the waist.

Add the outlines of the lower limbs.

To draw the legs of the person, draw several straight lines of varying lengths below his torso.

Draw the bottom of the legs and shoes.

Depict short, straight lines to draw the legs and then draw the shoes as shown.

Correct inaccuracies.

You can use the eraser to remove unnecessary elements and prepare the drawing for coloring.

Color the drawing.

Use gray and blue to color the clothes and shoes. Color the skin, eyes, and hair with any color.
For your convenience, I have prepared a PDF file in which you can find a short version of this tutorial and additional useful materials for completing it. Download this file to return to the lesson at any time.