Today you will learn how to draw a tablet in nine easy steps. Start the lesson and get useful drawing skills!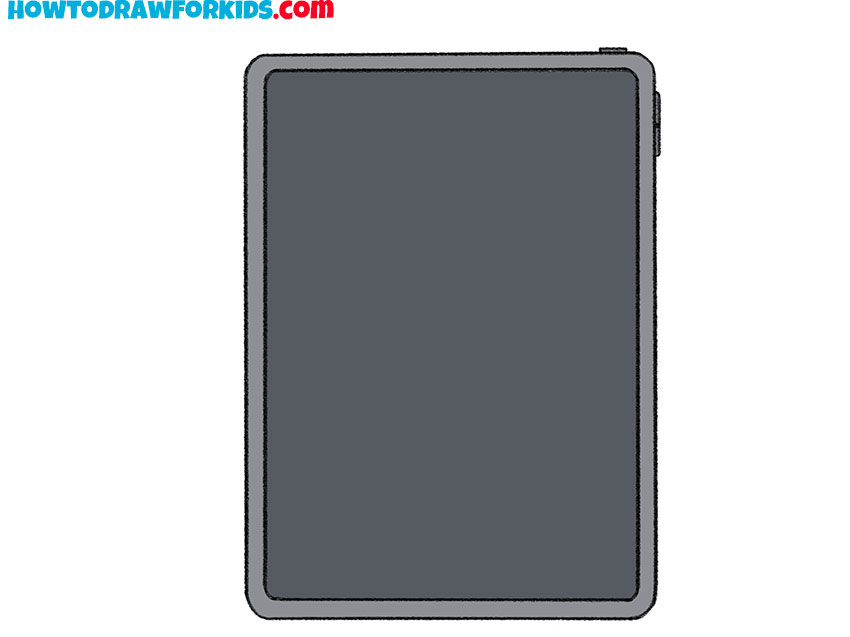 In this tutorial, I want to show you how to draw a tablet. This is a simple task that any aspiring artist will quickly cope with.
In the modern world, there are many different electronic devices that make our lives easier. Surely you use different technical devices for communication, entertainment, and other purposes.
In this lesson, you will learn how to draw a tablet. It is a touch screen electronic device that is about the size of an ordinary book. The tablet is a necessary and useful novelty in the field of computer technology.
Many people use the tablet for study, work, and entertainment because it is very convenient. The tablet is small and easy to carry around. Drawing a tablet is very easy. This will require your ability to make straight lines.
Try to make these lines yourself, without using improvised elements. Thus, you will train your skills and in the future, you can easily draw more complex objects.
Materials
Pencil
Paper
Eraser
Coloring supplies
Time needed: 15 minutes
How to Draw a Tablet
Draw the sides.

Depict two straight vertical lines.

Add the top and bottom outline.

Draw horizontal lines to make a rectangle.

Detail the corners.

Sketch out a small rounded line in each corner.

Start drawing the screen.

Depict two vertical lines inside the outline.

Add the rest of the sides of the screen.

At this stage, sketch out two horizontal lines.

Detail the corners of the screen.

Draw smooth rounded lines in each corner of the screen.

Add buttons.

Draw small buttons at the top and side.

Correct inaccuracies.

Using an eraser, carefully remove all extra lines in the corners.

Color the tablet.

You will need shades of gray.
I remind you that now you can download a short version of the lesson in PDF format. Save this file and use it whenever you want to get creative.