Today in this step-by-step easy tutorial you will learn how to draw a pie in just nine easy steps with helpful tips.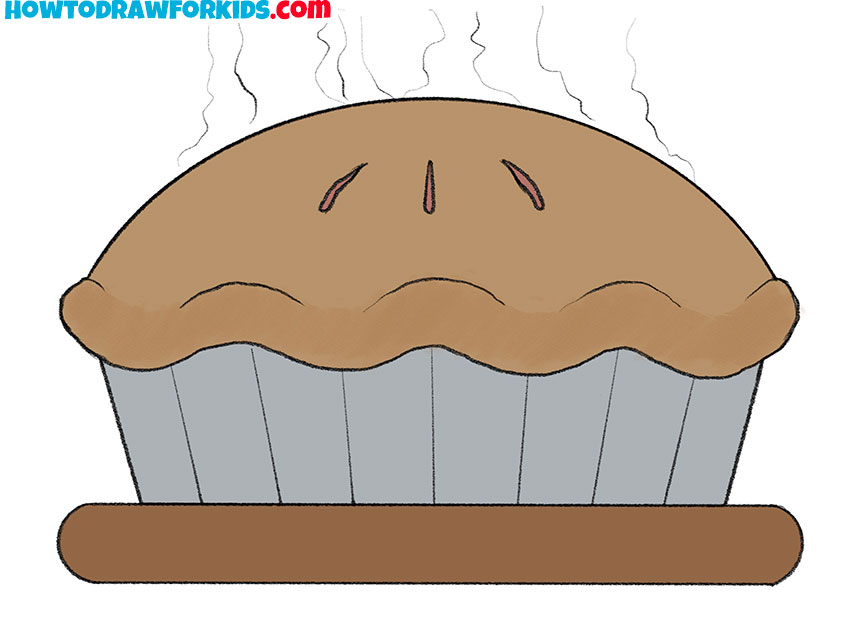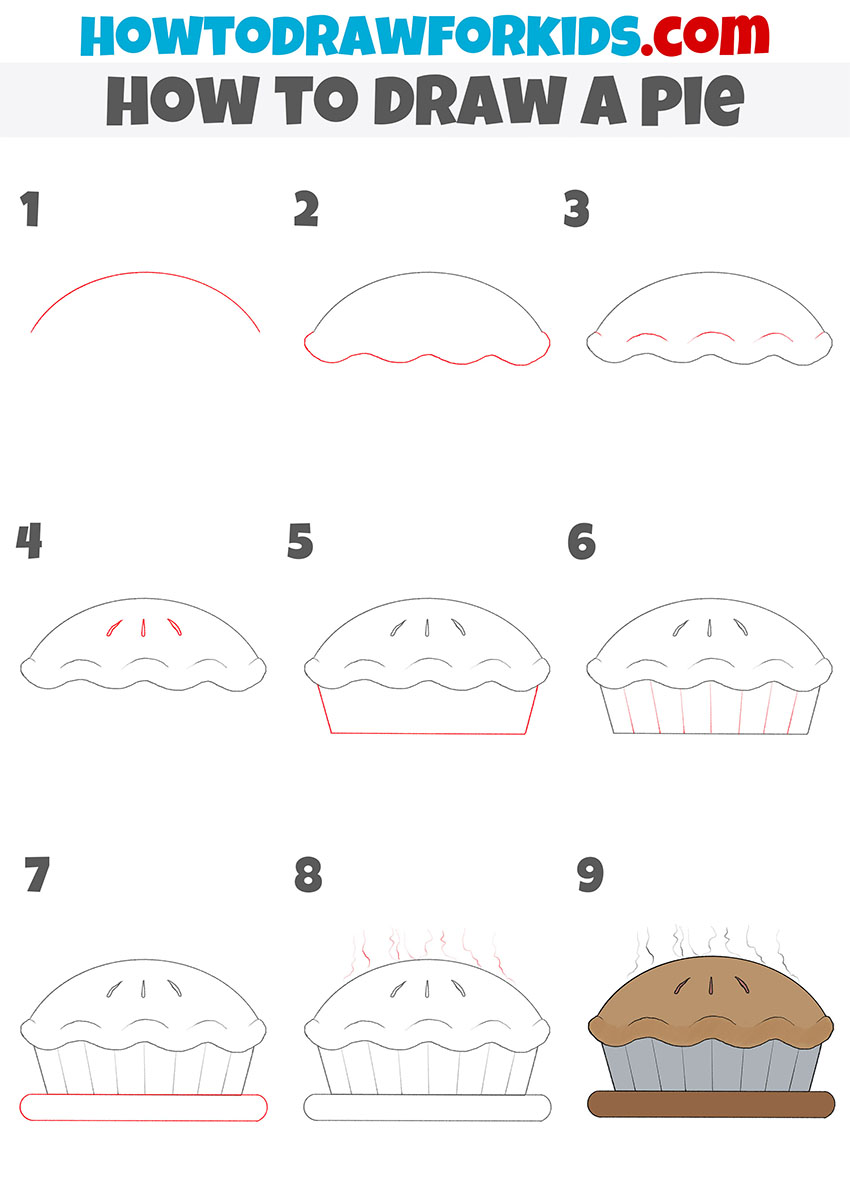 I suggest you complete a new exciting lesson in which you will learn how to draw a pie. The lesson consists of ten simple steps that even a beginner can easily follow.
There are interesting lessons on my site that show in detail how to draw various desserts, and I am sure that you will like this lesson too. Now you will learn how to draw a pie step by step.
This is a delicious baked product that consists of dough and filling. Fruits, berries, jam, and nuts can be used as a filling, and there are also pies that use meat or fish filling.
In the picture, you see a cake that is in a special form and stands on a stand. The cake turned out very fluffy and looks appetizing. Steam rises from the cake. You can easily draw this cake if you carefully follow all the drawing steps.
Materials
Pencil
Paper
Eraser
Coloring supplies
Time needed: 20 minutes
How to Draw a Pie
Draw the top outline of the pie.

Sketch out a smooth rounded line.

Depict the figured edge of the pie.

Draw a wavy line to make a closed loop.

Add the relief to the surface of the cake.

At this stage, depict a few thin rounded lines.

Detail the surface of the cake.

Sketch out the three small folds.

Draw the shape that the cake is in.

Use even, straight lines to draw the shape.

Add details.

Sequentially depict thin straight lines on the surface of the form.

Sketch out the stand.

Using straight and rounded lines draw the wide stand on which the cake is located.

Depict the steam.

Above the surface of the cake, draw thin, free-form lines.

Color the pie.

Choose any colors you like.
I remind you that now you can download a short version of the lesson in PDF format for free. This will help you return to the lesson at any convenient time.
How to Draw an Easy Pie
I am glad to offer you this beautiful drawing lesson, in which I will tell and show you how to draw a pie step by step. Surely the pie is a favorite dish of many of you. A pie is a dough product with a filling. There are a huge number of different recipes for pies with sweet and savory fillings.