How to Draw a Piece of Cake
Discover how to draw a piece of cake with my easy-to-follow guide. Perfect for kids and beginners wanting to create sweet art!
Become a confectionery artist with my detailed guide on how to draw a piece of cake. I provide a step-by-step approach that makes piece of cake drawing easy and enjoyable. This simple drawing tutorial will add a slice of creativity to your day and a piece of cake to your portfolio.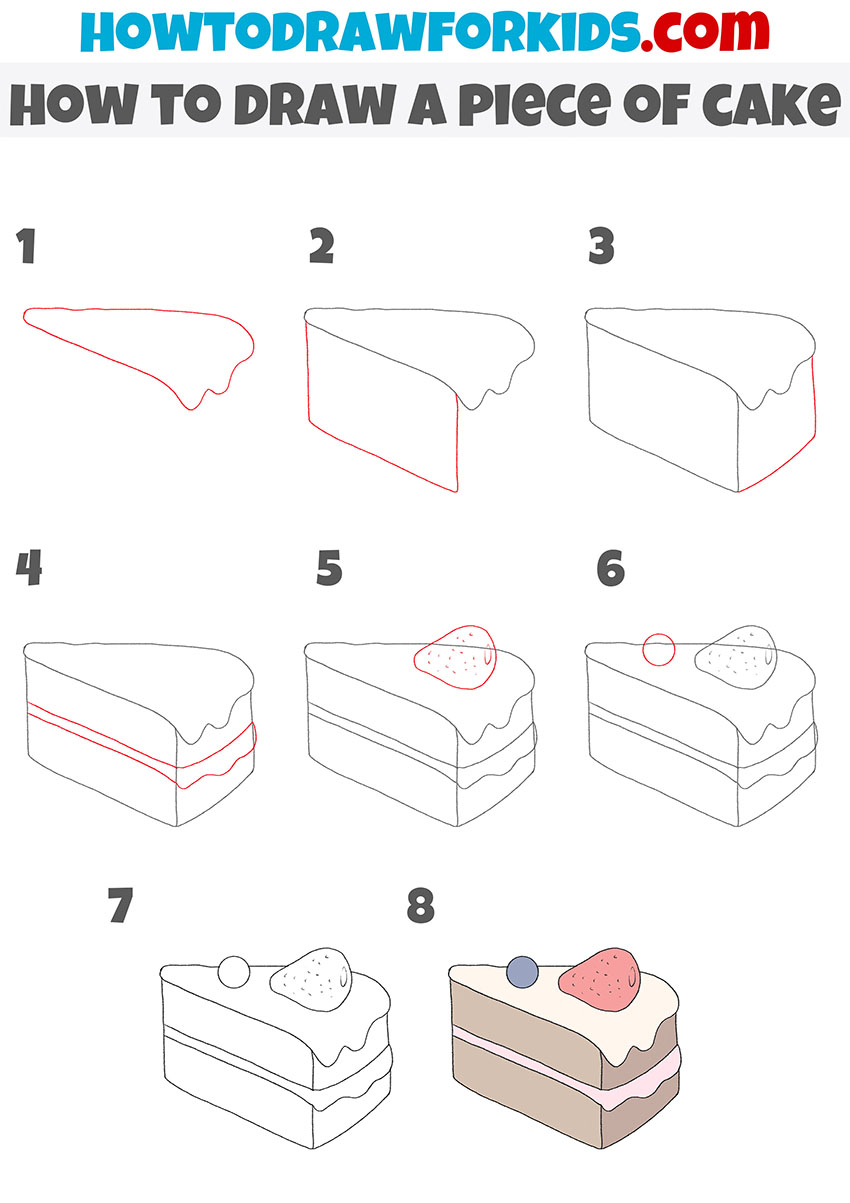 Table of Contents
How to Draw a Piece of Cake: Basic Information
Are you ready to draw something super sweet and absolutely scrumptious? Today, I'm thrilled to share with you my very own step-by-step guide on how to draw a piece of cake — a treat so delightful, you'll almost want to take a bite out of your drawing!
Today, I'm super excited to guide you through a fun and easy way to draw a piece of cake, step by delicious step. With my simple method, you'll find out that to draw a piece of cake is, well, a piece of cake!
You'll learn how to layer those spongy cake tiers, swirl on the creamy frosting, and top it all off with a juicy strawberry and a shiny blueberry that looks good enough to eat!
I've sliced the process into simple, manageable steps, ensuring that you can create a yummy masterpiece, no matter if you're just starting out or already a seasoned little chef in the world of art.
So grab your pencils, and let's dive into a world of fluffy frosting and delightful decorations. Let's spread out our imagination and draw a piece of cake that's sure to make our artistic appetites grow!
Piece of Cake Drawing Tutorial
Materials
Pencil
Paper
Eraser
Coloring supplies
Time needed: 30 minutes
How to Draw a Piece of Cake
Draw the top layer of the cream.

Draw a triangular shape with a wavy base to represent the bottom edge of the cake. This uneven contour adds realism, suggesting the texture of the piece of cake.

Add one side of the cake.

Draw two vertical lines downward from each end of the cake's top edge to form the sides. Then, connect these lines at the bottom with a horizontal line to complete the shape of the piece of cake.

Sketch the second side of the pie.

On the side of your piece of cake drawing, depict two lines that mirror the shape of the cake's top edge and converge at the bottom. Thus, this will create a closed outline, giving your work a 3D appearance.

Draw the layer of the cream inside the piece of cake.

In the center of the piece of cake, draw a wavy line horizontally across to draw a layer of creamy frosting. Then, repeat this step with a second line, creating the illusion of a thick layer of the icing.

Depict the strawberry.

On top of the piece of cake, draw a strawberry shape with a pointed tip and a wider base. Add small seed details to bring your strawberry to life, to enhance its realistic appearance on the creamy frosting.

Add the blueberry.

Next to the strawberry, draw a small, even circle to represent the blueberry. Ensure the circle is proportional to the strawberry to maintain the scale of your fruit toppings.

Correct any mistakes.

Now, gently use the eraser to remove any extraneous lines from your piece of cake drawing. Carefully erase to refine the edges and contours of your piece of cake, ensuring that the final image is clean.

Color your piece of cake drawing.

Grab light brown for the cake's body, light beige for the frosting, pink for the strawberry's icing, light red for the strawberry and blue to give the blueberry its vibrant hue. Color each part accordingly.
Additional Content
So, for this delightful piece of cake drawing, I have crafted a special treat for you – a free PDF file! This carefully designed file is not just a handy resource; it's your personal art buddy that you can download effortlessly. Once it's saved on your device, you can delve into its pages anywhere, anytime, internet or no internet.
Moreover, this isn't just any PDF. It encapsulates a concise version of our piece of cake drawing adventure, making it an absolute breeze to follow. So, whether you're at home, in the park, or even on a long car ride, this PDF will be right there with you, ready to guide you through each sweet step of the drawing process.
Alternative Way to Learn How to Draw a Piece of Cake
I've designed an alternative version of the drawing lesson focused on a slice of cake, aiming to provide you with an additional opportunity to practice and further enhance your drawing skills. This lesson is tailored to expand your artistic abilities, offering a fresh perspective and different techniques.
How to Draw a Slice of Cake
The slice is depicted with its layers more visibly aligned, emphasizing the cake's structure and the various layers of cream and cake. Additionally, the decoration differs by placing a single cherry on top, focusing on simplicity and elegance.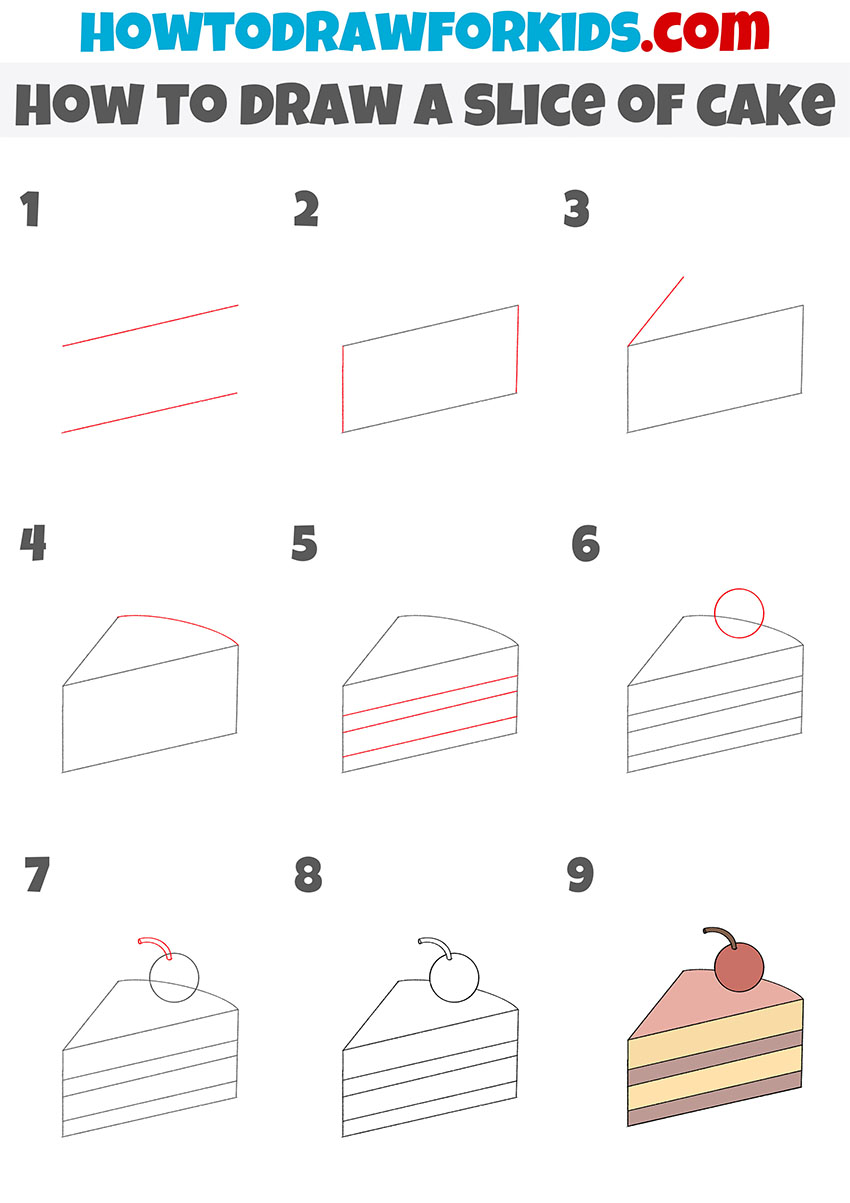 Doodle Delights: A Piece of Cake Creativity
Ready to sprinkle some extra fun on your piece of cake drawing? Let's grab our colorful crayons and add a dash of imagination to make your artwork truly scrumptious!
Firstly, for a fruit fiesta: Surround your cake with doodles of strawberries, blueberries, and cherries to create a fruit party on the plate.
Moving on to candle countdown: Add some birthday candles on top, turning your piece of cake into a pint-sized birthday bash.
Then, swirl in a chocolate swirl: Draw some chocolate syrup drizzling down the sides for a decadent touch.
Additionally, for a party plate: Place your piece of cake on a fancy plate with patterns to give it a festive look.
Lastly, why not enjoy tea time? Draw a teacup next to your piece of cake, setting up a delightful afternoon tea scene?
Art is like a cake – it's all about what you put into it. So, add all your favorite things and create a masterpiece that's as unique as you are.
Utilizing the lessons available on my website, you can seamlessly transition from sketching to fully rendering all the above-mentioned scenes with both beauty and completeness.
Thus, step by step, my tutorials will guide you, ensuring that each stroke of your pencil not only captures the essence of the scene but also enhances your artistic skills.
Conclusion
And just like that, we've put the final sprinkle on our piece of cake drawing! But wait, there's more fun to be had! Don't dash off just yet — make sure to follow me on social media for a daily dollop of art. Your thoughts and wishes are the icing on our cake, so leave a comment below and tell me what lessons you're craving next!
And hey, there's a whole buffet of lessons waiting on my website, so why not take a peek? You might find your next artistic feast just a click away! Remember, every masterpiece starts with a simple scribble. So, keep those pencils dancing and crayons prancing, and let's color the world with your imagination!