How to Draw a Standing Dog
Lesson on Drawing a Dog Standing on Four Legs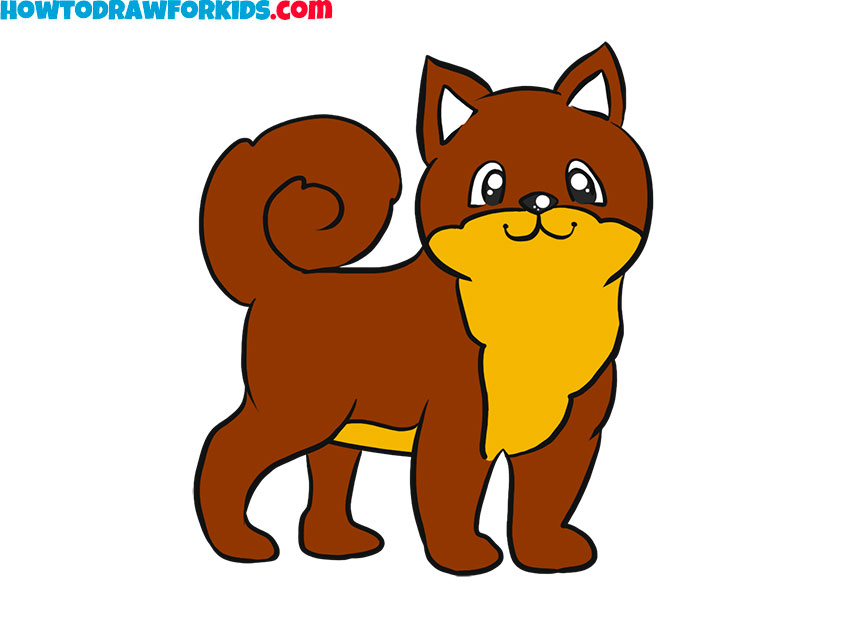 Here is another lesson on drawing pets. The lesson is simple and interesting. Any child or novice artist can handle this task. Now we will show you how to draw a standing dog.
The picture shows a cartoon dog, but the same proportions can be used to draw a realistic dog. As you work, make smooth lines and maintain proportions. Memorize all the steps of drawing, practice, spend more time drawing and you will achieve excellent results.
Some of the steps in this quest are going to be easy and some are a little more difficult. Be careful at every step, try to draw the same lines as in the example. As usual, we will start drawing the main parts and then move on to drawing the small elements.
Materials
Pencil
Paper
Eraser
Coloring supplies
Time needed: 20 minutes
How to Draw a Standing Dog
Draw the head.

Add the circle and on this line leave free areas for drawing the ears and neck.

Depict the ears.

The ears are shaped like small triangles.

Draw the torso.

Use straight lines to outline the outline of the torso. Leave empty spaces for the paws and tail.

Add the paws.

Draw four legs with smooth lines as in the reference.

Draw the tail.

The tail is raised up and has a spiral shape.

Portray the muzzle and the inside of the ear.

Observe the proportions when drawing the muzzle.

Draw borders for the face, chest, and abdomen.

To do this, draw several free-form lines.

Correct any inaccuracies.

Check your drawing. If at some stage you made an inaccuracy, then fix it with an eraser.

Color the dog.

Use brown as the main color, and paint the lower part of the face, chest, and belly with yellow.
Now you can evaluate the result. You can add surroundings or some details, such as drawing a grass, a house for a dog, or drawing food for a dog. Show your imagination and make the drawing bright and rich. Share the finished result with your friends.
We hope you enjoyed this standing dog drawing tutorial and had a good time. If some elements did not work out the first time, do not despair. Keep practicing and you will soon be drawing much better. Our lessons will help you with this.
Use the PDF file that we have prepared especially for you. The file contains a short version of the lesson. Download this file and keep learning drawing lessons.