In this tutorial, you will learn how to draw a realistic cat. You will enjoy this tutorial and learn some useful skills.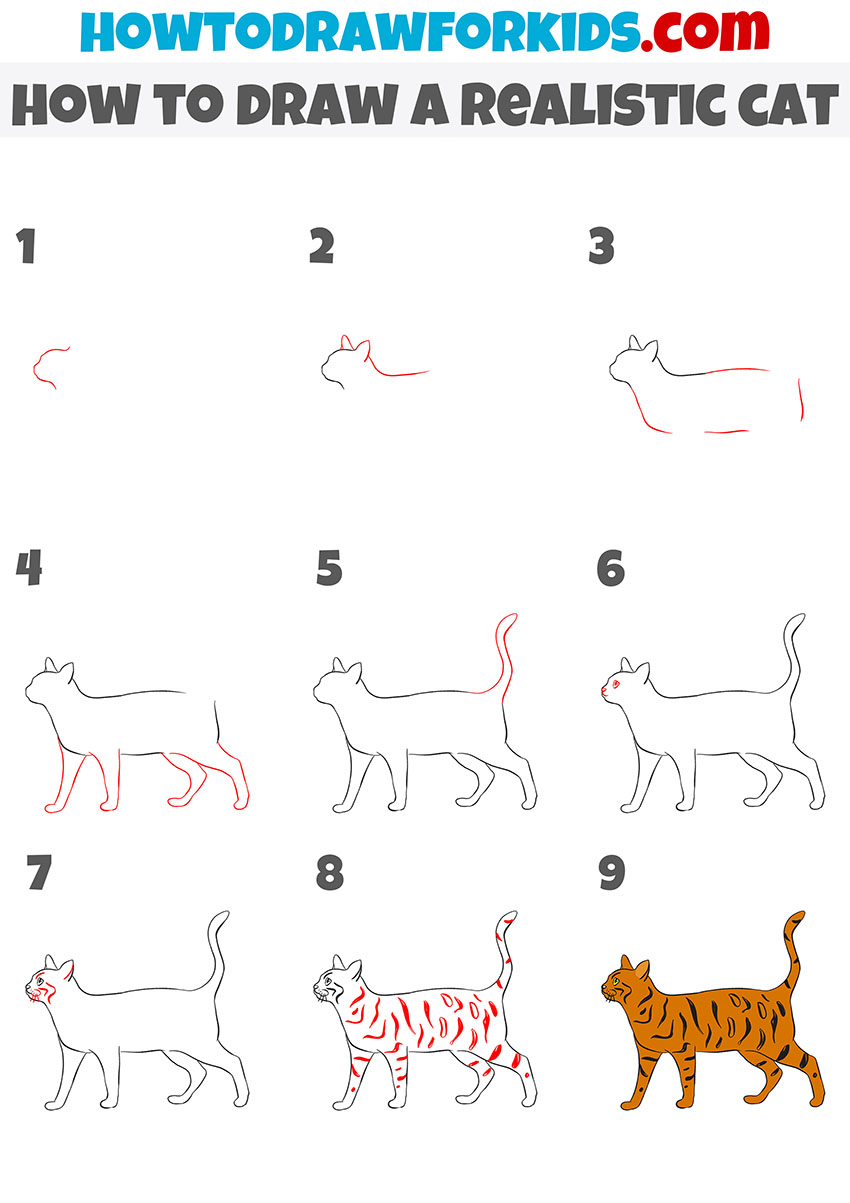 On the site, you can find various lessons that are devoted to drawing animals, including drawing cats. But if in other step-by-step instructions you drew cute cartoon animals, then in this lesson you will learn how to draw a realistic cat.
You can easily cope with this task if you already have some skills. But even if you have not drawn a realistic cat before, the moment has come when you will learn how to do it. I will help you every step of the way. All that is required of you is attention to detail and accuracy.
I advise you to add shadows and highlights and detail the fur with short strokes. You can paint the cat red or use other colors that you like best.
Materials
Pencil
Paper
Eraser
Coloring supplies
Time needed: 25 minutes.
How to Draw a Realistic Cat
Draw the head.

Using a smooth line, draw the front of the head in the same shape as in the picture.

Depict the ears and withers.

Draw small, triangular ears and draw the withers with a smooth line.

Draw the torso.

Sketch out the outline of the back, chest, abdomen, and back of the thigh.

Depict the paws.

Draw four legs in the same shape as in the example.

Sketch the tail.

Draw the long tail with a smooth line.

Detail the muzzle.

Add eyes, nose, and mouth.

Draw the rest of the face.

Depict mustache and stripes on the face.

Add details.

Use free-form lines to draw black stripes on different parts of the body.

Color the drawing.

You can choose any color for the cat. The eyes may be yellow.
The realistic cat is ready. I hope you enjoyed this tutorial and followed it with interest. Don't be discouraged if something doesn't work out the first time. Try again, experiment. In your next drawings, you can draw a cat with a different color of fur and eyes. Train your skills and over time you will easily draw any realistic animal.
At the end of the tutorial, I suggest you download a PDF with a short version of this tutorial. Thanks to this, you will be able to complete the drawing lesson at any time, even if there is no Internet connection.