Hello dear novice artists and welcome to the sketching guide about how to draw Frankenstein's monster for kids.
Frakneknshten's monster is one of the main characters in Mary Shelley's novel Frankenstein, or Modern Prometheus (1818), as well as the character of the many books, dramatic and cinematic adaptations of this plot.
Step 1
So, first of all, depict the head of the monster in the form of a cylinder, which is somewhat like a crusader's helmet.
Step 2
Now draw the eyes, frowning brows, and a couple of wrinkles under the eyes.
Step 3
Depicture the mouth and a tooth protruding from the mouth. Draw the ear and go to step four.
Step 4
A very simple step in which we draw the hair of our Frankenstein's monster.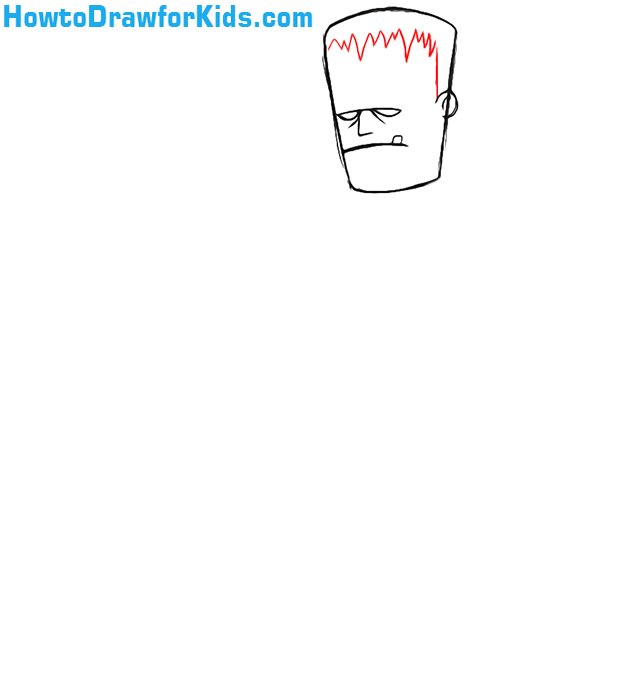 Step 5
Continue drawing our Frankenstein. Using a rectangle-like shape draw the torso.
Step 6
Draw the arms in the form of elongated rectangles and outline the folds in the armpits and elbows.
Step 7
Here we draw the hands. Note that Frankenstein's hands and fingers should be large and massive.
Step 8
In the eighth step of the instruction about the monster of Frankenstein, we depicture collars and buttons on the suit.
Step 9
Depicture the legs. They must be drawn in the form of elongated rectangles as the arms.
Step 10
In this step, we draw the feet of our Frankenstein's monster.
Step 11
Erase all the extra lines from Frankenstein and get such a picture.
Step 12
Paint out the skin of Frankenstein in green, eyes in yellow, and suit in gray.
So, sketching guide on how to draw Frankenstein's monster for kids step by step. If you liked this lesson then visit the lessons about Zombie, Mummy, and Vampire.
A simpler lesson is impossible to imagine, is it? Here is also a shortened version of this guide.
In Pinterest we have a whole sea of similar sketches, so sign up and share with your friends.