In this tutorial, you will learn how to draw a dragon for beginners. The instruction contains only nine simple steps.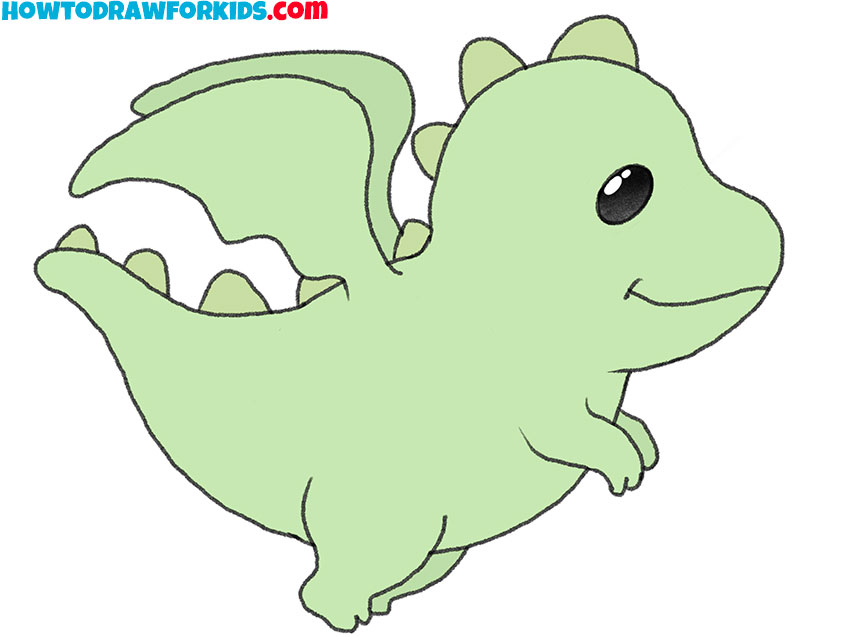 Drawing mythical creatures is always fun and in this tutorial I will show you how to draw a dragon for beginners. This is a fabulous monster that can fly and exhale flames.
Usually the dragon has a very menacing look and causes fear, but in this lesson you will draw a small harmless dragon that looks very cute.
The dragon has small wings that allow it to fly in the air, rounded spikes on its head and back, and short upper and lower legs.
You have to draw all these elements now and in the end you will get an excellent drawing. A joyful mood from effective work is guaranteed to you.
Materials
Pencil
Paper
Eraser
Coloring supplies
Time needed: 30 minutes.
How to Draw a Dragon for Beginners
Draw the head and torso.

First draw the head of the same shape as in the example, then add the torso with a rounded line.

Add the elements of the head.

Depict the oval-shaped eye and draw the mouth with a smooth line.

Depict the front paws.

The front legs are slightly bent and placed side by side.

Sketch out the hind legs.

The hind legs have a wide base and a narrow lower part.

Draw the tail.

The body smoothly passes into the tail, which is raised up.

Depict the wings.

With the help of curved lines draw two wings that are placed side by side.

Sketch out the spikes.

Sequentially draw small semicircles on the head, back and tail.

Correct inaccuracies.

Remove all auxiliary lines with the eraser.

Color the dragon.

Use any shades of green, color the eye with black. Add the highlights to the eyes.
Download the PDF file I have prepared especially for your convenience, so that you always have access to a short version of this lesson.