How to Draw a Fish Step by Step
If you are interested in the marine theme, then you will be happy to follow this lesson. Here I will show how to draw a fish step by step.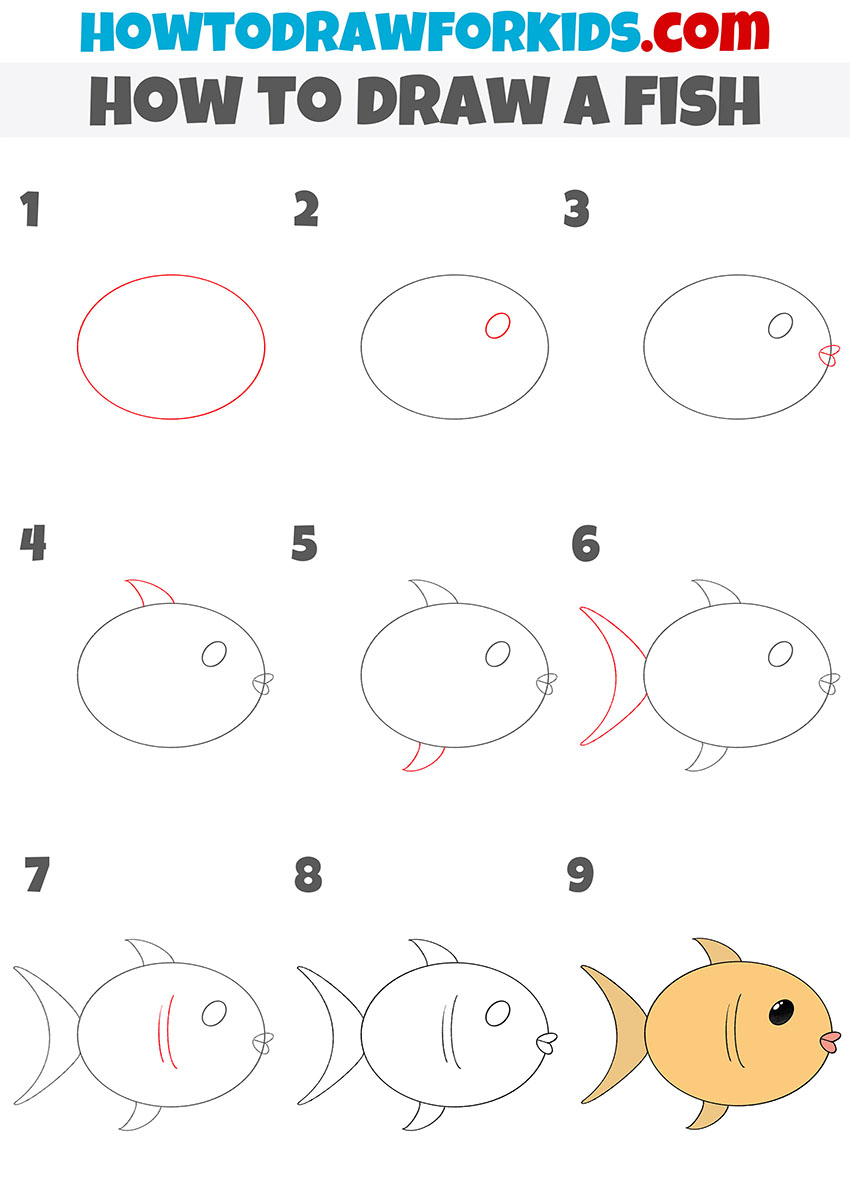 In this tutorial, you will learn how to draw a fish step by step. The lesson is designed for children and beginners and consists of nine simple steps that you can easily repeat.
In the picture, you see a fish that has a rounded body shape and pointed fins. Here simple elements and a minimum of details are used. In this lesson, you will need your ability to draw smooth rounded lines.
Try to make all the lines carefully, take your time during this task. So, prepare all the tools you will need to complete this tutorial and get started.
Materials
Pencil
Paper
Eraser
Coloring supplies
Time needed: 25 minutes
How to Draw a Fish Step by Step
Draw the torso.

Determine the size of the drawing and draw an even oval.

Depict the eye.

Sketch out a small oval.

Depict the mouth.

With rounded lines draw the upper and lower lip.

Add the top fin.

Using smooth lines draw the small pointed fin.

Draw the bottom fin.

At the bottom, add the fin of the same shape.

Sketch out the tail.

Depict the tail with smooth lines.

Depict the gills.

Draw two rounded lines in the middle of the body.

Correct inaccuracies.

Remove extra lines in your drawing.

Color the fish.

You will need orange, pink and black. Add highlights to the eyes.
Lesson over! By tradition, at the end of the lesson, I prepared a PDF file for you, which contains brief instructions and additional useful materials. Download the file so you can return to the lesson at any time, even if there is no Internet access.